Local
Here's what Scape has planned for its Davis Square development project
"There's going to be some reshuffling."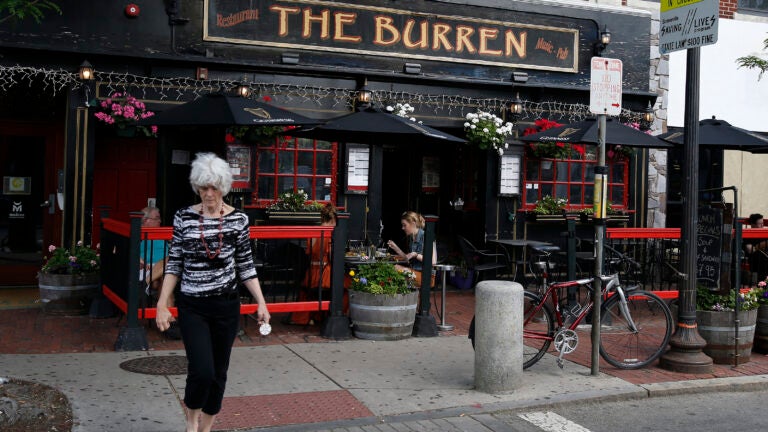 In front of a largely skeptical audience Wednesday night in Somerville, representatives of a prospective development project in the heart of Davis Square provided a first-time preview of their potentially transformative plans — for better or worse.
"We ask folks to be open-minded. We're very open-minded," Andrew Flynn, the CEO of Scape North America, told a standing-room-only crowd inside Somerville Community Baptist Church.
The London-based dorm developer made waves in the community this past summer with their $10 million purchase of several Davis Square properties, currently home to a number of neighborhood institutions, including The Burren, McKinnon's Meat Market, and Sligo Pub, as well as popular newcomers, like Dragon Pizza and When Pigs Fly bakery.
Flynn, a Boston native, says the proposed six-floor project would address the "acute housing shortage" in Somerville — and in Davis Square particularly — with approximately 250 new units, ranging from 300-square-foot studios starting around $1,300 a month to one- and two-bedroom apartments priced around $2,500 to $3,000. Similar to a planned Fenway project, Scape officials also confirmed Wednedsay that the new residential units would be open to the general public, as opposed to student housing.
Flynn also said the project would comply with Somerville's inclusionary housing program, pledging that at least 20 percent of the on-site units would be affordable rentals. The apartments are tentatively planned to come pre-furnished and leases would be a minimum of 12 months.
"We want this to be a building for long-term residents of the neighborhood," Flynn said. "It is not for transients."
Scape representatives also pitched the community benefits of the proposed building, which they said would be energy efficient for a residential project and would not provide any residential parking. Flynn said their leases would even ban residents from obtaining residential parking permits from the city. Instead, the project would have space for roughly 200 bicycles.
Still, there was significant concern from those in the room Wednesday about what would happen to some of the beloved institutions currently located on the footprint of the development.
Flynn said their goal is to "preserve the fabric and identity" of the square and assured residents that they would retain The Burren as the "anchor" of the project's retail offerings. Brett Bentson, an architect at Utile Design, the Boston firm working on the project, said they were committed to keeping the well-known Irish bar "open and active" throughout construction, which Flynn said would take at least 18 months.
"It will definitely pose some engineering challenges to keep it open," Bentson said. "It will involve some costs. We're going to work with the city to make sure it happens."
What the project means for the other retail tenants is less clear.
Several business owners told the Tufts Daily last month that they had received notices from their landlords that they would have to move in roughly 18 months. Flynn said Wednesday that he had personally met with all of the existing tenants and was discussing bringing "several of those tenants back," noting that they had also specifically committed to making sure Sligo, a longtime Irish dive bar, could return.
Flynn said there were some tenants that didn't want to return, but they were working to bring back as many as possible on "below-market leases." Still, considering the financial impact of being displaced for well over a year during construction, several attendees at the meeting questioned why The Burren was getting special treatment.
"Everybody loves The Burren," Teddy McPherson, a bartender at Sligo, said. "You said it's going to take a little bit of money to save it. Why not take a little bit of extra money and save all of them? How are they going to come back after a couple years? It's impossible."
Flynn didn't have an answer for why The Burren was being singled out for preservation. However, he argued that a number of the other rental properties had "exhausted their useful life" and were ill-suited toward even their current retail tenants.
"The conditions of the present building are really problematic," Flynn said, noting that there was a vacant space next to The Burren that was currently "not leasable."
"There's going to be some reshuffling," he added.
According to the still-tentative plans, Elm Street would still have a series of small-format retail spaces, with a few larger spaces on the corner of Grove Street.
In addition to renovating the majority of the ground floor, Scape's plans also call for an open plaza with additional small-format retail storefronts around the corner of Elm Street in what is currently a somewhat dilapidated parking lot off Grove Street — activating what Flynn described as currently an "eyesore."
Several city officials in attendance at the meeting stressed that the project was still far from fruition and remained in a very preliminary phase. Sarah Lewis, the director of planning and zoning for Somerville, said that Scape had yet to submit a development proposal and would have to provide a lot more information and design plans before they reached that step.
"It's very preliminary right now," she said.
Lance Davis, a Somerville city councilor who represents Davis Square, also noted that the current plan could not move forward under the city's current zoning rules. Somerville is in the midst of a zoning overhaul, as well as a neighborhood plan for Davis Square, that would potentially allow buildings up to six stories high in the square. Right now, they can't be more than four stories, which Flynn suggested would be unworkable for the type of housing project Scape envisions.
Davis, who requested the meeting Wednesday, emphasized that the zoning reform effort would proceed independently of Scape's desires.
"We're not going to be informed by any of this in terms of what we do with the zoning," he said. "That process is going to finish. And when it does, if they decide they want to do something, then they can have that opportunity."