Local News
Marty Walsh says the city is 'fixing' the issues that led to police not wearing body cameras at the 'Straight Pride Parade'
"We didn't have enough technology that day to have it. But as we move forward here, that's going to change."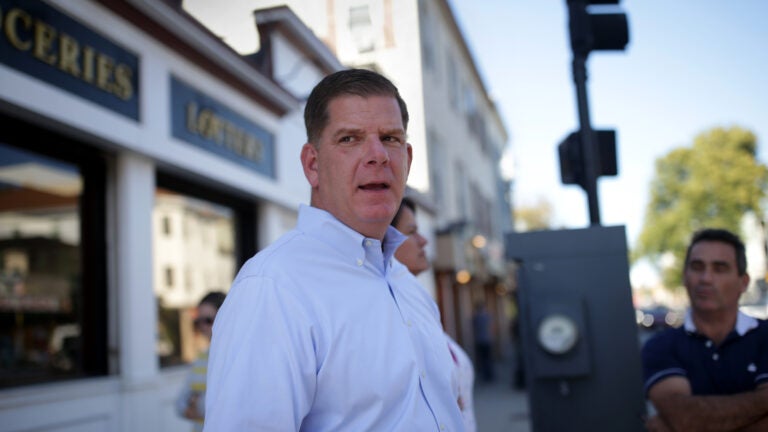 Mayor Marty Walsh said Friday the city is fixing the issues that led to Boston police not wearing body cameras while patrolling the "Straight Pride Parade" and the ensuing counter-protest in August.
Appearing on WGBH's "Boston Public Radio," Walsh said as the city was beginning to roll out the police program, it did not have enough cameras on hand for all of the reportedly hundreds of officers that worked during the controversial Aug. 31 event downtown.
"We had every officer who was available to work in the City of Boston that day as well as covering the districts," the Dorchester Democrat said during the show's monthly, "Ask the Mayor," segment. "So we didn't have enough technology that day to have it. But as we move forward here, that's going to change. We're going to have the technology and have the ability."
Thirty six people were arrested at the parade, where protesters clashed with authorities. Four officers suffered nonlife-threatening injuries.
But law enforcement has drawn criticism from protesters who say police used overly aggressive tactics to handle the crowds, including using pepper spray at one point.
Renewed criticism and questions followed in the wake of an Oct. 17 WBUR report that found that despite having collectively worked nearly 9,000 hours of overtime that day, not one officer there had a camera on.
While the Boston Police Department's body camera policy does not detail any exemptions for officers working overtime shifts, officials said in a press release in May that those working extra hours or on a paid detail would not be wearing them during the beginning of the rollout, the NPR station reported.
"These circumstances are based off camera battery life and roles of department personnel," the release says, adding that supervisors and detectives working assigned shifts, for example, are among those who would be exempt.
The body camera program rolled out this summer following a pilot program that ended two years ago.
Walsh said Friday every officer who is slated to have a camera will be equipped with one "within the course of the next few months."
He also said that the cameras' batteries hold a charge for approximately eight hours of use, enough to cover "regular shifts and some overtime," before they need to be recharged.
"Not every officer would have had a camera on (at the) 'Straight Pride (Parade)' because not every officer has them yet, but the officers that would of had them could have had them on, but the battery life is not there," Walsh said. "So we are fixing that.
"This was kind of a unique situation where we're in the beginning of a program, this 'Straight Pride Parade' comes up, and during that time the body camera (program was) instituted, so we're fixing that situation," he added.