Local
Madelyn Linsenmeir's obituary went viral a year ago. It prompted new approaches to the opioid epidemic at a Vermont newspaper.
"Our grief is huge and never ending. But to know that her death means something and can change minds or save lives or bring a face to this disease means so much."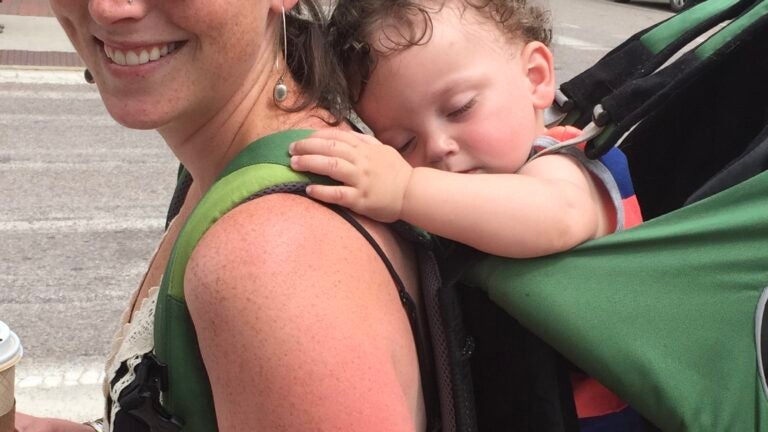 Thousands commented on the obituary.
The memorial went viral as thousands of more people shared it across the country, moved by the heartbreaking tribute to Madelyn Linsenmeir and the candor with which her sister, Kate O'Neill, wrote about the 30-year-old's yearslong struggle with opioid addiction.
"After reading this, I am crying at the beauty, the honesty, the profound sadness of your obituary," one person wrote in the comments on the obituary, published in Seven Days. "I lost my brother 13 years ago to addiction; and this finally put into words all the emotion I have felt every day since we lost him."
"I could have written this obituary, but about my brother," commented one woman. "He's been gone six months and all I can say is people need to educate themselves about the disease that is addiction."
"I'm truly grateful for your honesty and openness about helping other addicts," wrote another. "I'm in recovery and I know it is possible."
In the hours after the obituary's publication last October, Cathy Resmer, deputy publisher at the Vermont alt-weekly, was watching the comments closely, monitoring for inappropriate messages that could be hurtful to the family.
Of the more than 1,000 comments that came in, the newspaper only needed to remove seven, she told Boston.com.
"So many of the comments said, 'This could have been my sister, this could have been my brother, my uncle, my son, my daughter,'" Resmer recalled. "Everybody had a story — and all of those stories were unique. They were similar because all of them were about addiction and opioid-use disorder. But each one was unique because they were in their own words."
The volume of people responding to the obituary, sharing their own experiences with the opioid epidemic, gave Resmer and her colleagues at the Vermont newspaper pause — they, too, felt a duty to respond with the wave created by the poignant memorial to Linsenmeir.
"We've been writing about the opioid crisis for years, as has everybody, but it was very clear from this obituary that there were stories that weren't being told and that people were hungry to read them and wanted to hear more about this and contribute to these stories," the deputy publisher said.
It sparked two initiatives at the newspaper. First, Seven Days publisher Paula Routly hired O'Neill to write a yearlong series, titled "Hooked," on the opioid crisis in Vermont. 
"In conjunction with this yearlong project that Kate was doing, we thought a companion piece to that could be a website that would help families memorialize their loved ones the way that Kate memorialized Maddie," Resmer said.
The project, All Our Hearts, launched in September with the goal of showing the human face of the opioid crisis by sharing the words and stories of those impacted by it.
"We saw what could happen with one obituary and what kind of affect that could have," the deputy publisher said. "There are so many more. There are so many more people — so many more faces, so many more stories about who this affects. And each of these stories could have a greater impact on the problem that we've all been writing about and trying to address for years."
To submit a story of a deceased loved one to the site, family members fill out a form that asks a series of questions, ranging from inquiring about the person's interests to how their relationship changed because of the opioid-use disorder.
Once the form has been sent in, the team at Seven Days working on the project, which includes Resmer, reaches out to the submitter to talk more about their loved one. The draft that is compiled for the memorial, using information written in the form and the follow-up interviews, is ultimately sent to the submitter for approval before it is published.
Seven Days is inviting the families of those who've died as a result of opioid-use disorder to share their stories through an online memorial project called All Our Hearts. This week, we published excerpts from some of those entries about Vermonters. https://t.co/2EEemOt5FU pic.twitter.com/7HqIEkMh5O

— Seven Days (@sevendaysvt) October 11, 2019
Since its launch, Resmer estimated All Our Hearts had received more than 60 submissions, which typically each take a few days before they go up on the site.
For many of those submitting to the project, it is the first time they have spoken openly about the struggle their loved one experienced — a validation of the newspaper's motivation for undertaking the project, Resmer said.
"What I'm hearing from the families is that it's helpful for them to remember their loved one in this context," she said. "This site is not just about remembering the addiction, it's really about the people and their lives and who they were. And the addiction was just part of that. And in some cases, not a huge part. They have so much more to say about these individuals and to show."
But the site is also for those who may be struggling with addiction — to show them they are not alone and to help break down the stigma associated with opioid-use disorder.
"We always intended this as a beacon for people who are still struggling with getting into recovery and maintaining recovery," Resmer said.
The project takes its name from a line written by O'Neill in Linsenmeir's obituary, which was also published in the Burlington Free Press:
If you yourself are struggling from addiction, know that every breath is a fresh start. Know that hundreds of thousands of families who have lost someone to this disease are praying and rooting for you. Know that we believe with all our hearts that you can and will make it. It is never too late.
Through reporting her stories, which have ranged from stories looking at the epidemic driving sex trafficking to pregnant women with opioid-use disorder, O'Neill said she has only learned more about addiction — and about her own sister's experience since she first wrote the obituary.
"I've spent the last year wishing I had a time machine and that I could go back and do things differently," O'Neill told Boston.com. "I don't have a time machine. But I think of these articles and the work I'm doing now as a kind of time machine for people so that they don't have to go back. They can go forward with this knowledge that I wish that I'd had."
For example, she said she wishes she and her family knew about harm reduction and the local syringe service programs in order to better support Linsenmeir.
O'Neill said that she hopes that, in addition to seeing people continue to speak openly about their experiences with the epidemic and naming loved ones lost to it, there is more discussion and focus around keeping people safe — from death and disease — who are struggling with addiction.
"How do we keep them safe? That's something we need to talk about, and it's really scary," she said. "When my sister was using and actively injecting drugs, I did not want to think about things like syringe services. I just didn't want to think about it — because they terrified me. But me not thinking about it didn't stop it from happening. So how do we, in the face of the fact that drug use happens, keep people safe while they're using so that they have a chance to recover? You can't recover if you're dead."
With her sister's struggles guiding her in her reporting, O'Neill is transparent about what her family experienced.
"I have the personal experience that my family went through watching my sister, but, as I really delve in and do this research, I'm learning along with everyone else," O'Neill said. "And I'm open about that. I'm recognizing the biases that I held and that my family's held in spite of how much we loved Maddie and the things that we got wrong and the things that we didn't understand, and I'm acknowledging that. I think that also helps people acknowledge their own biases and judgments and the misinformation that they've absorbed."
The biggest topic that comes up time and time again, she said, is the stigma around addiction and the need to reduce the shame, since it can prevent people from seeking treatment. And with that conversation, O'Neill said she does feel that her sister's obituary has made a difference.
Continuing work related to the epidemic is something that O'Neill said she and her family will likely undertake for the rest of their lives. O'Neill is already due to begin work next year on a book about her sister and her family's experience.
"These 130 OD deaths every day and the many, many more deaths caused by related conditions — these are unnecessary deaths," O'Neill said. "They don't need to happen. So for Maddie's death to make a difference, it means everything for my family. Our grief is huge and never ending. But to know that her death means something and can change minds or save lives or bring a face to this disease means so much."
The writer said she never imagined she would be doing the work she is doing — or that the obituary she wrote for her sister would have the impact it has had.
Because she never imagined her sister — despite her struggle with an often-fatal disease — would die. Doing the reporting on the crisis has helped her navigate her own grief, and allowed her to make meaning from her sister's death.
But it also means, because of the nature of the opioid crisis, that she has been immersed in pain — that of those who are struggling with addiction or have a loved one who is — but also, her own.
"Her birthday was really hard, and I was working on a story about sex trafficking at the time, which was just awful, the combination," she said. "Because, again, I learned so much about sex trafficking that I didn't know and … as I was reporting the story, I was learning about what happened to my sister. I was learning about her experience. It was pretty intense."
Each time she sits down to write about the epidemic that claimed her younger sister's life, O'Neill pulls on a simple, gray crewneck T-shirt.
It belonged Linsenmeir, and O'Neill has had it with her since the 30-year-old died in a hospital in Springfield, Massachusetts. O'Neill hadn't packed correctly when she rushed to the hospital from her home in Philadelphia, and she asked her mother to bring her a T-shirt.
Her mother, driving down to the hospital from Vermont, brought her one of Linsenmeir's.
"I'm not a religious person, but I just feel like she is with me and she's helping me tell these stories," O'Neill said. "And when I'm writing, I just put on that T-shirt so I can just feel her close to me. And I do feel like she's with me."