Local
An MBTA group wants to transform the commuter rail. Here's what their preferred plan includes.
The agency's oversight board will vote on a plan next week.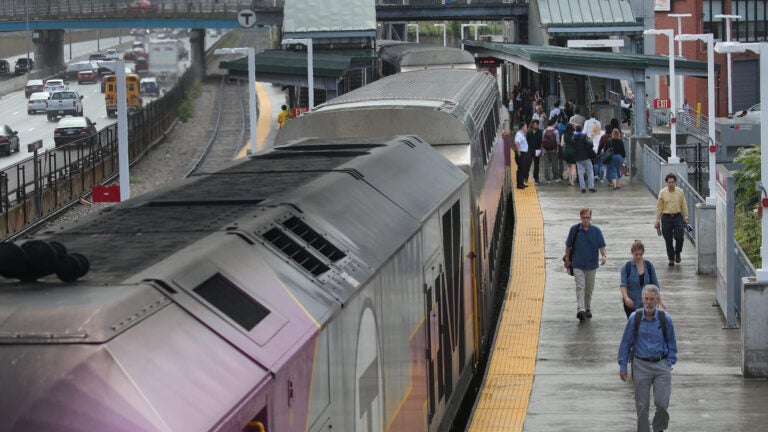 The MBTA's commuter rail advisory committee is calling for a transformative overhaul of the regional rail system in Massachusetts.
The Rail Vision Advisory Committee — made up of local lawmakers and transportation advocates — had been presented with six different options earlier this month outlining different ways of improving commuter rail service. During an MBTA meeting Monday, members of the group called for the sixth and most expansive proposal, CommonWealth magazine reported.
While the five other alternatives focused on improving certain aspects of the system, the "full transformation" plan envisions a fully electric commuter rail network with trains serving nearly every station at 15-minute intervals during both peak and non-peak hours, according to MBTA documents. Every commuter rail station would also have more accessible high-level boarding platforms.
Stephanie Pollack, the state's transportation secretary, noted that the committee picked the plan with the broadest array of benefits.
"What they're saying is people are interested in both urban rail and regional rail, depending on what communities they are from or representing, and there's a strong interest in electrification," Pollack said, according to CommonWealth. "There's only one alternative that has all three of those elements."
The "full transformation" plan also includes a number of major expansions, including a rail line directly linking North and South stations, extending the South Coast rail to provide regular commuter rail service to New Bedford and Fall River, adding service to Foxborough, and a Grand Junction shuttle running from North Station through Kendall Square to a new West Station in Allston (local officials are currently working to turn the little-used freight rail line into a pedestrian and cyclist corridor).
The plan also proposes a reduced, flat fare for inner suburban stations outside of Zone 1A, with mileage-based fares for the outer stations.
If all those initiatives were completed, MBTA officials estimate that daily commuter rail boarding would increase by 225,900 — or 150 percent — by 2040, compared to a no-build scenario.
It would also cost $28.9 billion, according to officials. However, there was no discussion of how to pay for the plan during the meeting Monday, according to CommonWealth — setting up a debate next Monday when the agency's Fiscal and Management Control Board votes to pick one of the six plans. The other five plans are estimated to cost less, but also consist of narrower improvements and more modest, if still significant, increases in ridership.
"It's going to be live and pretty messy," Joe Aiello, the chair of the FMCB, reportedly said Monday.