Local
Overdue books at the Boston Public Library will soon be fine-free for readers under 18 years old
"We're hoping this will encourage more people to come in and not have the library police after you."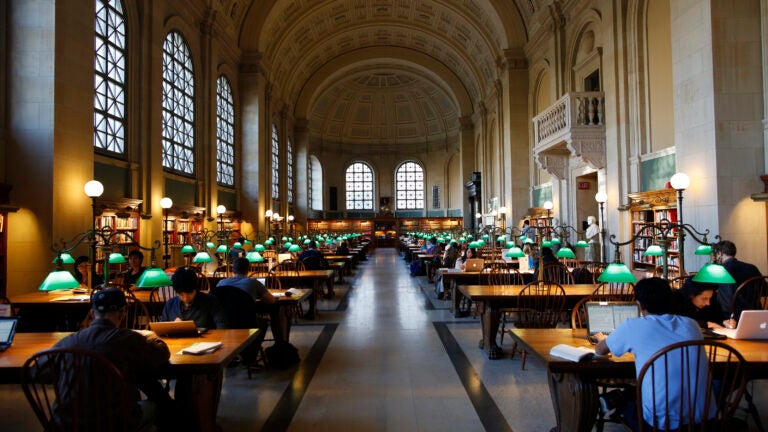 Starting Friday, young readers under the age of 18 won't have to worry about putting up the change for overdue books at the Boston Public Library.
The fine policy for juvenile library card holders is slated to be eliminated in a move city officials hope will encourage children to check out their local libraries more often.
The charges, they say, can serve as a barrier that keeps minors from taking advantage of what the library has to offer as the city experiences a "resurgence" in library interest, Mayor Marty Walsh said.
"We're hoping this will encourage more people to come in and not have the library police after you," he said recently on WGBH's "Boston Public Radio."
Under the policy change, late fees will no longer apply to minors, although they will need to return overdue books in order to check out other materials from the library, officials said in a statement. They will also be responsible for the cost of replacing a book if it is lost or not returned.
When the new rules take hold Friday, all pending fines and replacement costs for library goers under the age of 18 will be removed, officials said. Before the change, children and teenagers could be charged a maximum fine of $2.50 for each book returned after its due-back date.
"We're proud to be joining the ranks of libraries across the country who are moving towards being fine-free," Boston Public Library President David Leonard said in a statement. "Too often, fines penalize those least able to afford them and have the unintended effect of turning young people, in particular, away from their libraries. That's just not what 'Free To All' should mean in the 21st century. Eliminating youth fines reflects core values of the BPL — to be accessible, to be welcoming, and to ensure we are promoting youth reading, not preventing it."
Library officials say they collected only a fraction of the overdue fines due from youth card holders in the 2019 fiscal year.
While late fines totaled approximately $249,179, the library received only $24,069, or less than 10 percent.
"That data indicates that about 90 percent of BPL cardholders below the age of 18 are facing fines — and therefore barriers — to continued use of the library," officials said in a statement.
Asked on WGBH's "Ask the Mayor" segment about how the library will ensure overdue materials make it back on the shelves, Walsh said the library would eventually work with the young card holders "to make them come back."
"I mean, I think a lot of times kids misplace things, they put something somewhere … they'll find a book in a stack five years later, and what we don't want to do is discourage people from using the library," he said.