Local
Could raising gas tax and rideshare fees help Boston's transportation woes? Some business leaders say yes.
The Greater Boston Chamber of Commerce unveiled a new transportation policy agenda backing higher revenue targets and earmarks for specific projects.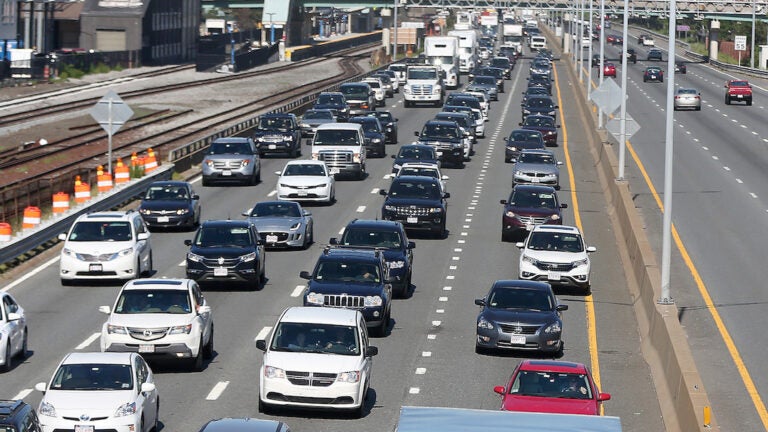 Traffic and congestion in the Boston area has gotten so bad, the region's productivity is at stake.
Failure to invest in infrastructure has left bridges crumbling in some parts of Massachusetts, and the impacts of climate change are anticipated to bring a new host of problems to the transportation system.
As a result, access to jobs and Massachusetts' competitiveness are on the line, according to a new transportation policy agenda unveiled Wednesday by the Greater Boston Chamber of Commerce.
Now, business leaders are offering their ideas for how state officials could take on some of the region's most pressing transit problems.
Raising additional revenues to fund projects and incentivize new behaviors is key, they say.
"The state must be prepared for the future not only in terms of investment, but also with its revenue structure," a summary of a presentation outlining the agenda says. "There are two underlying principles in this section: first, that we must get more people out of cars and into public transportation or other shared ride options, and second, we should use pricing to influence behavior, not just raise revenues."
Raising gas taxes and fees on ride sharing services like Uber and Lyft are both options backed by the chamber.
And there's already notable support in the business community.
The new policy agenda comes in tandem with results of a survey conducted by the chamber-organized Massachusetts Business Coalition on Transportation, which convened in April "to develop and promote a collaborative statewide business agenda for transportation to increase ridership on public transportation, decrease road congestion, and improve bridge and road conditions," according to the group.
Survey results show a majority of the 20 participating business groups generally support the initiatives to bring in new money and bolster change.
"There is near unanimous support for raising additional revenue for transportation provided it is paired with changes to capital project delivery, oversight, and workforce capacity and planning," a document outlining survey results shared with reporters says.
Here's what to know:
A proposed pricing 'task force' could research how Mass. expands tolling and takes on new efforts like congestion pricing
A "strong majority" of business leaders surveyed — roughly 85 percent — support the creation of a "21st Century Roadway Pricing Task Force," according to survey results.
Private citizens, appointed by the state speaker of the House of Representatives and Senate president, would helm the group, which would take one year to put together a plan for "expanded statewide applications of technology, including tolling, congestion pricing, managed lanes, etc.," officials said.
That plan would detail everything from a timeline and pricing rates to gantry placement and rebates, and programs to address "social and geographic inequity," a briefing on the survey findings says.
"The task force would consider modern roadway pricing strategies, including congestion pricing models," the summary says.
The Chamber of Commerce supports raising gas taxes and charges on ride sharing services
Since 1991, the MBTA's Charlie Card and cash fares and inflation have increased exponentially, but raises in the gas tax have not kept up nearly at the same pace, according to the Chamber of Commerce's policy presentation.
That should change, the group suggests.
The organization backs a 15-cent hike, phased in over three years with a 5-cent annual increase, the agenda says. The current tax is currently 26.5 cents per gallon.
Meanwhile, the chamber also supports increasing fees for ride-sharing companies like Uber and Lyft from the current 20-cent tax to "between $1.20 and $1.70 along with surcharges for luxury vehicle rides and rides during peak congestion periods," the group wrote in its summary.
"The fee should be passed along to the rider," the chamber adds.
Participants of the Massachusetts Business Coalition on Transportation survey showed a "strong majority" of support, or about 85 percent, for raising ride sharing fees, while there was slightly less support — approximately 70 percent — for a bump in the gas tax. Survey respondents, however, did not identify specific increases for either initiative.
The chamber is also supporting a 10-cent-per-gallon maximum fee for drivers at the gas pump — separate from the gas tax — under a program, depending on how it rolls out, by the Transportation Climate Initiative, a coalition of 12 East Coast states and Washington D.C. working to reduce transportation-related carbon emissions.
The chamber notes that officials can also leverage technology and employers to help manage the transportation crisis.
"These are ways that employers and the private sector can play a part in addressing transportation issues," a summary of the presentation reads. "Many are already taking steps, like offering telecommuting options and providing pre-tax or subsidized public transportation benefits."
New revenue should be specifically allocated for certain investments
New revenue brought in under those proposed initiatives should be earmarked for specific purposes, the Chamber of Commerce says.
"Geographic and social equity are important factors in this proposal," the chamber notes in a summary of the policy's points. "This includes how and where the revenue is spent."
Specifically, the organization is seeking for lawmakers to funnel the cash towards "public transit expansion and modernization; climate adaptability; state highways and local roads; and fare balancing for the MBTA," according to a presentation.
Massachusetts lawmakers are slated to debate potential transportation improvements next month.