Local News
A 10-vote margin separated two Boston at-large city councilor candidates. Now, there's a call for a recount.
Julia Mejia garnered 22,464 votes to Alejandra St. Guillen's 22,454, unofficial results show.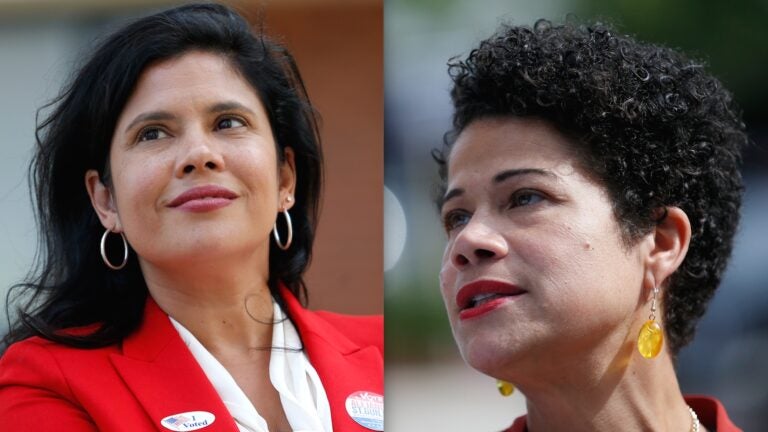 Unofficial results from Boston's municipal election late Tuesday night show a thin margin of 10 votes separating frontrunner Julia Mejia from Alejandra St. Guillen, each vying for one of four at-large City Council seats.
Mejia, a community activist, garnered 22,464 votes to the 22,454 tallied for St. Guillen, an immigrants right advocate, the unofficial numbers show. Each gathered roughly 11.18 percent of the vote in the eight-way race.
While Mejia declared victory, St. Guillen, in a statement released shortly after midnight, called for a recount.
"We are so proud of the campaign we ran, and in order to fight for a better Boston for all, every vote needs to be counted, and we are requesting a recount," St. Guillen said in the statement. "This campaign engaged thousands of voters across this city to ultimately be separated by just 10 voters. Every voter who came out and cast a ballot — whether it be absentee, in the voting booth, or provisionally — deserves a full and complete count to determine who is our next City Councilor at large."
Both are looking to secure the fourth place finish in the at-large election, effectively succeeding incumbent Althea Garrison, who garnered roughly 8.04 percent of the vote to secure seventh place behind political newcomer Erin Murphy, with 8.38 percent, unofficial results show.
Three other incumbents, Michelle Wu, Annissa Essaibi-George, and Michael Flaherty, were the top three vote getters, in that order, according to the unofficial results. David Halbert placed eighth.
Mejia told Politico she "absolutely" feels confident that her lead would hold after a recount.
"You have to recognize that the whole idea was for us to set out to change the way people were engaged in this process," she said when asked if she supports a recount. "So what message are we sending to communities of color, who came out in large numbers to demonstrate that they do matter? The message that we're going to send is like, well, we're going to see whether or not, how well you do matter, and whether or not you really do count."
I asked @juliaforboston if she supports a recount. Here's her full quote #mapoli #bospoli pic.twitter.com/8NzHmrozuH

— Stephanie Murray (@stephanie_murr) November 6, 2019
Earlier in the night, before 11 p.m., as results seemed to show a larger margin, St. Guillen had told supporters in a concession speech she wouldn't request a recount "for everyone's sanity," Politico reports. She said she had called Mejia to concede.
"It does look like we didn't make it," she said. We're 200 votes down … it's too much to make up."
Looks like @juliaforboston's got it. @astguillen says she is 200 votes behind and called Mejia. Won't go for a recount. "I don't feel we left anything on the field," St. Guillen says. #mapoli #bospoli pic.twitter.com/St1ey4Aaih

— Stephanie Murray (@stephanie_murr) November 6, 2019
According to Politico, sources said Mayor Marty Walsh's office was in contact with both campaigns Tuesday night, although it is unclear what a recount process could look like or how long it could take.
This is a developing story. Check back for more information as it becomes available.