Local News
Lobstermen rescue deer from ocean 5 miles off Maine's shore
Oh deer!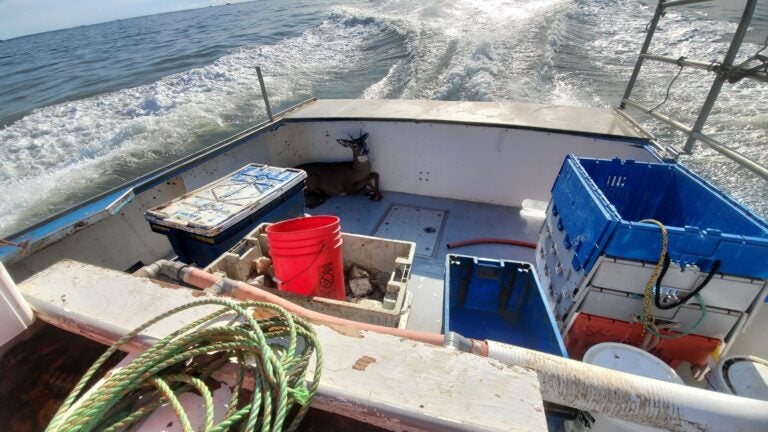 A group of Maine lobstermen had been hauling for a few hours Monday morning when they saw something strange poking out of the water: antlers.
Commercial lobsterman Ren Dorr estimated their boat was about 5 miles from land when they spotted the deer. Jared Thaxter said it was clear the animal was exhausted.
"You could tell he was struggling," Thaxter said.
Mark Latti, a spokesman from the Maine Department of Inland Fisheries and Wildlife, said it's "fairly unique" to see a deer swimming in the open ocean, though they often swim from island to island closer to shore.
"No one is quite certain why or what triggers it," he said of the more adventurous escapades.
Worried the deer wouldn't make it back to land,  Dorr, Thaxter, and their buddy Shawn Dowling set out to help it. 
They circled the deer a couple of times with the boat, tried to corral it with some rope, and then eventually hauled it aboard by its antlers.
Thaxter said they backed away quickly because they weren't sure how the deer would react to being on the boat, but it was too wiped out from all of that swimming to care. It just trembled and looked around as they worked to get it back to land.
"I think you could tell at one point he figured out we're just — we're helping him, so he just relaxed and sat there and stared at me for a little bit," Thaxter said. "It was really cool just to look him in the eyes like, 'Hey, bud, we're helping you out.'"
As the trio maneuvered to get as close to land as they could, Dorr and Dowling helped the deer off the boat. But Thaxter said it started swimming right back out to the ocean, so they blew the horn a little and used the boat to shepherd it toward shore.
"We got him headed the right way," he said. "But he didn't go to the nice little beach we put him at — he went to a big rock next to it. He wanted to still struggle."
Though the men didn't decide on a name for the wayward deer, Thaxter came up with one on his own: "Herdinand Magellan."
"He was definitely an explorer," he laughed.