Local
Is Massachusetts still at risk of EEE?
"It's much harder, close to impossible to track it the same way as it decreases."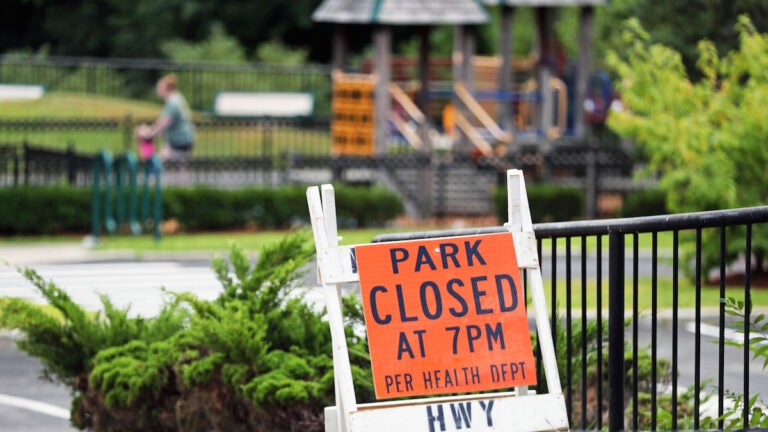 With the falling leaves and cooling temperatures, the shift into late autumn will also curtail one other mainstay of the warmer months: those pesky mosquitos.
But there's more at stake this year in the otherwise humdrum dropping-off of the winged nuisance.
Starting in late summer, Massachusetts began battling what could be a years-long outbreak of the potentially fatal, mosquito-borne Eastern Equine Encephalitis virus, known as EEE.
Twelve people across the state were diagnosed with the rare infection, which claimed the lives of three patients. EEE was also confirmed in nine animals: eight horses and one goat, according to the state Department of Public Health.
The illness carries symptoms of brain swelling, fever, and coma, and kills roughly a third of the people who contract it. Those who survive are usually left with severe neurological disabilities and complications.
The latest cases triggered repeated warnings from state officials, who actively cautioned the public to take preventative steps to reduce personal EEE risk. At this year's peak, the outbreak put 35 communities at critical risk, while 53 and 121 others hit high and moderate risk warnings, respectively.
In some towns, the danger meant changing behaviors. High schools put curfews for after-dark outdoor activities in place, and sports games usually reserved for the glare of Friday night lights were rescheduled.
So, with dose of unseasonably cold weather on tap for this weekend as the region plunges deeper into November, is the risk of EEE finally behind us?
What to know about this year
"At this point, I think the risk is as low as it could possibly be and not be zero," Dr. Catherine Brown, state epidemiologist, told Boston.com Wednesday.
Indeed, many parts of the Bay State have already seen their first hard frost of the season — Mother Nature's mechanism for killing off mosquito populations before the coming winter.
As of Nov. 3, Berkshire, Franklin, Hampden, Hampshire, and Worcester counties have all experienced the chill, according to the DPH. Central Bristol County, northern and central Essex County, and northern Middlesex County have also seen a hard frost to date.
Temperatures are forecasted to plummet this weekend, with highs scraping only into the upper 30s on Friday. Brown said that frigid air could be the last push that kills off any small population of remaining mosquitos, needed in places like southeastern Massachusetts, parts of which have yet to experience a hard frost. (Areas of Cape Cod and the islands, however, could still see a few flying around, she said.)
While officials rely on that first hard frost to help gauge the mosquito population, determining decreasing EEE risk, unlike increasing risk, is not necessarily straightforward, according to Brown.
"It's much harder, close to impossible to track it the same way as it decreases in the end of the season," she said.
The DPH is conservative about declaring decreasing risk levels because as winter approaches, it becomes harder for scientists to lure mosquitos to traps so they can be tested for EEE, Brown said.
Why?
Well, as survival becomes more challenging for mosquitos, those traps are simply not as attractive as the real deal — living, bleeding food sources, Brown said.
"It's just sort of a natural part of their cycle," she said.
Officials must also balance this knowledge with what they know from past experience when evaluating risk, Brown said. During previous outbreaks, the state has seen human exposure to EEE after September, including once as late as Halloween, she said.
Still, for this year, if any mosquitos are still buzzing around out there, there likely aren't a lot of them, according to Brown.
"At this point in the year, there really should be few mosquitos left," she said.
What to know about next year
Each EEE outbreak in Massachusetts lasts approximately two to three years, according to the DPH. Prior to this year, nine human cases were reported between 2010 and 2012, during which four people died from the virus.
While next year is still a bit out of focus, Brown said officials have already begun monitoring the factors that can indicate just how extreme mosquito conditions could be come the return of warm weather.
The amount of precipitation the region receives is one aspect they study. Pools of water give the insects more homes to store their larvae.
The other is juvenile mosquitos in red maple and white cedar swamps, which are prime haunts for EEE-carrying species, Brown said. The Bay State has a lot of them.
The mosquitos lay their eggs in water pockets underneath tree roots, according to Brown.
What's encouraging about how next year is shaping up is that right now, there's not much water in those pockets and a dry environment will kill off any mosquitos that were living there, she said.
But, according to Brown, state departments will also meet over the winter to discuss how to refine their approach to the outbreak based off the prior season and the latest information.
"We should anticipate that there will be activity next year and the year after, but … there are a lot of people from a lot of different agencies … working on making sure we are as prepared as we can be for next year," she said.