Local News
The new Red Line cars feature more space and new seats. Here's a look.
Say goodbye to those old patterned cloth seats.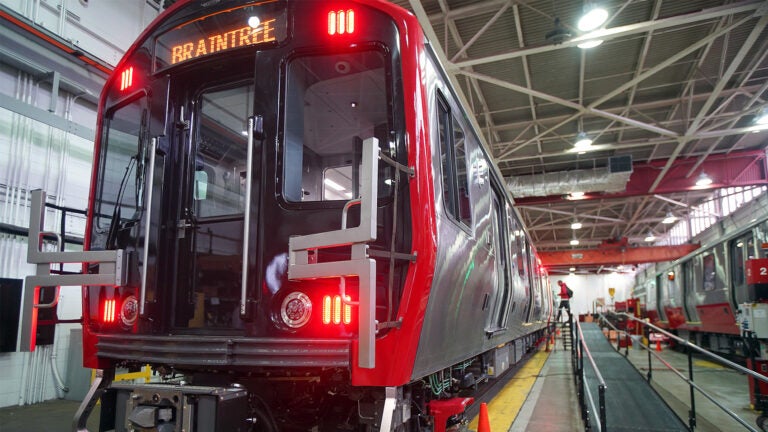 The first new Red Line cars are currently scheduled to hit the tracks next spring, but the MBTA gave a preview of what's to come Thursday.
At the agency's maintenance facility in South Boston, transportation officials showed off a few of the sleek, new pilot cars, which will eventually replace the current 218-car Red Line fleet. The MBTA says the full order of 252 new vehicles is projected to be in service by 2023. Officials say the new fleet will increase the Red Line's capacity by 65,000 riders a day.
So what's different about the new trains?
For starters, the cars have noticeably wider doors, as well as more handrails and space to stand inside. They also feature improved accessibility features. In addition to the wider door opening, each car has four accessibility areas — double the amount in the current cars — and platform gap mitigation devices.
The new cars also have LED lighting and a more advanced audio and visual announcement system.
Another big change: Just like the new Orange Line cars (which are currently beginning to slide into service), the new Red Line cars are doing away with those retro-patterned fabric seats. Like other transit agencies across the country, the MBTA is phasing out the well-worn cloth seats for easier-to-clean, plastic iterations.
Today, @MassDOT Secretary and CEO @Steph_Pollack and MBTA GM @SPoftak provided a sneak peek of the all new Red Line train cars, which will debut in Spring 2020.
⠀⠀
Learn more about the upcoming new 252-vehicle fleet at https://t.co/NduHSzkYkn#BuildingABetterT pic.twitter.com/iomJfAZKTz

— MBTA (@MBTA) November 7, 2019
MBTA spokesman Joe Pesaturo told Boston.com that the news seats will be more more durable, as well as more difficult to vandalize and easier to replace, if necessary. They can also "snap back" to increase space for things like wheelchairs and strollers, he said.
The cars also have modern propulsion and braking systems, which the MBTA says will result in faster trips between stations. Their target is to have trains arriving at stations in three-minute intervals.
However, passengers shouldn't have to worry about sliding around in the new seats as the trains accelerate and brake; Pesaturo says the seats' texture has a bit of "grip" to reduce any slippage.
Photos courtesy of the MBTA and The Boston Globe: