Local
Work is underway in Somerville to open a safe injection site in 2020. Here's what we know.
"We can't afford to lose another individual to this epidemic, and that's the real reason that we're working on this."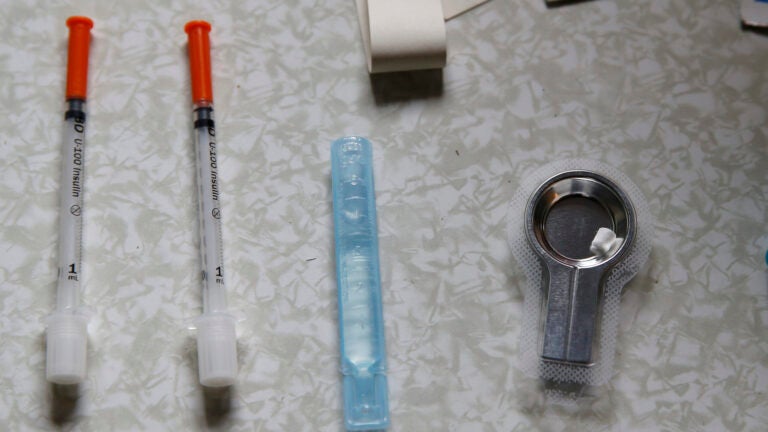 Somerville Mayor Joe Curtatone announced in August that the city planned to open a safe consumption site, where those struggling with addiction could inject drugs under medical supervision, in 2020 — potentially the first such facility in the state and in the country.
That remains the goal despite the repeatedly stated opposition from federal prosecutors, Doug Kress, the city's director of health and human services, told Boston.com last week.
The aim of opening a supervised injection site is harm reduction — adding "another tool in the toolbox" to save lives in Somerville, he said, in order to keep people caught in the opioid crisis alive until they are ready to receive recovery services.
"We can't afford to lose another individual to this epidemic, and that's the real reason that we're working on this," Kress said. "Just recently we lost another resident to the epidemic [to a] fatal overdose, and that is just too many. We need to think about this, we need to think differently because what we've been doing isn't working."
Massachusetts ranks among the top 10 states in the nation with the highest rates of overdose deaths. In 2018, there were an estimated 1,974 opioid-related overdose deaths in the state. The state's Harm Reduction Commission, a government-appointed group of local elected officials and health experts, recommended in early 2019 that lawmakers approve the creation of one or more of the sites, which are also being considered in Philadelphia, Seattle, and San Francisco.
Massachusetts lawmakers have since taken up two bills related to establishing the safe injection sites in the Bay State and have been hearing from proponents of the facilities, including Curtatone, who argue that in addition to saving lives, the sites reduce stigma.
In early October, a federal judge ruled in favor of a nonprofit seeking to open a site in Philadelphia, finding that the section of the Controlled Substances Act aimed at closing crack houses did not apply to the proposal and that the safe consumption facility would not violate federal law.
Despite the ruling, Massachusetts U.S. Attorney Andrew Lelling has reiterated his opposition to the facilities, stating that efforts to open them in the state "will be met with federal enforcement."
Statement from U.S. Attorney #Lelling re drug injection sites: pic.twitter.com/04964e5ByR

— U.S. Attorney MA (@DMAnews1) October 3, 2019
"This is a harm reduction effort that we need to do, and Somerville is willing to be the first," Kress said of moving forward instead of waiting for the state to take action. "We're willing to look at this and say, 'We care about our community, we care about our residents, and we want to do what we can to make sure that they're alive. So that when they are ready to go into recovery, they're alive to do so.'"
 A city working group, comprised of members representing first responders, therapists, people working in recovery, medical professionals, people who are drug users, elected officials, city staff, and community representatives, has been working to develop a plan for the site in Somerville.
The director of health and human services, who is part of the group, said they have been doing their "due diligence" in trying to understand everything that comes along with supervised consumption sites through the lens of three different buckets: legal and regulatory issues, operational aspects of a site, and a communications plan.
"We're trying to be very thoughtful of this and very mindful of what is the work that we can do," Kress said. "Because we realize that there are a lot of people who are looking at us. … We want to make sure we are moving forward and not being stagnant and caught up in any of the negative aspects of it. How are we moving it forward in order to be successful for our community? And when I talk about the community that includes everybody."
The group is still discussing and researching a multitude of questions around how the site would take shape.
They range from investigating whether a mobile approach may be better than a brick-and-mortar facility to researching the options for how the site would be operated — whether it would be managed by the city, a local nonprofit, or if the city would contract with a group to run it.
There are also questions, Kress said, of the legal implications for those staffing the facility. For example, would supervising medical professionals be at risk of having their professional licenses impacted by working at the facility?
"We have not identified a location as of yet," he said. "Because we are still trying to identify what are the things that we need in here, what is going to be the most useful for the community, who is going to use this, and what's going to be supported by the community that surrounds them? So that we can all work together in this effort of harm reduction."
They are "very aware" of what the U.S. attorney has said on the issue, he said, and as the group works, they are carefully keeping documentation of the steps of their considerations for documentation in the event of a legal challenge.
But the hope is also that the group's work could serve as a roadmap for others.
"We don't always know what directions lawsuits will decide to take, but we are very aware that there is a potential for that," Kress said. "But we're going to go back to the idea that this is harm reduction. We are trying to save lives. And that is our focus that we have within our efforts within the working group itself."
Currently, he said he expects members of the working group will travel in the next few months to Montreal, Canada, to visit supervised injection sites, with the goal of putting together recommendations for a plan in early or late spring of 2020.
Opening the site in 2020 remains a priority and, the director of health and human services said he remains hopeful that it will occur.
"We don't know what roadblocks we might run into along the way," he said. "I would like to say that we are well on our pathway to establishing one. But there are still a lot of touch points and benchmarks that we need to reach before we're ready to open one."