Local News
'We just try to do everything we can': Here's how an organization aids the homeless during extreme cold
"Knowing that we are coming into a couple of very cold days, we are keeping our shelters open around the clock."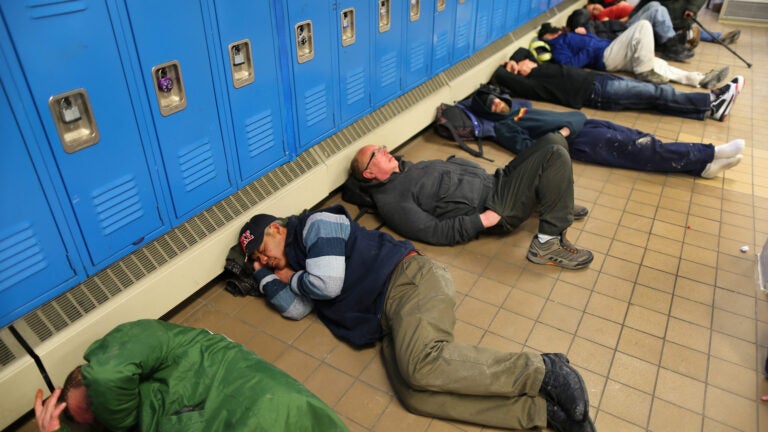 As the weather turns cold and Boston faces wind chills forecasted in the single digits Wednesday morning, the lower temperatures pose a threat to those who don't have anywhere to call home, minus the city streets.
For organizations like Pine Street Inn, which has been working with the homeless population for the past 50 years, it's all about getting people in a warm, safe place, including trying to help those who initially decline their offer, according to Barbara Trevisan, the organization's marketing and communications vice president.
"In particular, knowing that we are coming into a couple of very cold days, we are keeping our shelters open around the clock and we are encouraging men and women to come inside and stay inside where it's safe and warm," she told Boston.com on Tuesday. "That's kind of our winter protocol."
That includes providing space even if the organization's four shelters run out of beds. This means either finding another shelter that has space, or pulling out mats and cots for guests to stay on.
Pine Street has teams out on foot during the day, and there's vans that drive through the city at night. Sometimes a potential guest refuses the offer of shelter, and workers provide them with extra blankets and food instead, according to Trevisan.
"And we'll check on them frequently, just to ensure that they are OK," she said. "Both of those are sort of heightened elements during the cold snap."
The vans were out from between 3 and 6 p.m. Tuesday, and were planned to continue working throughout Tuesday night and all day Wednesday, according to a news release from Mayor Marty Walsh's Office. Along with the space Pine Street Inn provides, women are encouraged to use the Woods-Mullen Shelter at 794 Massachusetts Ave., and men can use the 112 Southampton Street Shelter. Winter overflow beds were planned to be added Tuesday night with additional space for women at the Boston Rescue Mission, the release said.
While it may seem counterintuitive to refuse shelter and stay outside instead, Trevisan there could be multiple reasons why someone may make that decision.
"There are rules in terms of when you go to bed, when you get up, when you eat," she said. "For some people … they would rather take their chances on the street."
It could also be having to go to a place where there's a lot of people, according to Trevisan. If it looks like someone could be in personal danger, Pine Street will work with city services to get them off the street.
"We just try to do everything we can," she said.
Pine Street Inn estimates there are more than 115 people that stay on the streets overnight every night.
From a police perspective, Sgt. John Boyle said officers pay attention to homeless staying on the street during patrols.
"We strongly advise residents and visitors to the city, if they see people in need or suffering from weather-related issues, to contact Boston police," he said.