Local
MBTA apologizes for 'uncomfortable commute' after video shows commuter rail train traveling with open door
"There were people holding on for their life onto the bars so that they didn't fall out."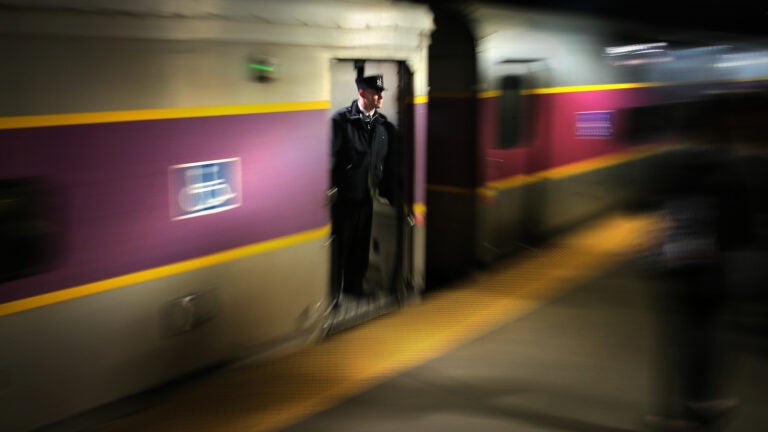 MBTA officials are apologizing to riders who experienced an "uncomfortable commute" Tuesday evening, after a passenger captured video of a packed commuter rail train traveling with an open door.
The footage, which was posted on Twitter, showed a Middleborough/Lakeville line train out of South Station cruising through the chilly November night with one of its doors wide open, as some passengers grasped the rails near the edge of doorway. Another passenger tweeted that there was no room for them to move into the coach area of the train, which was overcrowded due to delays Tuesday afternoon.
@MBTA_CR @mbta @7News @marty_walsh on the Middleboro train, door wide open tracing at full speed. No conductors in sight and passengers holding on to rail trying not to fall out pic.twitter.com/qYRQJLA8tD

— where are all the adults (@ken_shackleton) November 12, 2019
The passenger who took the video, who wished to remain unnamed, told 7 News in an interview Tuesday night that the door closed at the platform, but didn't latch and stayed open for most of his 30-minute ride to Brockton, despite efforts by passengers to hold it closed.
"There were people holding on for their life onto the bars so that they didn't fall out of the train," he said. "A gentleman held the door closed while we were traveling. He lost his grip a couple times where the door would open and he'd have to push it closed again so no one would fall out."
On Twitter, the MBTA Commuter Rail's official account replied that they were looking into the incident. The train, which was originally scheduled to leave South Station at 4:40 p.m., was running behind by 25-30 minutes due to a mechanical issue.
"We've escalated this concern to be addressed as safety is very important to us," officials wrote. "Sorry for the uncomfortable commute and have a good evening."
Justin Thompson, a spokesman for the MBTA's commuter rail operator, Keolis Commuter Services, told Boston.com that the company is investigating the incident, but that a preliminary check after the trip Tuesday night found the power doors to be operating correctly. Thompson did says it was possible, however, that they failed to latch, but didn't want to speculate on what caused the problem Tuesday night.
Thompson said such incidents are "relatively rare" and that they encourage passengers to notify crew members on board if a train's door fails to close.
"Thankfully, this is not a regular problem," he said, adding that Keolis has increased its onboard crews by 25 percent since 2014 to increase their abilities to respond to these sorts of problems.