Local
'God bless that man': Worcester Fire Lt. Jason Menard remembered as devoted father, helpful neighbor
"Jason loved nothing more than his family, together laughing, joking, and enjoying their company."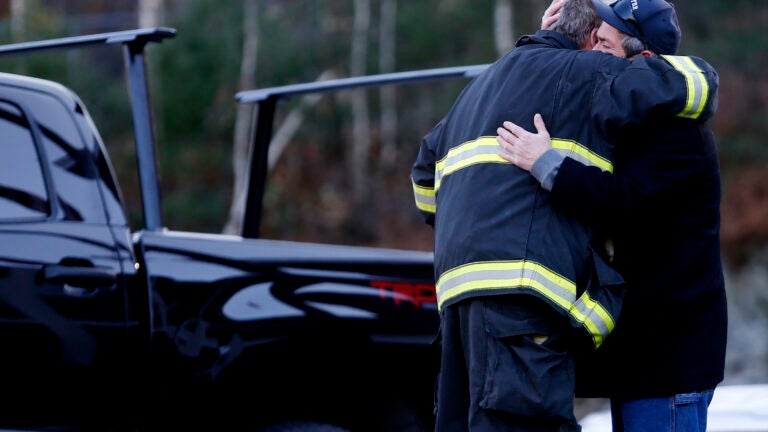 Worcester Fire Lt. Jason Menard loved his job.
"He was a passionate fire officer who absolutely loved being a firefighter," Fire Chief Michael Lavoie said, recalling the 39-year-old assigned to Ladder 5, Group 2 at the city's McKeon Road Fire Station. "He took his job very seriously, performed it admirably, and his dedication to the residents of Worcester was unwavering."
It was that passion that he carried into the burning, triple-decker home at 7 Stockholm St. early Wednesday morning, amid fierce winds and the bitter cold.
Heavy flames greeted first responders upon their arrival at the scene around 1 a.m., but Menard trudged into it with his fellow firefighters. His crew had a mission: to search for a person and a baby reportedly trapped on the third floor.
Eventually, "Mayday!" reports blurted out over the scanner, according to audio recorded by Broadcastify.com.
The group of firefighters were trapped themselves, stuck in a third-floor stairwell, one of them called out.
"We need a ladder here now," one firefighter said over the radio. "… There is a lot of debris. We are trying to find a way out."
Menard apparently did. However, not for himself.
He saw to it that two other firefighters found safety, officials say. He helped a probationary firefighter to the stairs and threw another out of a nearby window, saving his life.
Menard did not escape.
A nearly 10-year veteran of his department, Menard leaves behind his wife, Tina; three children; and his parents.
Colleagues and neighbors, working to make sense of the sudden loss, described him as a loving father and an always-ready-to-help neighbor who brought the same passion and dedication he had for his job to his time spent off the clock.
A 'wonderful, wonderful man'
Firefighter Michael Papagni, president of Worcester Firefighters Local 1009, told The Boston Globe Wednesday that Menard "loved his family more than anything in the world."
"He found great joy in spending time with them and loved his wife and children very much," Papagni said.
Menard, a Worcester resident, was a graduate of Doherty Memorial High School, The Worcester Telegram & Gazette reports.
"From what I see, he loves his family, for sure," Fayt Nguyen, a neighbor of Menard, told the newspaper. "He's there for his wife, his kids. When I see him, he's cleaning his yard. He's working. Definitely no slacker."
According to the Globe, Menard lived in a tight-knit cul-de-sac, where one neighbor remembered him as a "wonderful, wonderful man."
"He was always lending a hand," Debbie Henricksen said. "You didn't even have to ask."
She remarked how Menard would sometimes mow her family's lawn when they were out of town.
Nguyen shared a similar memory, telling the Telegram & Gazette how, when the snow plow rumbles by his home in the winter, a two-foot wall of snow often gathers in his driveway.
"So I'm here with my shovel," he said. "Sometimes I come out and he's doing it for me … He's a very good guy."
At the fire station Menard was assigned to, Julia Peralta brought a bouquet of flowers with her 3-year-old son, Tony, to place out front Wednesday, the Globe reports.
An emergency dispatcher in Worcester, Peralta told the newspaper she went to middle school with Menard.
"He's the greatest guy, the nicest guy," Peralta said. "His family was everything, from what I can tell."
In a statement Thursday, the fire department described Menard as a "proud father and dedicated husband."
"Jason loved nothing more than his family, together laughing, joking, and enjoying their company," the statement says. "His loss is devastating to his family and his brother and sister firefighters."
On duty, Menard "was always a joy to have in the firehouse and to be around" and had "a true passion for firefighting," Papagni told the Globe.
Menard was supposed to leave for vacation with his family just hours after the Wednesday morning blaze, according to Papagni.
"As they had planned this morning to be on a trip to Disney, they are now instead planning a hero's send-off," Papagni said during a press conference. "And as always, our Worcester firefighters will stand strong by that family, and we will send off Jason as he deserved and he earned. And we'll support his family and his children for the rest of their lives."
'Almost more than one city can bear'
On Wednesday, Menard's body was brought to the chief medical examiner's office in Boston for an autopsy. The trip from Worcester and back was lined with firefighters from across the state, standing in salute and offering a solemn tribute to their fallen brother.
"It's a sad day," Boston Fire Commissioner Joseph Finn told the Globe. Finn watched as the hearse arrived on Albany Street.
"Our hearts and minds go out to the Worcester Fire Department," he said. "It's certainly a very tragic time of year for the department and they're all great firefighters and great men."
Procession leading fallen #Worcester Firefighter Lt Jason Menard back home from #Boston ME's office. Several fire departments positioned on bridges along the Pike. #wcvb pic.twitter.com/zvIIUHLZfi

— Sera Congi (@seracongi) November 13, 2019
Hearse & procession carrying the body of fallen @WorcesterFD Lt. Jason Menard passes his fire house, as firefighters salute & family members watch. A very emotional scene. #wcvb #Worcester pic.twitter.com/CdTISo5OoH

— Todd Kazakiewich (@ToddKazakiewich) November 13, 2019
The line of duty death is among several the Worcester department has faced over the last two decades.
Next month marks the 20th anniversary of the Worcester Cold Storage and Warehouse Co. fire that killed six firefighters.
On Dec. 8, 2011, firefighter Jon Davies Sr., 43, was killed in the line of duty, and firefighter Christopher Roy, 36, died on Dec. 9, 2018, while battling a blaze on Lowell Street.
"To have this cruel loss early this morning is almost more than one city can bear," Worcester City Manager Edward Augustus said of Menard's death Wednesday.
He told reporters Menard and his crew's "heroic actions speak volumes of the type of dedication and selflessness that have become synonymous with the Worcester Fire Department."
"I stand before you and ask that our city does what we have all become far too familiar with doing, which is to wrap our arms around this family and this department during this devastating moment," he said.
'The outpouring of support … has been nothing short of extraordinary'
The community has already begun to heed Augustus's call.
In a Facebook post Wednesday afternoon, fire officials said they had already received messages and inquiries from around Massachusetts "and beyond about how to help and contribute."
"The outpouring of support shown to the family of Lieutenant Jason Menard and the Worcester Fire Department today in the wake of his untimely passing has been nothing short of extraordinary," the post says.
On Thursday, the department announced it is accepting donations for Menard's family through the Professional Fire Fighters of Massachusetts Foundation.
"Jason had a passion for his job and was dedicated to the oath he took to protect the Worcester community without question," the department said in a statement announcing the memorial fund. "His heroic actions are proof of that dedication and his selfless commitment to not only his community but his fellow firefighters."
Officials said "100 percent of the donations collected will go directly to Jason's family."
On Friday morning, the New York-based Stephen Siller Tunnel to Towers Foundation is also slated to formally announce an initiative to raise money to pay off the Menard family's mortgage, the organization said in a press release.
The foundation's "Fallen First Responder Home Program," since 2015, has worked to make sure 40 families of first responders with young children can continue to live in their homes after a family member was killed in the line of duty.
The organization, founded in honor of New York City firefighter Stephen Siller, who was killed during the Sept. 11, 2001, terrorist attacks, raised enough money to pay off the mortgage of slain Weymouth Police Sgt. Michael Chesna after his death last year.
"Lt. Menard gave up his life to save the lives of his fellow firefighters, going back into the flames to make sure they got out safely," Frank Siller, chairman and CEO of the Tunnel to Towers Foundation, said in a statement. "Lt. Menard, like my brother Stephen, ran towards danger thinking only about the lives he could save, not what could happen to him."
Kathy Desrosiers lives across from the Stockholm Street house that caught fire Wednesday, according to the Globe. 
She and her husband helped tend to about 10 of their neighbors who were displaced during the blaze after they awoke to screams outside their home, she said.
She told the newspaper Menard is a hero.
"God bless him," Desrosiers said. "God bless that man."