Local
It was a record-breaking year for shark research off Cape Cod. What you need to know.
"There certainly was no shortage of sharks around."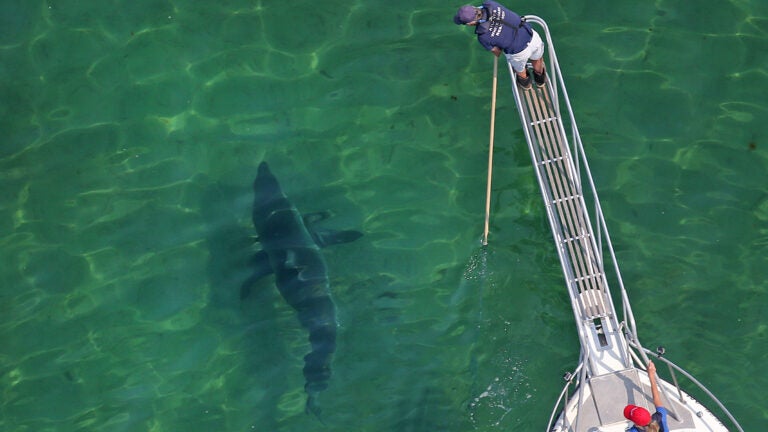 It was a record-breaking season for researchers studying the sharp-toothed ocean predators swimming in Massachusetts waters.
Scientists tagged 50 great white sharks off Cape Cod between July and November — the most they have ever tagged in a single season.
Greg Skomal, the senior fisheries scientist for the state Department of Fish and Game who leads the Massachusetts Shark Research program, told Boston.com it was a "productive and successful season" for the research he and his colleagues at the Atlantic White Shark Conservancy are conducting, examining the population and behaviors of great whites off the Cape.
"There certainly was no shortage of sharks around," he said. "And the fact that we tagged 50 individuals, which were new sharks we had never seen before, tells us there certainly was an abundance of sharks. In terms of reaching our objectives in terms of fieldwork — we're pretty happy with what we got done this summer."
The researchers took a total of 26 trips out on the water in 2019, 21 off the Outer Cape and five in Cape Cod Bay and were able to stretch the season into November thanks to some cooperative weather.
In July, they tagged 15 sharks, 10 in August, 12 in September, six in October, and seven in November, according to Skomal.
"In previous years," Skomal said, "when we were focused on collecting the data for the population study we were focused on closing things out on Halloween. But if we do get those windows in November and the sharks are still around and we can see them, we keep trying."
The peak months for shark activity off Cape Cod are August through October.
In 2018, researchers tagged 19 sharks and took 33 trips out on the water, only off the Outer Cape.
Frequency of tagging can reflect not only how often the scientists are out on the water, but also the objective of their study. In previous years, while collecting data for the five-year study that aims to estimate the population of white sharks in Massachusetts waters, researchers would spend more time with each shark as they tagged them. This year required a lesser volume of media for each tag, since researchers had the goal of tagging as many sharks as possible.
Incredible sequence of photos captured by spotter pilot Wayne Davis yesterday of a white shark attempting to capture a seal. Dr. Greg Skomal of the Massachusetts Division of Marine Fisheries, working with the Atlantic White Shark Conservancy, tagged 3 sharks yesterday. (Usually the field season comes to an end at the end of October – but the good weather yesterday allowed for the boat to get out!)

Posted by Atlantic White Shark Conservancy on Tuesday, November 5, 2019
Skomal said he and his colleagues won't have a sense of how the 2019 summer really compares to previous years until they can delve during the off-season months into all the data collected.
The goal is to have the population study completed in 2020, but, in addition to that work, over the off-season months he and his colleagues will be looking at the data collected in 2019 in order to help shape what they do on the water in 2020.
The 2019 season also saw Skomal and his colleagues testing a range of new technology to aid their continuing research.
Real-time reporting acoustic receivers were deployed off Newcomb Hollow Beach in Wellfleet and Head of the Meadow in Truro. When a tagged shark swims within range of the receiver, it is reported to public safety officials.
"We partnered with the Center for Coastal Studies to do some habitat mapping off Head of the Meadow and Truro to get a sense of how the white sharks are using this near-shore habitat," Skomal said. "And part of that was setting up a very fine scale acoustic receiver array, which the center did. So a lot of data came in from that, which we're going to be looking at. We thought that was incredibly successful."
Another receiver goes in the water! We added 20 receivers to our Cape Cod array. Thanks to local towns & lobstermen Chris Ripa & Max Lucarelli for helping us get them deployed. Now we're well-equipped to monitor the 150+ tagged white [email protected] @MA_Sharks @A_WhiteShark pic.twitter.com/2mjaewsSPS

— Greg Skomal (@GregSkomal) June 12, 2019
The researchers also deployed fine scale behavior tags, which will give them a sense of what a tagged shark is doing "every second," and new aerial technology — cameras attached to a small blimp — was tried out to try and observe shark and seal behavior.
 "We tested that, and that seems to work fairly well so we're going to expand our use of that next summer," Skomal said.
Over the next several years, he and his colleagues hope to gain a better understanding of the "fine scale behavior" of the sharks near the shores.
"We know they're here, we know when they're here, we know where they spend a lot of their time," Skomal said. "Now we want to look at what they're doing when they spend their time in this shallow water. What precipitates an attack on a seal? Are there any particular conditions, environmental or otherwise, that precipitate predatory behavior? How are these sharks hunting? What are their activity patterns? What are their social interactions? All those things will be the focus of our research for years to come, so we're going to start looking at those data and try and interpret what we've learned so far and how we can maximize our collection efforts for next year."
The hope is that answering those questions will be useful for predicting when and where swimmers and recreational water users may be at greater risk of being bitten by a shark.
State and local officials pushed for new measures headed into the 2019 beach season to increase awareness about sharks in Massachusetts and improve safety on the beaches after the Bay State saw its first fatal shark attack in more than 80 years in September 2018. The death of 26-year-old Arthur Medici of Revere, who was bitten and killed while boogie boarding at Wellfleet's Newcomb Hollow Beach, followed an attack the previous month in Truro that seriously injured a New York man.
Public awareness about sharks for the 2019 beach season was incredibly high, Skomal said. There were also a lot more "eyes on the water" — from lifeguards on the lookout to ecotourism boats taking passengers out to look for sharks — which resulted in a lot more networking and sharing of information about the location of sharks.
"Every time they saw a white shark, they would report it," Skomal said. "And the public safety officials would know about it, so you heard about a lot of alerts put out this year, which reflects on the fact that more people are out there paying attention, whether it be the boats, the spotter pilots, the lifeguards, other public safety officials, us on the water reporting what we're seeing."
The reports from the general public, from people spotting sharks at the beach to drone operators capturing unique great white interactions from above, are all helpful and important for their continued research, he said.
"We think 2019 was a very successful summer for our research efforts as we shift our focus from the population work to our behavioral study," Skomal said. "We'll get a better gauge on how successful it was as we dig into the data over the winter months."