Local
Increased crime around pot dispensaries hasn't materialized, but black market still thriving, say authorities
Marijuana advocates point to slow-moving approval process as fuel for continued illicit sales.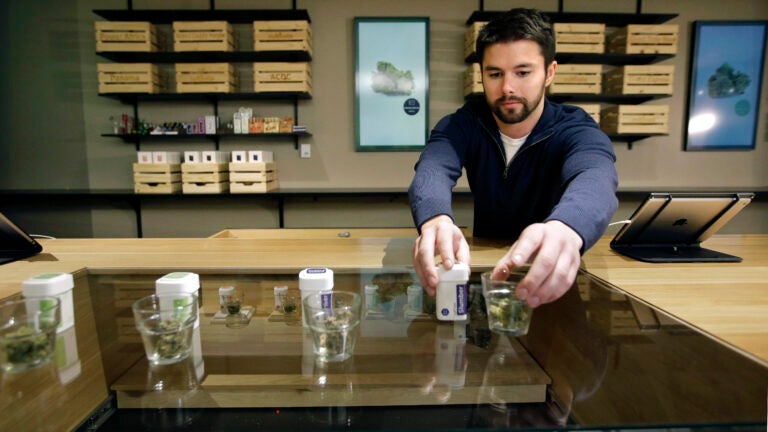 One of the main arguments for legalizing marijuana was to rid Massachusetts of the black, or illicit, marijuana market.
That hasn't happened, according to authorities. Meanwhile, in the year since the first adult recreational marijuana dispensary opened, some say the process of opening dispensaries has gone too slow, and others say it's gone too fast.
There are currently 33 dispensaries open throughout the state, with a few in the pipeline.
About 75 percent of Massachusetts adults who use marijuana still get it illegally, according to Walpole police Chief John Carmichael Jr., who also sits on the Cannabis Advisory Board to the Cannabis Control Commission.
"It's obviously too early to tell what the overall impact is," Carmichael told Boston.com. "Public safety-wise, there's still a lot of problems, a lot of issues that we're dealing with."
Carmichael said that while some argue that the dispensary-opening process has been too slow, he thinks it's been too fast, especially when considering that social consumption and delivery services are being discussed. However, compared to other states that have legalized, he believes Massachusetts is "head and shoulders above the rest as far as operating requirements."
The illicit market, which he called "one of the biggest issues as far as law enforcement is concerned," is still very much alive and "thriving," according to Carmichael.
"It's going to take awhile, I think, for that to transfer over into the legal side," he said. "I hope it happens, but it's still too early to tell."
Along with the legal and illicit markets, Carmichael said a third "gray" market has emerged – people legally cultivating their own marijuana, and then it ending up on the street.
"We have people who are in that street-level distribution part where you might cultivate plants, [and] you may divert that out onto the street," he said.
Of the opposite perspective, opening dispensaries has gone too slowly and has continued to aid the illicit market's survival, according to Jim Borghesani, who was the communications director for the ballot question to legalize marijuana in Massachusetts and now works as the chief operating officer for Tudestr, a firm that helps new businesses going into the marijuana industry.
"In order to reduce the illicit market, we have to have more geographic options for consumers to purchase legal cannabis," he said in an interview with Boston.com. He noted that having just over 30 recreational dispensaries "is not enough to give consumers the access that they deserve."
He said the system needs to operate smoothly, but not slowly.
"What we don't want is slowness to become the default, and that can happen with government agencies," Borghesani said. "'We want to do this right' can become an excuse for unnecessary slowness.'"
In terms of crime surrounding the marijuana industry, like burglaries or robberies, Carmichael said he hasn't seen a substantial increase.
"Hopefully that trend will continue," he said. "I know other states have seen a substantial increase in crimes such as that. I think some of that has to be giving credit to our regulations."
Borghesani said the security concerns brought up before the 2016 vote "have utterly failed to materialize." He said that these concerns are brought up each time there's a vote to increase access to marijuana, such as the vote to decriminalize it in 2008.
"I think it's important to note that whenever there's a ballot initiative that increases the legal availability of cannabis, there's always a chorus of law enforcement that [say] it's going to result in mayhem on the streets."
As far as driving under the influence, Carmichael supports House Bill 71, which would increase the number of police officers trained to recognize if someone is impaired by drugs, according to The Boston Globe. Drivers who refuse to be tested for drugs, if suspected of driving while impaired, would lose their license for six months, which is the same as for someone who doesn't take a Breathalyzer test.
Carmichael said these regulations should have been put in place before legalization, but they're just as needed now.
"It's very much needed to fix the inadequacies of our impaired driving law to make our roadways safe," he said. "That whole issue is important especially when the CCC doing their research has shown that a significant amount of adult marijuana users in Massachusetts drive impaired."
But Borghesani says he believes the proposed law is "not the fair or efficient way to move forward on this," noting that testing someone simply shows presence of marijuana in someone's system, not impairment.
Overall, both said things on the legal side appear to be moving smoothly, even if they disagree about the pace.
"Looking at the legal market, the regulated side, I think things have gone fairly smoothly," Carmichael said.
Borghesani said things like security and systems are "all operating very, very well."
"I think the mechanics of legal sales are working well even tho there's simply not enough stores," he said.