Local
She underwent 2 amputations in 2 years. But Morgan Stickney is focused on what she will do next in the pool.
"For me, it's just that I'm trying to live my life. To me, it's not inspiring."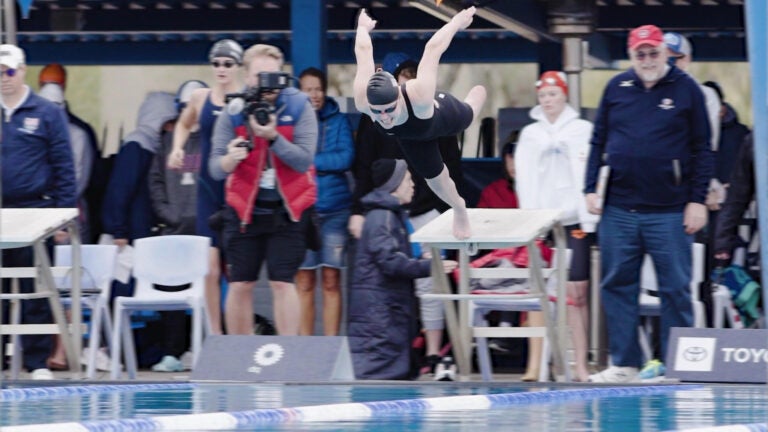 Everything melts away when Morgan Stickney is in the pool.
Swimming is her happy place, she says. So much so that if you were to take pictures of her while she's underwater, you'd still capture her smiling.
"I don't think about anything else in the world when I'm in the pool," she told Boston.com.
In the water, she is just herself — a 22-year-old with the aim of competing at the highest level and achieving her dreams despite the obstacles in her path.
"I sucked in the beginning," the Bedford, New Hampshire, native said, recalling her start in the sport at the age of 10.
That didn't stop her. She loved being in the water, and by the time she was 14, she was ranked in the top 20 in the country for the mile, and had her sights set on open water, distance swimming at the Olympics.
But when she was 15, she sustained an injury to her left foot that would change the trajectory of her swimming career. After enduring multiple surgeries and years of pain that required a reliance on opioid painkillers for its management, an infection led to the amputation of her left leg below the knee in May 2018.
It didn't keep her from the pool.
Four months after her surgery, she was at the Olympic Training Center in Colorado Springs. She became the national champion for para swimming in the 400- and 100-meter freestyle and hoped to represent the United States at the 2020 Paralympics in Tokyo.
But a second injury early this year, and the discovery of a rare vascular disease, forced the amputation of her right leg below the knee in October.
Stickney is the first patient to undergo a bilateral Ewing amputation, an experimental procedure developed by Dr. Matthew Carty at Brigham and Women's Faulkner Hospital in collaboration with MIT. The dynamic amputation aims to help give the patient more functional sense and feeling in their limb and potentially finer control over their prosthetic devices by recreating the pairing between the brain and the body's muscles that are severed during a typical amputation.
During a recent interview at Faulkner Hospital in Jamaica Plain, Stickney said it's most likely too late for her to qualify for 2020, since she'd have to be re-classed to compete. But it's her goal to get back in the pool and go to the 2024 games in Paris.
The pool — and the community of para athletes she has joined — has become a refuge and coping mechanism through the process of her amputations, she said.
"If I see someone on the pool deck, I don't think they're looking at me," Stickney said. "Whereas when you're in the store — every single person stares at me because I'm different. So for me, I like being the pool because I'm normal again."
'I was in so much pain'
Stickney was 15, walking on the pool deck when her left foot started to hurt.  An orthopedic surgeon told her she'd fractured a small bone in her foot. It was removed, and in the following six years she had five surgeries to try and address the lingering, constant pain she was experiencing.
Painkillers became a necessity as she went off to college at Biola University in California to study biology.
"I had to do it though to get through," she said of the opioids that were prescribed. "So I'd study 60 to 80 hours a week and then go to take a test and not remember anything because of the pain meds. I was in so much pain."
At one point, she remembers she had to write a note to a teacher on a test — she was so high, she couldn't take it.
With awareness of the opioid epidemic raging in New England, Stickney said she was afraid of her reliance on the powerful drugs.
"I was sitting in bed, taking 12 oxy a night, and I'm like, 'Am I going to wake up in the morning?'" Stickney said. "And I want to wake up in the morning."
Managing pain had taken over her life and was keeping her from swimming. And ultimately, a bone infection led to Stickney electing to amputate her leg in May 2018, using the experimental technique developed by Carty.
"On May 14 my new life will begin," she wrote on Instagram before the surgery, sharing a photo of herself with Carty. "The phrase 'I can't' will soon become 'I can'. The JOY just thinking about being able to not only walk but do anything physical has seemed almost impossible for the longest time. For those of you who know me might be able to guess what I'm incredibly excited to be able to do again: swim!! Ready to conquer the world on one leg."
https://www.instagram.com/p/Bi2xuVKHiIy/
Without the constant pain and medications, she felt like herself again.
And she was back in the pool.
But in January 2019, while at the training facility in Colorado Springs, she hopped three steps on her right leg as she was getting out of the cold tub, where she had been recovering from practice.
She broke her foot, and a similar cascade of symptoms she had experienced with her left leg started up. She saw multiple doctors, and when one in Colorado brought up the possibility of another amputation, she immediately called Carty in Boston.
"He was just like, 'Morgan we're not there, that's not going to happen, I'm not going to let that happen,'" Stickney recounted. "But he was like, 'If it ever comes to that, I promise you I'll do it.'"
"She came back here, we saw her," Carty told Boston.com. "We weren't sure what was going on. We sent her to a number of providers. At the end of the day she ended up seeing 20 different doctors."
In July, an angiogram revealed a rare vascular condition in which the blood vessels in her lower leg were overactive to stimulation. They were contracting and shrinking down, cutting off the blood supply to her foot, causing pain and preventing the broken bone from healing.
Her foot was dying, Stickney said. It is likely the condition was the root cause of her pain and the lack of healing in her left foot as well.
Carty said he and others on the 22-year-old's medical team tried everything they could to not progress to amputation.
 "Ultimately we realized that she was not going to really have an acceptable quality of life," he said. "She was going to need to keep her foot up all the time and still be plagued by pain and essentially be a bed-bound or wheelchair-bound 22-year-old who wanted nothing more than to be really active."
https://www.instagram.com/p/BlwSoXOBPht/?utm_source=ig_embed
In their meeting before her second amputation, Stickney said her surgeon was tearing up.
"He was just like, 'I promised you I'd do this, so I'm going to do it,'" she recalled. "It just meant a lot to me, and after my surgery he went upstairs to my parents and he was just like, 'I want you guys to know, this is the worst day of my life.' To have a doctor who cares so much about you and the faculty here [is] really nice."
https://www.instagram.com/p/B2fXYV_JlXX/
Stickney said she asked to see her foot for the last time in the operating room before they put her to sleep.
"I just lost it," she said. "Completely lost it. I was like, 'I can't do this,' and Dr. Carty was trying to convince me I could. And then they put me to sleep. That was a big thing that sticks with me because it shows how scared I was to go into the surgery, yet I knew I needed it or my foot would have died."
'You have to look forward'
More than a month out from her surgery, Stickney is recovering and hopes to be back in her prostheses — and the pool — soon. She'll return to Spaulding Rehabilitation Hospital in the next month or so for a program of intensive physical therapy where she will learn how to walk. She's also wrapping up her undergraduate degree and plans to go on to either medical or physician assistant school.
She said she's focused on moving forward.
"You can't look back and be like, 'What if?'" the 22-year-old said. "I've said to myself many times, 'What if I never swam? Would I still have my feet?' But no one knows. Would the vascular disease have just spread two years after than it did? You don't really know. … But you can't look [back] that way, you have to look forward."
https://www.instagram.com/p/B3ZxECSpH-0/
Communities near and far have rallied to help Stickney and her family bear the cost of her medical care. The surgeries, custom prostheses, modifications to their home for her accessibility, and medications have cost them more than $250,000, and a GoFundMePage has been started by a family friend to help defray the costs.
Despite everything she's gone through, Stickney maintains an optimistic attitude and view of the world that amazes her surgeon.
"She's very committed to achieving pretty amazing thing — like she aspires to get back to swimming," Carty said. "She's a competitive person by nature, so she's competitive about life. I think she kind of wants to 'win life,' and she's the kind of person that, being around her, you want her to 'win life,' too."
While she thinks her background as an athlete has helped her stay focused in her recovery, the 22-year-old said she doesn't think of herself as "determined" or "strong."
She doesn't like when people call her inspiring either — even if it's her dad, who made a point of saying during the interview that he does, in fact, think she is inspiring.
"For me, it's just that I'm trying to live my life," she said. "To me, it's not inspiring. Me trying to get on a shower bench isn't inspiring. I just don't have feet — I'm getting on it the only way I can."
She's just being herself, she said.
"I think when you're put into a situation — if you were told today that you were going to lose both of your legs down the road, you'd be like, 'Oh, I wouldn't be able to handle that.' But when you're thrown into a situation you just kind of have to deal with it and just give it all you have," the swimmer said. "I'm just thankful I have the support I have because I wouldn't be where I'm at without it."
Stickney credited the support of her friends and family — and the new people she's met at Spaulding and in the Paralympic community — with buoying her and providing her with hope for what she will be able to do in the future. That she will be able not just to walk, but run, which she hasn't been able to do since she was in eighth grade.
"I think one of the biggest things that I tell people is not to give up," she said. "Because I mean, if someone would have told me I was going to go through all of this when I was 12 years old, I would have been like, 'Absolutely no way.' Everyone has their battles in life. There's always someone who's worse off than you. You just always have to keep a positive perspective. Your life could always be worse — you just have to be grateful for what you have."