Local
Steven Hoffman is 'pleased' with the state's first year of pot sales. Here's what he expects from year two — and beyond.
"We're nowhere near done."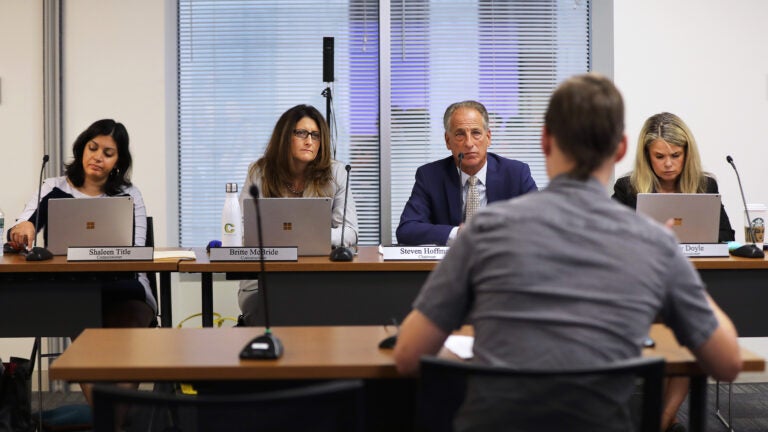 Steven Hoffman, the chairman of the Cannabis Control Commission, knows there are some who are dissatisfied with the smooth, if slow, rollout of recreational marijuana dispensaries in Massachusetts.
He isn't one of them.
With a full year of retail sales completed and 33 adult-use pot shops now open around the state, Hoffman says he's "pleased with the way things have gone thus far." But the commission is far from complacent. And as much as the state's 2016 ballot measure legalizing marijuana for those over 21 years old may feel like ages ago, the industry is still just getting started.
"The reason I got appointed to a five-year term is that it's going to take a little while to get this industry to maturity," Hoffman told Boston.com in a recent interview. "We've got a long ways to go."
'It might accelerate'
This week marked the one-year anniversary of the first recreational dispensaries beginning sales in Massachusetts. If anything, Hoffman says the pace of openings — roughly three new shops a month — will only accelerate in year two.
"There's a long queue," he said.
As of earlier this month, the CCC had signed off on nearly 80 licenses for various recreational marijuana operations, ranging from cultivation to product manufacturing to retail. But that's just a fraction of the more than 600 completed applications — from 319 different entities — that the agency had received.
Hoffman is confident that the state has plenty of room to grow, particularly when it comes to the current crop of pot shops.
"I don't have the exact number, but I gotta believe that the state can sustain more than 200 dispensaries," he said, caveating the figure as more of a guess than guarantee.
"There is a saturation point, but we're a long ways away from it," Hoffman added.
That's perhaps good news for prospective retailers already in the application process. According to the CCC's most recent data, the state has received 214 retail applications, in addition to the 33 dispensaries already open.
"I don't think the pace is going to slow down," Hoffman said. "In fact, it might accelerate."
More dispensaries means more diversity — in several ways
Hoffman says it isn't just the number of stores that will change, either.
The 2016 legalization measure placed an emphasize on promoting diversity in the industry, particularly given the racially disproportionate impact of previous drug law enforcement. So far, Hoffman says "we're not where we need to be." According to the CCC's most recent data, license applicants are two-thirds male and nearly three-quarters white; 11.4 percent are black or Latino.
Hoffman says equity is one of the agency's priorities heading into 2020. The CCC offered an expedited licensing process to minorities and people who had prior drug arrests, as well as those who either resided in or hired from areas with high marijuana arrest rates. The agency has also launched a social equity program offering training and technical assistance to those groups.
"We're very open minded about what else we can do as we see how this industry evolves, but I'm seeing good trends in terms of diversity," he said.
Hoffman is also hopeful that the state will see more diversity in terms of ownership size and geography. Existing medical marijuana dispensaries were initially given priority in the adult-use licensing process, which turned out to be somewhat of a double-edged sword. While it allowed dispensaries to open quicker, it also meant that the industry was disproportionately weighted toward bigger companies.
"They had the financing," Hoffman said. "They had the relationships with cities and towns. And so if you look at the stores that opened to this point, it leans disproportionately towards the bigger guys. They were the ones who had priority based on the legislation and had the resources to take advantage of that priority."
Over time, Hoffman says he expects more and more smaller players to enter the market — and for the balance of dispensaries to shift eastward.
The number of both approved adult-use business licenses and open dispensaries have an outsized footprint in the western, less populous half of Massachusetts, especially as efforts by big cities like Boston, Cambridge, and Somerville to ensure equity have slowed the local approval process.
But that will change, Hoffman says, resulting in a more hassle-free — and potentially cheaper — experience for Boston-area pot consumers, whose nearest option is New England Treatment Access in Brookline, which by some accounts is the busiest pot shop in the country.
"As there are more stores, you'll see shorter lines than exist at some stores right now, particularly in the eastern part of the state," he said.
Hoffman, a former Bain consultant whose background is in economics, added that he expects prices will also "probably soften as supply catches up with demand," as they have in other states that have legal marijuana markets. That said, he said the CCC has to be mindful about not encouraging too much supply and subsequent price crashes (California and, particularly, Oregon have struggled with the issue). Just as a scarcity of stores and expensive legal options can keep the illicit market running, an abundance of cheap, unsold weed can create problems for law enforcement and fledgling entrepreneurs.
"We're trying very hard to manage the supply so that we don't have what other states have experienced in terms of dramatic oversupply," Hoffman said. "Undersupply and oversupply are equally problematic in different ways."
'We're nowhere near done'
Still, the CCC has faced some scrutiny over its oversight of the initial rollout of stores, which didn't begin until more than two years after the 2016 ballot vote.
This past June, state Rep. Marc Cusack sent the commission a letter questioning why the state's marijuana tax revenue was lagging behind projections. In response, Hoffman stressed that tax revenue shouldn't be the CCC's top priority and said revenue would increase as more businesses open.
Additionally, Hoffman says that the CCC has continually added staff to make sure the licensing process is "as quick as possible" without compromising their standards.
But there's only so much they can do. The state agency is largely dependent on cities and towns to sign host community agreements with prospective pot businesses before they can issue — or even review — a license. The municipal contracts have been largely blamed for the slow rollout, as well as for contributing to the early lack of diversity in the industry, though Hoffman thinks most towns are operating in good faith.
"Massachusetts has a long history of local control and our legislation certainly embodies that kind of philosophy," he said. "And I think the cities and towns are trying to make it work. They're trying to do the right thing for their cities and towns, and I respect that.
Hoffman says the CCC currently has "no say" on how towns conduct the host community agreement process. However, the agency has asked state legislators to clarify the laws to give them some oversight of the agreements, which Hoffman says have been "problematic in some cases." A study earlier this year found that the vast majority of host community agreements imposed somewhat legally dubious fees on businesses that were above what the state law allows.
"There's some issues in terms of what's being demanded or requested of applicants, and I think the legislature could provide clarity on what's allowable, as well as give us authority to intervene in those agreements," Hoffman said, adding that it was "an issue that we should have gotten resolved earlier."
"We're working very hard and we're grateful to the legislature for their assistance in trying to bring some clarity and specificity around those agreements," he said.
Still, there isn't much Hoffman says he would go back and do differently — nor any big surprises over the first year of retail sales.
"To the extent that there's surprise about anything, it's just that there's a lot of passion still on all sides of this issue about how the law is going and what we could or should be doing differently," he said.
"But I think we're doing what we said we're going to do — which is we're doing it with the best interests of the citizens of the state in mind and with the ultimate, long-term evolution of this business in mind," Hoffman added. "I'm quite pleased with the way things have gone right now, although we're nowhere near done."