Local
3 things we learned from the Spotlight series on Boston's traffic problems
Some big changes may be needed to keep things from getting worse.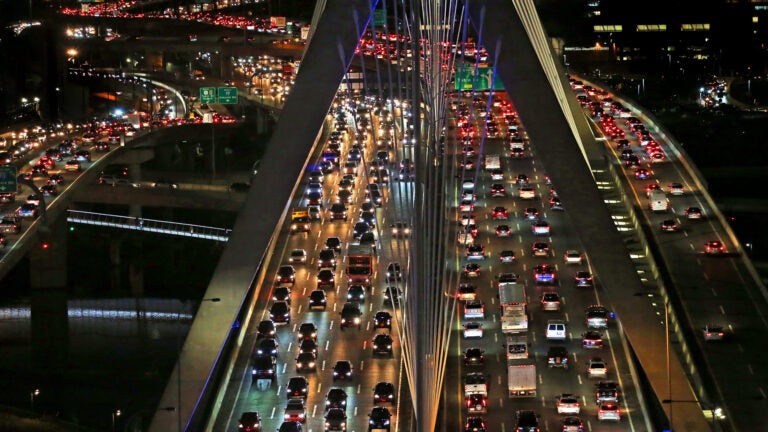 It doesn't take a Spotlight investigation to know that Boston has crippling traffic problems.
But it may help to understand why the crisis has persisted — and actually gotten worse.
The Boston Globe's investigative unit published a three–part series this week on the factors causing and exacerbating the local congestion crisis. The in-depth exposé illustrated an intensifying problem; according to state data, Greater Boston has 300,000 more cars and trucks than it did five years ago. One recent study found that the city has the worst rush-hour congestion in the United States.
The biggest takeaway of the new series seems to be that a significant number of the 1.7 million people who regularly drive solo to work in the economically booming region need to change their habits. But those habits have been shaped and remain entangled in decades of car-centric policymaking. And recent efforts at the margins — both in the public and private sectors — have failed to make a significant dent.
"The question is now front and center: Can Greater Boston continue to thrive — or even function — without fundamentally rethinking its relationship to the car?" the Spotlight report asks.
Their conclusion: "Not for long."
1. Elected officials haven't quite been avid MBTA riders
If the state's political leaders want to encourage the public to change their habits, they're certainly not leading by example.
The Spotlight survey of 135 state and local elected officials found that 85 percent reported taking a car to work and less than 7 percent said they had a monthly transit pass. A total of five state elected officials, who weren't named in the report, said they had an active transit pass.
Some noted that the subway and bus system — at least in their current state — are unrealistic for elected officials, given their tight schedules. Still, current policies only further incentivize them to take cars as their primary transportation.
The Spotlight report noted that all state legislators, even those in Boston, receive free parking in Beacon Hill. And state laws allow elected officials to both accept a taxpayer-funded commuting allowance of $15,000 to $20,000 and use campaign funds to pay for a car if they pay back their political account 58 cents a mile. Senate President Karen Spilka and House Speaker Robert DeLeo both reportedly take advantage of the "loophole," despite living near commuter rail stations. Gov. Charlie Baker didn't take the MBTA during his entire first term.
In total, Massachusetts politicians have spent at least $4 million from campaign donors over the last two decades on cars, gas, tolls, Ubers, and more, according to Spotlight. Less than $30,000 was reportedly used for MBTA tickets over that same time period.
2. Employers have to strongly incentivize transit over driving to change habits
However, the report suggests the private sector could be doing more, too.
Experts in transportation and psychology said that commuters need to be given strong incentives to change their habits. And many employees said they continue to drive into the Boston area — despite the stress-inducing traffic — because of the freedom, privacy, and control that a car provides (even if mass transit is cheaper and safer overall).
"If you drive to work every day, that's already a habit. You already know this, you're comfortable with this," Jon Jachimowicz, a Harvard Business School professor who has studied commuting psychology, told the Spotlight team. "If you're going to overcome this, you need a really good reason."
Some employers, like MIT, give their workers a reason: a commuter benefits policy that subsidizes MBTA passes while charging employees for parking.
However, the Spotlight team's survey of 21 major local employers found that the vast majority's policies "show little preference for whether workers drive or take mass transit," which turns out to be something of a preference itself. According to the report, generous incentives to take public transit can be offset by similar parking perks.
For example, Vertex Pharmaceuticals offers a $300 subsidy for either parking or mass transit. As a result, nearly half of its employees drive to the company's offices in the often-gridlocked Seaport neighborhood, according to Spotlight. Similarly, two-thirds of workers at Sanofi — which discounts public transit and parking to the tune of 60 percent and 88 percent, respectively — drive to the pharmaceutical giant's offices in Cambridge.
In fairness, employers are more intent on attracting and retaining top talent with flexible benefits, as opposed to telling their workers exactly how to commute.
In some places, lawmakers have stepped in. In 1992, California passed a law requiring companies that subsidize parking to offer a benefit known as "parking cash out," in which employees would have the option to take the cash value of the parking instead. According to Spotlight, research has shown the program increases carpooling and transit use and could reduce driving in Boston by 20 percent.
However, while Boston officials promote parking cash out, Transportation Secretary Stephanie Pollack says it hasn't been considered as a requirement at the state level.
"We don't have a statewide congestion problem," Pollack told Spotlight.
3. Lawmakers are struggling to keep pace with the effects of tech
The rise of ride-hailing and online delivery companies aren't the central cause of Boston's traffic problems. But they could be making it significantly worse.
Uber and Lyft have more than eclipsed Boston's cab industry; cab rides reportedly dropped from 14.6 million in 2012 to 4.8 million rides in 2018. That same year, Uber and Lyft made 42 million trips.
The companies contend that those numbers aren't as big as they seem. According to one study, ride hails accounted for just 8 percent of the 312 million rides in Suffolk Country over the course of one month last year and a state report earlier this year found Uber and Lyft accounted for about 4 percent of vehicle trips in Boston.
But traffic congestion is nonlinear in nature, meaning that, at a certain point, traffic congestion gets exponentially worse with each additional car (the phenomenon also works in reverse, so a small reduction in the number of cars on the road can actually significantly free up traffic flow).
"Once you get near capacity, a few more can take you over the cliff," Peter Furth, a civil engineering professor at Northeastern University, told Spotlight.
Research also found more than half of Uber and Lyft riders said they would have otherwise taken public transit, biked, or walked. And in addition to adding vehicles to the road, those trips contribute to traffic jams in other ways, such as when Uber and Lyft drivers abruptly stop or double park, obstructing the already clogged streets.
Delivery vehicles are presenting a similar problem. According to Spotlight, deliveries of online purchases in the Boston metro region spiked by more than 90 percent from 2010 to 2018, with vehicles often parking illegally out of virtual necessity. In fact, the city of Boston has a formal agreement with UPS, FedEx, construction, electric, and courier companies that their vehicles will not be booted or towed, no matter how many tickets they get, as long as they are paid in a timely manner. One UPS truck even received 1,550 tickets over the last four years.
"The deal works for everyone — the city that feasts on the ticket fines, the UPS truck that doesn't have to search for a parking spot, and the consumer who gets his new shoes just a day after ordering them online — everyone, that is, except the rest of us, trying and failing to get from here to there on our city's narrow, winding, overstuffed streets," the Spotlight team wrote, adding that the "public policy response has been no match" to the rise of these tech-enhanced services.
The report notes that some cites, like Manhattan, incentivize overnight deliveries from 7 p.m. to 6 a.m. to reduce traffic and emissions during the busier daytime hours. However, Boston city officials said they weren't considering the idea due to concerns about disrupting residents at night.
Massachusetts was one of the earlier states to begin taxing Uber and Lyft. But the 20-cent-a-ride fee has since fallen behind the amount charged in other major cities. Transit advocates and the city of Boston have spoken out in support of substantially increasing that fee to raise revenue and change travel habits — to no avail thus far. The Spotlight team noted that Uber and Lyft have nearly spent a combined $1.8 million on lobbying Beacon Hill.
Ironically, the two ride-hailing giants have also voiced support for perhaps the most aggressive tactic of reducing Boston's traffic: Congestion pricing, which would raise tolls on all drivers. Transportation experts say it is the most proven way to reduce traffic congestion, though skeptics have raised logistical and equity concerns.
Gov. Charlie Baker's administration, which opposes congestion pricing, even took heat from London officials for erroneously characterizing the effectiveness of the British capital's zone-based congestion charge. London and Stockholm have both successfully reduced traffic by charging individuals to drive into their downtowns, while simultaneously bolstering mass transit options. And while local residents aren't necessarily fans of paying the congestion charge, there's a general embrace of its myriad benefits, according to the Spotlight report.
"Even car owners could see that, 'Wow, this is actually an advantage for me,'" Per Bolund, Sweden's deputy finance minister, told the team. "Instead of being stuck in traffic jams forever and ever and never knowing how long it would take for me to get to work, now I can actually plan.'"