Local
Over 360 young people sleep on Boston's streets each night. A new plan looks to change that.
"It makes us feel hopeful, and we know that lives will be saved."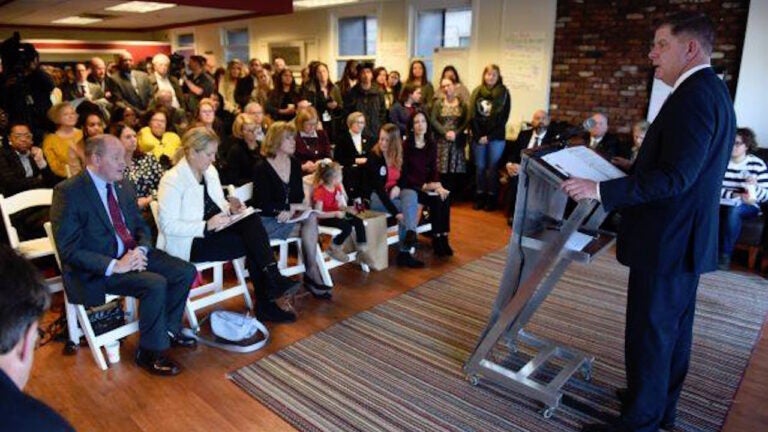 Homelessness doesn't affect just one age group; youth and young adults can find themselves without a place to call their own, too.
Every night, there are about 360 young people under age 24 who find themselves staying in homeless shelters or sleeping on the streets of Boston, according to data from the U.S. Department of Housing and Urban Development.
With that in mind, Boston is dedicating $4.7 million in grant funds to create 157 new homes for homeless youth and young adults in the city. 
The money is part of a larger effort called "Rising to the Challenge," a recently released plan to help stop homelessness in young people, 24 years old and younger, according to a news release from the city.
"This plan understands that the streets are not safe for young people at night," a statement from the Boston Youth Action Board, which helped devise the plan, said. "It means a lot to us know that we are a priority, and that the City of Boston is making a long-term commitment to build a better future for us and our peers. It makes us feel hopeful, and we know that lives will be saved."
Of Boston's youth and young adult homeless, about half are black, between 21 and 35 percent are Latinx or Hispanic, and between 25 and 29 percent are LGBTQ+, the plan says. About 69 percent of homeless youth and young adults across the country say they suffer from mental health challenges.
The new housing will be provided through partnerships with nonprofit organizations in the city, the release said.
"We are excited to be a part of this effort with the Youth Action Board and the City of Boston, which will create 157 new units of housing for homeless youth with this much-needed funding," Bridge Over Troubled Waters Executive Director Elizabeth Jackson said in the release. "With a roof over their heads, youth will be able to work on getting jobs, furthering their education, and creating the stability they need to move forward on their path to a self-sufficient future." 
Through the new plan, the city endeavors to have city government and organizations work together more cohesively on youth and young adult homelessness, work on outreach and early identification strategies to help those who are already homeless or could become homeless, make help more easily accessible, and create more housing for this group, according to the release.
"The report shows that within the next three years, the city will need to add 285 new housing opportunities dedicated to this population," the release said. 
Mayor Marty Walsh said in the release that it's "imperative" that all young adults and youth have a home.
"I am proud that together we are Rising to the Challenge by putting forth a plan that will guide us as we take critical next steps towards ending youth and young adult homelessness in Boston," he said.
https://www.facebook.com/BostonDND/posts/3572417922798186?__xts__%5B0%5D=68.ARCndV7qhNNL1a3-dElsJ8nQto8kCNRoK3a38thmGqnqf–FCcC-1OdD2rU-T0pahbvgVvgUWB2ywBi0sTtB03anbjGWRJIr4SjBd8Cr1jRmwpyHsMtJIRRWbVhIJIXEu3-qzu8gyaWK2tnWauC-4t76ezeUQjPDIofEanBYtX27nnHdsgEaHFiWLEuFelU_8fL9ByejO4cR09Omqp3nE9yu1EUZXjPoG-JRidBq4VNlB4FcEYEjU6Z5XKT5o7M2yIEFpa123obxUmZe8MZA1ge1bVctmnPMSFnfwuBiWu9FU8wyNyhs9e-MkJB-vkIE1jDgAstUpuVr8dq90Wz00_K6ug&__tn__=-R