Local
Charlie Baker defends not taking the MBTA as governor
"I'm not a virtue signaler."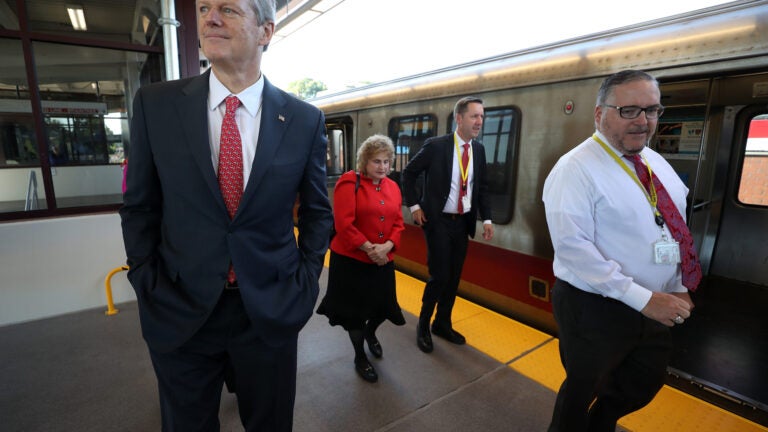 Gov. Charlie Baker says he has taken the MBTA plenty of times — just not as governor.
"I'm not a virtue signaler," Baker said during an interview Thursday on WGBH, when pressed on the subject.
The Swampscott Republican is no Michael Dukakis when it comes to public transportation; as The Boston Globe's Spotlight Team noted in a series this week on the region's traffic congestion, Baker is one of the many state lawmakers who opt to take a car to Beacon Hill, as opposed to mass transit.
Despite living a 10-minute walk from the Swampscott commuter rail station, Baker didn't ride the MBTA as governor until a media event for the Red Line this past September. And he still hasn't taken the commuter rail — more than five years after being elected. The pattern increasingly became a minor media obsession and fodder for the GOP governor's critics.
Baker says it wasn't always that way.
"I rode it a lot before I was governor," he told WGBH. "I rode the commuter rail for a lot of years, I rode the T for a lot of years, and I talk to people all the time who ride both."
As a Swampscott resident, Baker added that he often talks to neighbors who take the commuter rail or the Blue Line from Wonderland station into Boston. But he has previously suggested that making a "symbolic gesture" by riding the MBTA wouldn't be "honest." During his interview Thursday, Baker said he was more focused on improving the system than experiencing it first hand. He noted that his administration has spent "literally billions" to improve the MBTA after years of "neglect" and underinvestment.
"My job is to try to make the thing better," Baker said. "And given what we inherited on that thing, I'll put our record up against any of our predecessors."