Local
The Mass. vape sales ban will remain until Dec. 11, as officials draft regulations under new law
The announcement comes after Gov. Charlie Baker signed a law introducing sweeping changes to how flavored tobacco and vape products can be sold.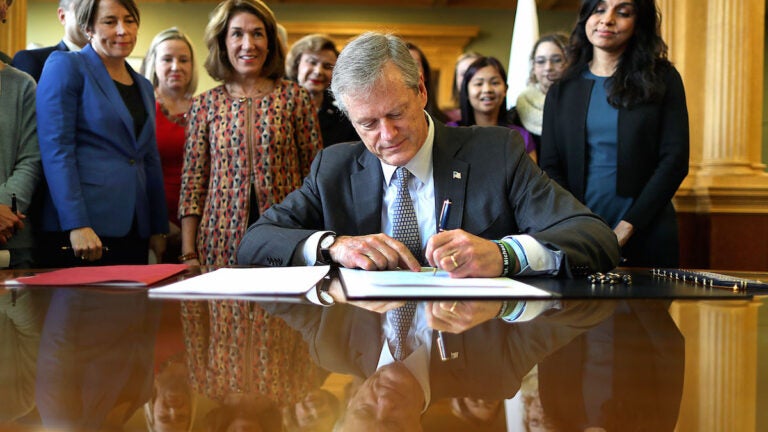 Gov. Charlie Baker announced Wednesday the state's temporary sales ban on all vaping products will come to an earlier than expected end on Dec. 11 when public health officials are slated to consider new, long-term measures to regulate the industry in Massachusetts.
Those regulations will come under authority granted by a bill signed into law moments before Baker made the announcement — a first in the nation policy that introduces sweeping changes to how flavored tobacco and e-cigarette products can be purchased in the Bay State.
"An Act Modernizing Tobacco Control" immediately limits the sale of flavored nicotine vaping products to licensed smoking bars where customers must use the products on site, according to officials. Additionally, vaping products with a nicotine content of over 35 milligrams per milliliter will be allowed to be sold only at those establishments and adult-only retail tobacco shops.
Non-flavored vaping products containing less than 35 milligrams of nicotine per milliliter may be sold elsewhere, such as in gas stations and convenience stores.
Starting on June 1, 2020, all other flavored tobacco products — including chewing tobacco and menthol cigarettes — will only be allowed for purchase at smoking bars for on-site consumption.
Under the law, the state Department of Public Health gained new authority to craft regulations for nicotine vape sales.
When it meets next month, the Public Health Council will look at requiring signage in vape shops advising consumers of the health risks e-cigarettes pose, as well as specifying the power the DPH commissioner has to take a vaping product determined to cause lung illness off the market, among other provisions.
Baker said the new legislation, championed by youth anti-tobacco advocates and Democratic state Sen. John Keenan and Rep. Danielle Gregoire, "goes a long way to restricting access to the most addicting kind of nicotine and vaping products."
"While this new law we signed today is a major step forward in regulating vaping products, the health risks associated with vaping are still real and are still being investigated by the (Centers for Disease Control and Prevention)," Baker said during a press conference. "That's why we're keeping the emergency ban in place until Dec. 11 while we develop these long-term regulations that will implement protections provided and intended in the new law."
The Baker administration rolled out the sales ban in September as it announced a public health emergency amid a nationwide outbreak of vaping-related lung injuries.
Officials said the controversial move, which thrusted many in the state's e-cigarette and tobacco industry into economic uncertainty, was needed as they investigated the rise in the mysterious illnesses. The measure was intended to last four months, thereby continuing into 2020.
As of Wednesday, the state Department of Public Health had received 278 reports of suspected vaping-associated lung injuries, of which 164 met criteria to warrant a department investigation. In total, 82 cases — 26 confirmed and 56 probable — were reported to the federal CDC.
In Massachusetts, three people have died of the injuries, while 47 people had died across the country as of Nov. 20, according to the CDC.
This month, the CDC has marked vitamin E acetate, often used as an additive to thicken THC-vaping products, as "a chemical of concern" among the patients diagnosed with the illness. However, the CDC has not been able to gather sufficient evidence to determine whether other chemicals can be contributing to the injuries and has not made a distinction on whether legal, regulated products are safe.
Vape shop owners, most of whom manage small businesses, have decried the ban, saying it has taken away their income, jeopardized their businesses, and, in some cases, forced them to shutter their stores.
Baker continued to defend the decision to institute the ban Wednesday, and said the federal government should enact national regulations in response to the outbreak.
"Unfortunately it's becoming increasingly clear that the federal government is not going to act decisively so we're going to do everything we can with state-level authority that remains to us," he said.
The state Cannabis Control Commission, the regulating authority for marijuana products, ordered shops and dispensaries to quarantine all marijuana oil vapes, with the exception of flower vaporizers.
"I continue to recommend that people not use any e-cigarette or vaping products," Public Health Commissioner Monica Bharel said. "These products are not safe."
Next month, the Public Health Council is expected to rescind the ban and to consider vape product regulations proposed by DPH on topics ranging from consumer awareness to policy enforcement, officials said.
Potential provisions highlighted Wednesday included specifying the DPH commissioner's authority to block the sale of "a designated vaping product on a determination that the product causes vaping-related lung illness or poses a substantial risk to public health" and requiring products in all non-age restricted retailers be placed behind the counter.
The council will also review regulations that would require posting signage at stores that warn consumers about "the dangers of severe lung disease associated with vaping products" and other health risks, officials said.
DPH would seek the council's approval on procedures the department or municipal boards of health can use to inspect retailers and their products for compliance and to issue violations, according to the state's website.
Furthermore, the council will look at "establishing how retailers and manufacturers must comply with the law's requirement that vaping products with nicotine content of more than 35 mg/ml may only be sold in 21+ establishments," officials said.
Lawmakers and advocates lauded the new law on flavored tobacco product sales as a necessary action to fight and prevent youth nicotine addiction.
"For far too long we've watched big tobacco hook young people just like they hooked our parents and our grandparents and even some of us here in this room," Keenan said.
According to statistics cited by Lt. Gov. Karyn Polito, half of Massachusetts high school students surveyed earlier this year reported trying vape products at least once, while a third said they had used one within the past month.
"I've been fighting big tobacco my whole life," Gregoire said. "Big tobacco steals things. Big tobacco steals money, it steals health, it steals lives — and today, we say Massachusetts shows the door to big tobacco. We're putting a nail in their coffin.
"This is going to make a difference in people's lives, starting immediately," she added.
Retailers have repeatedly criticized the law, arguing that it effectively strips them of their responsibility as the gatekeepers to youth tobacco access and will only send consumers to the black market.
"Public health and safety has been dealt a blow by anti-tobacco crusaders exploiting a youth vaping crisis, and by lawmakers bypassing prudent policy-making," Jonathan Shaer, executive director of the New England Convenience Store and Energy Marketers Association, said in a statement. "By dismantling the state's only legal barrier between youth and vape and tobacco, government has fed the illegal market, disproportionately impacted communities of color, and cost the state hundreds of millions in lost tax revenue. All options to pursue policies that actually protect minors from nicotine products, and that protect our adult customers' right to choose legal products remain on the table."