Local
Harvard grad students are entering their second week on strike. Here's what to know.
"We know that it is our labor that makes this place run, and we are going to withhold that labor until they agree to a fair contract that student workers deserve."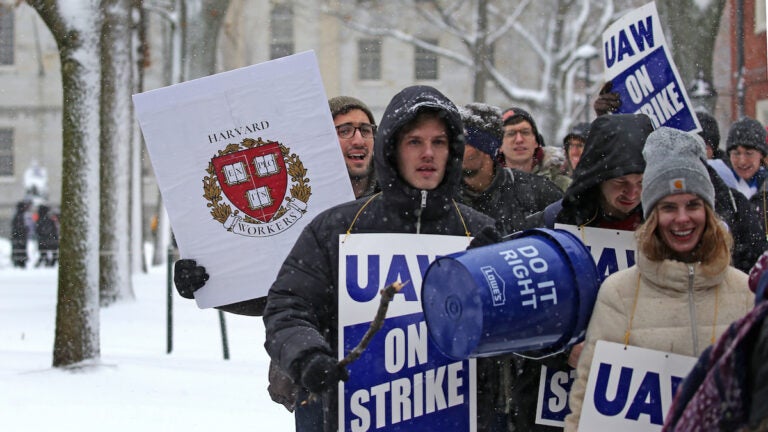 Last Tuesday, hordes of graduate students marched and chanted their way through Harvard Yard, the historic grounds of the prestigious university they attend.
That was nearly a week ago when over 4,000 members of the Harvard Grad Students Union-UAW started their strike, seeking better pay, more benefits, and harassment and discrimination protections, amid apparently stalled negotiations with university administrators.
The two parties have been at the negotiating table for over a year outlining the work terms and conditions of the students who serve as teaching and research assistants, some for minimum wage pay.
The union formed in April last year, making this its first contract negotiation.
"We know that it is our labor that makes this place run, and we are going to withhold that labor until they agree to a fair contract that student workers deserve," Rachel Sandalow-Ash, a Harvard Law School student, recently told The Boston Globe's Adrian Walker. "As a research assistant at the law school, I make $12 a hour; that's the Massachusetts minimum wage. This is a university with a $41 billion endowment and a $5 billion annual operating budget. There's no reason we should be making that little."
University officials say they're still willing to strike an agreement with the union. However, there are no bargaining sessions on the calendar.
Meanwhile, elected leaders from the local halls of power to Washington, D.C., have joined and backed the union and its requests, including Reps. Ayanna Pressley and Katherine Clark, who joined the line Monday morning.
"Harvard needs to come to the table and negotiate now," Pressley said in a tweet Sunday night. "Our student workers deserve to be treated with dignity."
Here's what to know about the strike:
What the union says
The strike began on Dec. 3 — more than a year after negotiations started in October last year.
At the table, students have sought higher wages that can keep better pace with cost of living hikes as rent prices soar across the region.
Cory McCartan, a statistics PhD student and research assistant serving on the union's bargaining committee, told Boston magazine last week that pay fluctuates depending on positions. Generally, many students make under $3,000 a month for often less than 12 months each year, he said.
Just as the strike launched last week, the union was seeking a 5 percent wage increase this year and a 3.5 percent bump each following year under the contract with a $25 per hour rate, The Harvard Crimson reports.
The union is also looking for a contract that expands child care and health care benefits and one that would bring in an outside party to handle sexual harassment, retaliation, and discrimination complaints, according to the Globe.
Students have referenced the case of professor Jorge Dominguez, who was barred from campus and stripped of his emeritus status earlier this year following an investigation showing he engaged in "unwelcome sexual conduct" for decades, the Crimson reports.
Dominguez was accused of sexual misconduct by 18 women, according to the Globe. Students say the school has been too slow to address sexual harassment allegations.
"How many more people was that faculty member empowered to abuse, because he knew that he wouldn't be accountable and he knew student workers and faculty wouldn't be protected?" Lee Kennedy-Shaffer, a doctoral student, told Walker. "The university is taking the position that it should be able to police itself."
Over 90 percent of the union's members authorized the strike through a vote in October.
Regarding its reasoning for taking up the vote, the union says on its website the school's "administration continues to waste resources paying high priced lawyers to delay negotiations and try to drag out the process, preventing us from winning our fair contract."
On strike, students are refraining from teaching, grading papers, and proctoring tests, according to WCVB, which said the absence could impact final exams that begin Tuesday.
McCartan said students also see the effort as one that would set a nationwide standard for other graduate student contracts, according to Boston.
"These are protections that student workers and workers everywhere deserve," McCartan said. "We think it's important to fight for them here at Harvard and around the country."
What the university says
So far, the union and the university have signed 12 tentative agreements, according to the Office of the Provost, which says on its website that the university has been "engaging in productive and good-faith negotiations."
As the Dec. 3 strike deadline approached last week, Jonathan Swain, a university spokesman, told the Globe that Harvard continued to feel "a strike is unwarranted."
"A strike will neither clarify our respective positions nor will it resolve areas of disagreement," he said.
According to the newspaper, Harvard officials have said the Title IX sexual harassment complaint process has significantly improved over the past several years, and other bargaining units have opted to go through the university's Title IX office even though they also have the option to go into arbitration.
Harvard has also offered an 8 percent, three-year pay raise for most students, although union members said that structure would mean they make less than the yearly 3 percent raises many have been receiving for years, the Globe reports.
Even though no bargaining sessions are scheduled, officials say they're ready to keep talking, according to Walker's column.
"The university continues to engage with the union for solutions on addressing the concerns that have been central to these negotiations: compensation, benefits, and how the university handles matters of discrimination and harassment," Swain said.
Yet, on Monday, the union said that doesn't appear to be the case.
"The Harvard administration has claimed in the press that they're in 'active negotiations,' but funnily enough, we checked our spam folder and we haven't heard from them since before our strike began……..are they just negotiating with each other?!" the union wrote on its Facebook page.
What elected officials say
On Monday, Pressley and Clark addressed students on the picket line, weeks after the two Democrats, along with the rest of the Massachusetts Congressional delegation, wrote to Harvard President Lawrence Bacow requesting the university sign a fair contract.
Holding a megaphone under rainy skies, Pressley quoted Fredrick Douglass, saying, "Power concedes nothing without a demand."
"We're here out of reciprocity, out of thanks and gratitude for the contributions you make every single day," Pressley said. "And again, what we are demanding … is nothing charitable, nothing benevolent. It's simply what you have earned."
@RepKClark and @AyannaPressley speaking this morning in support of Harvard's grad student union @hgsuuaw. Let's bring @Harvard's administration back to the bargaining table #unionpower pic.twitter.com/UwPL0vsRnj

— Grigori Guitchounts (@guitchounts) December 9, 2019
In their Nov. 21 letter to Bacow, lawmakers — including former Harvard Law School professor, now Senator and presidential candidate Elizabeth Warren — asked administrators to "continue to set the bar by negotiating a first contract that will ensure fair treatment and strong workplace protections."
All workers, including Harvard grad students, should have the right to organize & fight for better wages & working conditions. I've joined the entire MA delegation in urging Harvard's leadership to negotiate in good faith with @hgsuuaw for a fair agreement. pic.twitter.com/x5tOu9SEt8

— Elizabeth Warren (@SenWarren) December 3, 2019
Also standing with students Monday were Cambridge city councilors Alanna Mallon and Sumbul Siddiqui and Mayor Marc McGovern.
A little rain never got in the way of fighting for what's right! Proud to stand in the @hgsuuaw picket line with my fellow elected officials @Ammallon, @SumbulSidd, @RepPressley, and @RepKClark.

? Student workers at @Harvard University — we hear you. pic.twitter.com/WGiAhIihrr

— Mayor Marc McGovern (@Cambridge_Mayor) December 9, 2019
"Every day is a good day to fight for justice and that's what we're doing here today in solidarity with these grad students saying, 'Come to the table, negotiate,'" Clark said Monday in a video shared by the union. "This great university can do great things for workers, and it is what they are entitled to — they make this university work. Let's make working work for them."