Local
The vape sales ban is expected to officially end Wednesday in Mass. Here's what to know.
Get ready for "licensed smoking bars."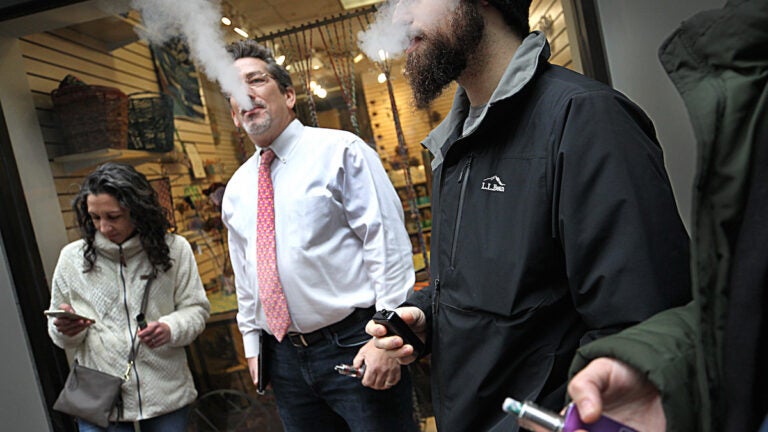 Massachusetts' statewide sales ban on all vaping products is anticipated to come to an early end on Wednesday, but that doesn't mean customers should expect the return of the status-quo.
The Public Health Council will consider new emergency regulations pertaining to vape products to be proposed by the state Department of Public Health, as allowed under a new law signed last month that sets strict regulations on the sales of flavored tobacco and vape products.
Once those new rules — to be presented at a council meeting Wednesday — are approved, the board is expected to rescind the ban, officials say.
"The health risks associated with vaping are still real and are still being investigated by the (Centers for Disease Control and Prevention)," Gov. Charlie Baker said during a Nov. 27 press conference. "That's why we're keeping the emergency ban in place until Dec. 11 while we develop these long-term regulations that will implement protections provided and intended in the new law."
Here's what consumers should know about those pending proposals and the future of vape products in the Bay State:
What we know
Last month, state lawmakers passed "An Act Modernizing Tobacco Control" — a sweeping piece of legislation that immediately limited where flavored  vaping products are sold.
Under the law, flavored nicotine vaping products are only to be sold at licensed smoking bars where customers must consume the products on site. Those bars and adult-only retail tobacco shops will also be the only retailers authorized to sell vaping products with a nicotine content of over 35 milligrams per milliliter.
Non-flavored vaping products with smaller quantities of nicotine can be sold in other shops, such as convenience stores.
All flavored tobacco products, including menthol cigarettes, will only be sold at smoking bars for on-site use starting on June 1, 2020.
What's still to come
Officials have offered an idea of the kinds of regulations the Public Health Council will review on Wednesday, including one to specify the authority of the DPH commissioner to take any vaping product determined to cause lung illness or injury off the market.
"The law grants DPH new authority to … regulate the sale of nicotine vaping products, to ensure the public is informed about the potential dangers of vaping, including vaping-related lung disease, and to implement other provisions of the law in order to protect the public health," the state says on its website.
Other regulations are tailored to retailers, such as potentially requiring signage at shops warning customers of "the dangers of severe lung disease associated with vaping products," officials say.
The council is also expected to consider how the DPH and local Boards of Health can inspect stores and products for compliance; how manufacturers and retailers comply with age restrictions for establishments with products containing more than 35 milligrams of nicotine per milliliter; and the requirement that vaping products be displayed behind the counter at non-age restricted retailers.
As he signed the bill into law last month, Baker defended his decision to roll out the controversial sales ban in September.
"Unfortunately it's becoming increasingly clear that the federal government is not going to act decisively, so we're going to do everything we can with state-level authority that remains to us," he said.