Local
Boston has ideas for how to make its nightlife safer. Here are a few of them.
"No one should ever feel unsafe in our city."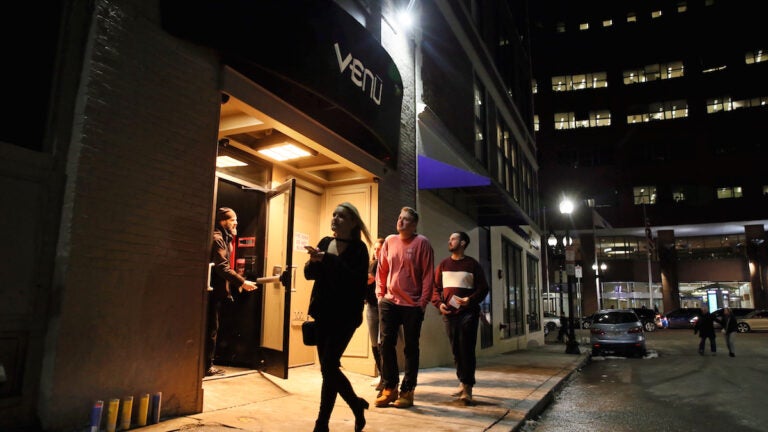 Nearly a year after two women vanished after leaving Boston night clubs in separate, high-profile cases, officials Thursday released guidelines intended to help late-night establishments proactively address safety problems, ranging from age verification issues to sexual assault and counterterrorism.
The 34-page document offers the city's 3,000-plus club and bar licensees "best practices" for their businesses, described as "a general road map" for how they can ready for and respond to unsafe, aggressive, and seedy situations that can arise among patrons.
"Going out in Boston should be a fun, safe, and enjoyable experience for everyone, but we've seen cases where people are victimized — especially young women," Mayor Marty Walsh said in a statement. "No one should ever feel unsafe in our city. It's critical that we work collaboratively to make sure our bars, nightclubs, and other establishments keep their patrons and staff safe."
The guidelines — born out of collaboration between public safety officials, license holders, and the city's Licensing Board — explain, among other areas of concern, how employees can help intoxicated customers get home safely and identify the signs signaling that something is amiss.
"The Boston Police Department is committed to working with our partners to ensure safety for our residents and visitors in every corner of the city," Police Commissioner William Gross said in a statement. "It is our hope that licensees and their employees throughout the city will find this helpful in improving public safety for the patrons of their establishments."
Officials emphasize that staff should observe who patrons arrive and leave with, and make note of those being aggressive and "any other information that could become relevant at a later time," according to the document.
Among the several points offered to help prevent sexual assault at their businesses, owners are advised to "encourage groups to designate one person as a chaperone and perhaps identify this person with a wristband."
"This person could be served non-alcoholic beverages at a discount for the night," the report says.
Busboys, kitchen staff, and other employees should receive sexual assault awareness training and should immediately report suspicious behavior, "especially as these employees work in or pass through areas that are dark or restricted," the document says.
Locations of security cameras and safety and fire plans should be documented, as well as extensive lists of all the employees and contractors on hand on a given night. Close watch and record keeping of each patron's ID and transactions can help authorities during investigations, according to the recommendations.
Officials also ask that establishments prevent a "severely intoxicated patron" from leaving alone. If one is to be ejected, staff should attempt to find a companion or friend of that person, the report says.
For those cases where someone does leave alone, the bar or club should contact police.
"Licensees should not be apprehensive about calling Boston Police in the event of an impaired or unruly patron for fear of disciplinary action by the Board," Kathleen Joyce, chairwoman of the Boston Licensing Board, said in a statement.
The board already routinely reviews police reports filed at any license-holding location.
The guidelines, however, build upon fostering that close relationship between law enforcement and these venues. They spell out how clubs and bars can preserve crime scenes for investigators, for example, and include a section on counterterrorism protocols, noting several attacks in nightlife destinations around the globe in recent years.
The recommendations come in response to abduction cases earlier this year that raised questions and heightened discourse over the safety and dangers of the city's nightlife scene.
In January, a 23-year-old Boston woman disappeared for three days after she left Hennessy's bar. She was found alive in the Charlestown apartment of Victor Peña, 38, who police say forced her to stay there, gave her only canned pineapple to eat, and made her drink alcohol. 
Peña was charged with kidnapping and 10 aggravated rape charges. His case is pending.
A month later, in February, Jassy Correia, a 23-year-old mother of one who was living in Lynn at the time, was last seen alive leaving the Venu nightclub.
Days later, Louis D. Coleman III, a 32-year-old Providence man, was arrested in Delaware, where authorities found Correia's body in the trunk of his car.
He faces a federal charge of kidnapping, resulting in death — a charge that carries a mandatory life sentence in prison and is eligible for the death penalty.
In March, Boston police met with several agencies and the owners, managers, and representatives of the city's bars and clubs in the first of several meetings to discuss a new approach to safety in wake of the incidents.