Local
MBTA oversight board voices support for income-based reduced fares
"Nobody's saying it's not hard."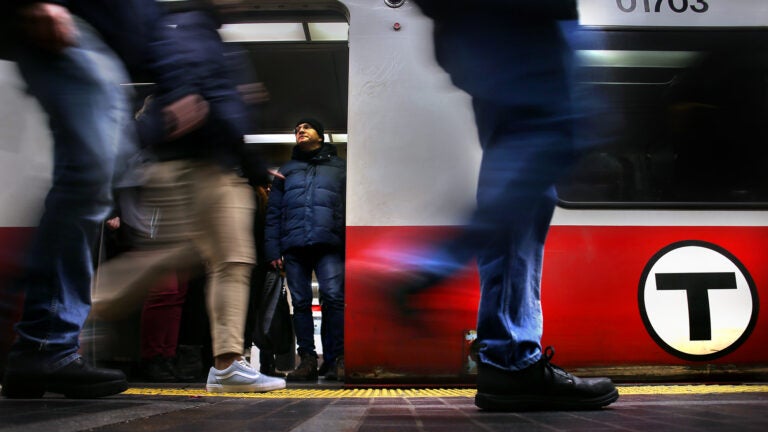 The MBTA already offers reduced fares to seniors, students, people with disabilities, and even low-income young adults.  But the agency is now looking to make the discounted rates available to low-income individuals of all ages.
During a meeting Monday afternoon, the MBTA's Fiscal and Management Control Board voiced support for reduced fares for low-income Massachusetts residents, despite some pushback from Transportation Secretary Stephanie Pollack. While the board didn't formally vote on the subject, a majority of the five-member panel spoke in favor of pushing forward to explore the feasibility of such a program — or even a pilot in the upcoming year.
"We can't continue talking about this for years and years, and the thing is the community has been patient," Monica Tibbits-Nutt, the board's vice chair, said during the meeting.
Other cities across the country — from Seattle to Los Angeles to New York — have implemented various reduced fare programs for those with an annual income up to 100 percent to 200 percent of the federal poverty level ($15,613). The meeting Monday came after increasing calls from advocates for the MBTA to move forward with their own program after the most recent round of fare hikes this past summer.
The way it would work would be for the MBTA to partner with another local — likely state-level — agency that means tests to provide benefits to low-income individuals, such as MassHealth (which administers Medicaid) or the state's food stamps program, according to a presentation by Laurel Paget-Seekins, the MBTA's assistant general manager for policy.
Paget-Seekins said that tying eligibility to an existing program would simplify the costs of administration and determining who would be eligible. However, she said the MBTA would still require technological upgrades, new reduced fare cards, and additional staffing.
"There's some work we need to do regardless to really improve our existing reduced fare programs, and then, if we were to build a new one, there are some pieces we need to build on top of it," she said.
Depending on the eligibility thresholds and other variables, the MBTA said the program would cost $20 million to $51 million in subway and bus fare revenue, as well as around $2 million in commuter rail fares and $10 million to $20 million in para-transit and operating costs. Those estimates did not include the administrative costs of the program.
In addition to determining how to pay for the program, the presentation identified a number of logistical questions left to answer, particular around how the MBTA would pick and interact with a partner agency, as well as verifying riders' eligibility. Pollack noted that New York City recently ran into delays launching their own reduced fare transit program. She also said that officials had engaged in preliminary conversations with the state's Department of Health and Human Services about enforcing eligibility.
"Their message to us has been: This is really hard," Pollack said, noting that the MBTA would have to work to verify a rider's eligibility year after year and implement some kind of a fraud prevention program.
"A Zone 8 commuter rail pass that's 50 percent off — as an example — is worth a lot of money," she said. "You gotta have a way of knowing that it's in the right hands, keep it in the right hands, and have it used correctly."
The Fiscal and Management Control Board acknowledged that there was still much work to do. However, board member Brian Lang said that moving forward was more of a "political question" than a logistical question.
"Nobody's saying it's not hard," he said. "We've got to do a lot of hard things. And so this is something that this board has said we want to do. And if there are state agencies out there that are saying well this is hard and they're throwing up the challenges as excuses, we can't accept that."