Local
Skippy White has been selling records in Boston for nearly six decades. But it's time to close up shop, he says.
"It used to be that if you wanted to find out what was happening, the latest in what was going on … you go in the record store to find out. ... That's what was happening, all those many years."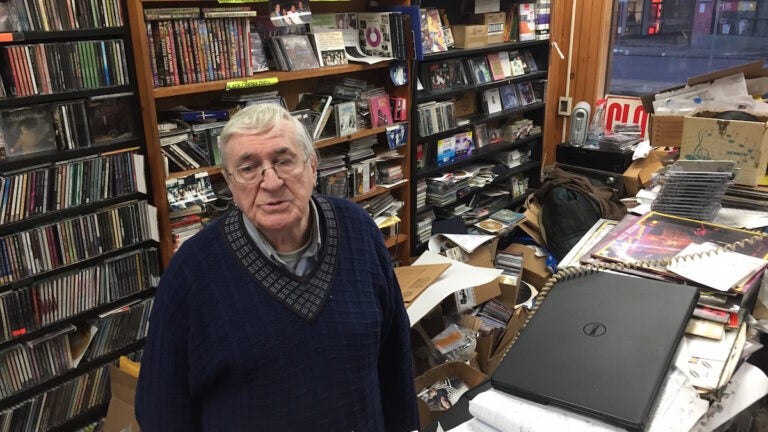 EGLESTON SQUARE — The sun is setting at Skippy White's.
But the florescent lights still shine bright on the vast kingdom of records and CDs, the posters of radio shows and concerts performed long ago lining the walls, and the boxes of inventory with too much music for a single shelf to hold.
Somewhere in it all, Olivia Eaton is searching for something that can give her Aretha Franklin's Christmas hits.
She's here with her sister, Daughut Payton, who is rummaging through a rack of CDs to her left.
For searching, this is the place to be.
"We come here (for) more or less the oldies but goodies," Payton, of Dorchester, says. "But whenever we want something, if we can't find it in the store, we come to Skippy White's. And if we can't get it, he knows how to get it if he doesn't have it."
This particular Friday afternoon is the second time Payton has been at Skippy's that day.
She came again after she heard the news: Fred Le Blanc, the man behind the counter known best as Skippy White, the legendary local record proprietor who's supplied R&B, the blues, gospel, soul, and much more to Boston for nearly six decades, is closing up shop.
At 83, White remains the melody master for anyone looking to track down the origin of an ear-worm, a human encyclopedia quick with musical recommendations, and as ready as ever to talk shop with just about anyone who walks through his door.
Indeed, none of that has changed. The industry, however, is a different matter.
The shop, White's last one standing, right in the heart of Egelston Square at 1971 Columbus Ave., will close sometime after the end of the month, he wrote on Facebook last week.
"It's probably been a long time coming because the business has been eroding for quite a while," White says.
Even the public's rekindled love of vinyl records in recent years arrived too late after brick-and-mortar retailers were decimated by the age of digital sales, he says.
"As things got worse and worse, you know, after a while you have to make a decision, and I probably looked at this decision a few years ago and knew it was time to make it but I didn't make it," he adds, with a chuckle.
Why?
"I still enjoyed what I was doing."
***
There were pop versions, country and western versions, but nothing hit a young White quite like the rhythm and blues rendition of "Crying in the Chapel" that crackled out of his radio one day in the early 1950s:
"I've searched, and I've searched, but couldn't find, nowhere on Earth to find peace of mind…"
The silky, soft vocals of Sonny Til and The Orioles' 1953 cover made the Waltham teen a true fan, devoted to the sound.
Years later, by 1958, when music by black musicians was still nowhere to be heard on Boston radio, White started a search of his own, taking it upon himself to change that, offering to select songs for stations.
But most wanted none of it. Even what seemed to be a promising interest at WCOP crumbled when the affiliate's higher-ups rejected the idea of a two-hour rhythm and blues show.
Acting on a tip, White eventually brought his proposal to WILD 1090 AM, which mostly fed the airwaves crooners like Frank Sinatra and Dean Martin at the time, he says.
Still, he landed the deal, but with a slight caveat: He would DJ.
"(The owner) said, 'You've been on the air before, right?' And I said, 'Well, yeah,'" White recalls with a laugh. "Not really true … anyway, he bought my line."
Before long, the station expanded its rhythm and blues lineup, which included the rookie broadcaster going by the name, "Fred White."
Once Fred Mack, a disc jockey from New York, was brought on though, the on-air name shifted to Fred "Skippy" White to avoid confusion.
"Everybody said to me, 'Well, you're going to have to get a nickname, you got to get a new name because you're going to get lost in the shuffle,'" White says. "So somebody came up with Skippy, which I didn't particularly care for at the time, but I couldn't think of anything else."
When the phones lit up that first show, it stuck.
"I was Skippy White from then on."
***
After leaving his job at Smiling Jack's College Music Shop, White opened his first store at 1820 Washington St. in 1961.
It was there in August, 1964, Richard Heath heard the sound after leaving one of the nearby movie theaters with some friends:
"I've got this burning, burning, yearning feeling inside me, oh deep inside me and it hurts so bad. You came into my heart … so tenderly …"
"We walked by and there these speakers on the sidewalk blasting out The Supremes," Heath recalls. "And I said, 'What is this?' So I made a u-turn… went in, bought a bunch of 45s and the rest, as they say, is history."
Heath, now 73, visits the shop's current location in Egleston Square that opened about 15 years ago. He was there last Friday, too, with a stack of 45s ready to take home.
He laments that it'll soon close.
The store is "like a musical barbershop" — a place where those who love the music can pour over the details, the stories, where these conversations can lead to new discovery, he says.
"It's just the music really," Heath says. "I think anybody that comes in the store will say that here's a guy who really loves the music."
There's the "just hum it" policy — White's uncanny ability to track down seemingly any tune for a customer as advertised on its sign. On the walls, there are fliers and other advertisements for White's radio shows, continuing through the decades from station to station.
(These days, his voice greets listeners on his R&B oldies show, "The Time Tunnel," on Saturday mornings, and on Sundays, "The Gospel Train," both online at 98.1 FM The Urban Heat.)
On one wall hangs a photo of a past location at 1763 Washington St.
It was there where, one day back in the 70s, Kool & the Gang came to play, rolling up in a limousine, "or maybe a couple," White says, to play an in-store show, only for many of the customers to be squeezed out of the shop, already crowded with shelves of records and tapes.
"You know how many members are in Kool & the Gang? There's about nine of them, plus the promo guy, plus the guy from the record company, plus the radio guy. It was like 12 or 14 people came in," White recalls. "I said to them, 'Where am I going to put the customers? There's no room now, you filled up the store!'"
He laughs. "So I had to get rid of them fast."
There's also the time, back in the 80s, a radio DJ let the word slip that funk musician Bootsy Collins was set to play an unadvertised set at the Mattapan store, one of several White's business grew to encompass over the years, including one as far as New Orleans.
Jammed wall-to-wall, the crowds nearly pushed the store counter over on White and his staff when Bootsy was unveiled from the backroom.
"There was about five of us in back of the counter, including Bootsy, holding the counter from going on top of us," he says.
From store to store, genre to genre, if there was a constant in it all besides White and his passion, it's likely this: That the record store was the place to find out what's going on — to find common ground.
"It used to be that if you wanted to find out what was happening, the latest in what was going on … you go in the record store to find out. … That's what was happening, all those many years," he says.
***
White is going to miss the people most.
Ask him if he enjoys what he does, all these decades later, and he puts it this way: "When I close the store and don't have any dealings with people face-to-face, the only other way I'd probably be able to sell records and/or CDs is on the internet," he says. "How impersonal is that? You don't see the person that you're talking to, that you're selling to. … It's not the same at all."
But that's what he plans to do.
In the coming days and weeks, he'll look to sell off most if not all of his inventory, marking down prices.
"I love record stores, and I think it's sad to see them — that business model kind of changing and not working in the same way as it once did," says Denise Delgado, executive director of Egleston Square Main Street. "I think that a place like Skippy's is really special, and to me I felt very fortunate to have it in the neighborhood just knowing how much history it has."
Wanda Sutton, a friend of White's and his former assistant during their days together at a radio station, stops in when she can to say hello to him and Marc Siegel, who's been working with White since 1978.
"People love him," she says of White. "They love him. … He's a people person so, most of them have become like family to him."
Heath, who makes weekly trips, says Fridays are the best days to go: the days when the special orders come in.
Heath, of Jamaica Plain, lives and breathes the music, he says. It's not solely entertainment or novelty for him. It's part of life, day in and day out.
As these musical stomping grounds like Skippy's continue to leave in the rise of online retailers and streaming platforms, he has a sinking feeling these losses will just be considered nostalgic for many — just an effect of changing norms and evolving technology.
"You can sit there and cry about it and be upset about it but, you can say … we were so lucky to know it," Heath says. "Nothing like it is going to come again, but you were lucky to be there when it was happening and be part of it when it was happening — and I was, for a long, long time."