Local
MBTA GM says Boston commuter rail incident was 'particularly frustrating'
The derailment Thursday afternoon near Landsdowne station was reportedly caused by a "human error" — and in an inconvenient location.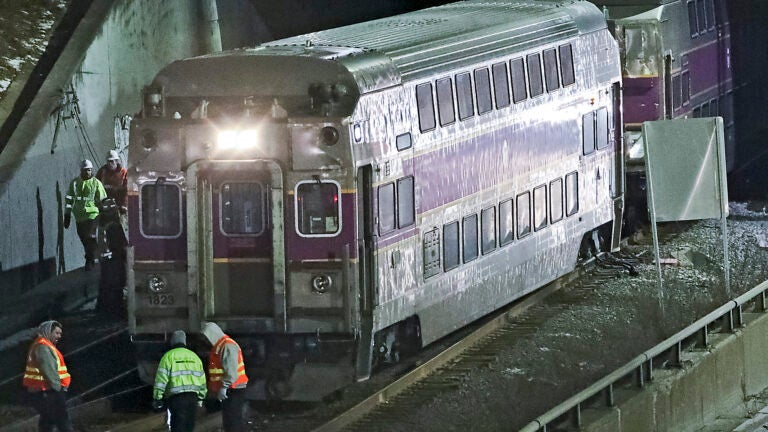 Commuter rail passengers faced residual delays Friday morning on the Worcester/Framingham line following a "low-speed upright" train derailment Thursday afternoon near Landsdowne station in Boston.
According to MBTA officials, the derailment "damaged a short section of track" near the Boston station, forcing trains in both directions to share the other track as they passed through the Fenway neighborhood. Steve Poftak, the MBTA's general manager, told WCVB that the use of both tracks had been restored Friday morning, but said that passengers should still expect delays of up to 30 minutes "on many of the trains today."
Following yesterday's low-speed upright derailment, workers making track repairs made good progress overnight. Individual alerts will be sent as needed. To make sure you receive the latest service updates on the Worcester Line, subscribe to T-alerts: https://t.co/3JWSe6gTm7 (2/2)

— MBTA Commuter Rail (@MBTA_CR) December 27, 2019
Keolis, the MBTA's commuter rail operator, said Friday afternoon that "considerable progress" had been made on the track repairs, though mild delays may persist through the evening commute.
"While some trains this evening may operate with delays of 10 to 20 minutes, regularly scheduled train service is expected to operate this weekend and Monday," Justin Thompson, a spokesman for the company, told Boston.com in a statement.
In an earlier statement, Keolis said the derailment Thursday was "believed to be caused by human error in not setting a switch properly," though the specific cause remains under investigation Friday. According to the State House News Service, there were 200 passengers on the inbound train out of Worcester, but none on the specific car that derailed shortly before 4 p.m.
No injuries were reported, according to Keolis. And in light of a recent outside report that was critical of the MBTA's approach to safety, Poftak said Friday that the agency is hiring additional employees focused on "preventive maintenance."
The rush hour derailment did, however, cause significant disruptions for commuters on the Worcester line. Keolis scrambled shuttle buses to bring passengers back and forth from South Station and Back Bay Station to the Newtonville stop in order to avoid the derailment site, while trains departing South Station faced severe delays. Outbound trains late Thursday night were replaced by shuttle buses for the entire way to Worcester.
Poftak said the location of derailment was "particularly frustrating."
"It blocked equipment headed out to Worcester, so we were not able to provide a great deal of service," he told WCVB. "We had to replace it with bus service, which I know is particularly inconvenient for our customers."
And while repairs crews reportedly made "good progress overnight," it wasn't enough to forestall the additional delays Friday, as officials had warned. The Boston Globe reported that several early morning trains on the Worcester line were delayed, though most were for reasons unrelated to the derailment; a canceled 4:40 a.m. outbound train, due to mechanical issues, had cascading effects in both directions.