Local
The minimum wage in Massachusetts is going up this week. Here's what you need to know.
New year, new wage floor.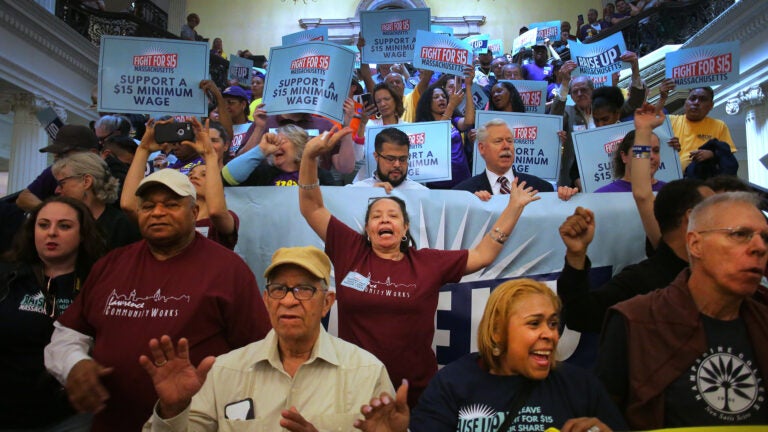 The minimum wage in Massachusetts will increase again Wednesday in its long march toward $15 an hour.
As part of a "grand bargain" bill passed in 2018, state lawmakers approved a provision to gradually raise the state's hourly minimum wage from $11 to $15 by 2023. And another incremental increase kicks in this New Year. But that's not the only part of the law changing.
Here's what you need to know:
How the minimum wage changes:
First things first, the Massachusetts minimum wage, which increased from $11 to $12 last year, will go up again to $12.75 an hour in 2020. In other words, the new rate takes effect Wednesday.
It's the second in the series of five annual minimum wage hikes. The hourly rate will continue to increase $0.75 every Jan. 1 for the next three years until it hits $15 — twice as much as the current federal minimum wage of $7.25:
2019: $12
2020: $12.75
2021: $13.50
2022: $14.25
2023: $15
No state currently has a $15 minimum wage, which has been the goal of a years-long national effort by labor advocates. But like Massachusetts, many are in the process of doing so.
By 2023, the Bay State will be joined by California, Connecticut, and Washington, D.C. — and parts of New York — with a $15 minimum wage. Illinois, Maryland, New Jersey, and New York also have laws that will eventually increase their statewide minimum wage to $15.
Maura Healey, the state's attorney general, sent out a reminder last week of the coming minimum wage hike and recirculated a poster that employers are required to display detailing Massachusetts labor laws.  According to Healey's office, anyone who thinks they are not being paid (or have otherwise had their workplace rights violated) can file a complaint online or call the Fair Labor Hotline at (617) 727-3465.
There are, however, a few exceptions to the state's standard minimum wage rate.
The minimum wage remains at $8-an-hour for most agricultural workers in Massachusetts, due to arcane farm labor laws. There are also exemptions for members of religious orders; workers being trained in certain educational, nonprofit, or religious organizations; and outside salespeople.
How tipped workers are affected by the change:
Tipped workers are, technically, not exempt from the minimum wage, though their base pay rate remains significantly lower. But it's also getting a bump this week.
Along with the standard minimum wage, the tipped minimum wage will increase Wednesday from $4.35 to $4.95 an hour (it had been $3.75 when the "grand bargain" was passed). By 2023, it will increase to $6.75.
2019: $4.35
2020: $4.95
2021: $5.55
2022: $6.15
2023: $6.75
The lower hourly rate assumes that tips will make up the difference and that tipped employees will ultimately earn at least a minimum wage. However, if their income including tips does not equal $12.75 an hour at the end of a shift, employers are required to make up the difference, according to Healey's office.
What else is changing Wednesday?
The reason that the 2018 law to raise the minimum wage, among other things, was called the grand bargain was the it included an element of compromise for employers in the retail industry, which disproportionately relies on low-wage workers.
While raising the standard and tipped minimum wages, the law also phases out the state's time-and-a-half payment requirements for retail employees who work on Sundays and some holidays. Last year, it was reduced to 1.4 times the hourly rate. It will go down to 1.3 on Wednesday and continue to incrementally decrease until it is completely phased out in 2023:
2019: 1.4 times the hourly rate
2020: 1.3 times the hourly rate
2021: 1.2 times the hourly rate
2022: 1.1 times the hourly rate
2023: Eliminated
However, the law doesn't phase out the time-and-a-half premium for most major national holidays, like Thanksgiving or Christmas. Currently, the only three holidays affected are Memorial Day, Independence Day, and Labor Day.
In a proposed spending bill earlier this year, Gov. Charlie Baker added Columbus Day, Veterans Day, and New Year's Day to the list. But for now, they'll remain exempt — if only by mistake. According to the Retail Association of Massachusetts, the provisions to phase out the the time-and-a-half requirement for those three additional holidays were "inadvertently omitted" from the final spending bill due to "a drafting error."
It remains to be seen if they'll be added in 2020, but retail employees working this Wednesday will at least get one last New Year's Day of time-and-a-half pay.
Who will feel the effect of these changes?
According to a Boston-based think tank, the minimum wage increase Wednesday will affect 420,600 workers in Massachusetts — particularly service industry employees, women, and people of color.
Massachusetts Budget and Policy Center reported earlier this month that the increase to $12.75 an hour will hit 45 percent of food service workers and 25 percent of retail workers (61 percent of tipped workers would also get a raise to $4.95 an hour).
The report also found that nearly 60 percent of those slated to get a raise are women — and 40 percent are people of color. Citing previous analyses of census and government data, MassBudget also reported that nearly one in five of those affected are single, working parents, while less than a third work less than 35 hours a week.
Still, industry groups remain wary about the effects of an increased minimum wage that will eventually reach $15 an hour.
Jon Hurst, the president of RAM, recently told MassLive that he hadn't seen any negative effects from the current increases, but worried about what might have with a $15-an-hour minimum, along with no teen minimum wage, in less-strong economic conditions. With a minimum wage that was just $8 an hour as recently as 2014, Hurst noted that, even in good times, sales for small business were "certainly not increasing at the same rate as their payroll costs."
At the national level, raising the minimum wage to $15 would increase the wages of 27 million people and lift 1.3 million people out of poverty, according to a study this past July by the nonpartisan Congressional Budget Office. However, the study also estimated that such a hike would likely result in between zero and 3.7 million job losses.
Bob Luz, the president of the Massachusetts Association of Restaurants, noted that local businesses could face a decision between layoffs and increasing prices.
"Everybody's for increasing wages until they face the reality and go into the restaurant and the cheeseburger costs a dollar more," Luz told the Boston Herald.