Local
From parking to performances, here's what to know about Boston's First Night celebrations
"It's a great, fun way to bring in the new year."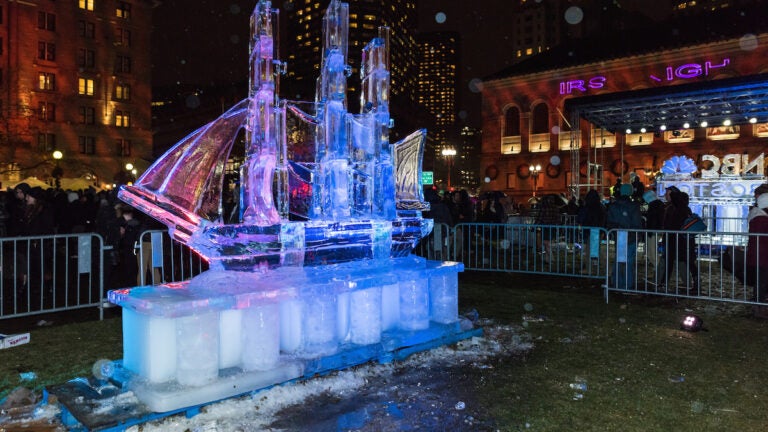 The lights, music, ice sculptures, and fireworks are returning to Boston to usher in a new decade.
The city's annual First Night celebrations are slated to begin just before noon on Tuesday, with the fanfare and festivities running through midnight in Copley Square and Back Bay.
"It brings people together from all over our city, and all over the commonwealth and beyond — all over the world, quite honestly," Mayor Marty Walsh said during a press conference Monday. "It's a great, fun way to bring in the new year."
First Night has been the city's New Year's Eve celebration since 1975. The free event draws thousands of people to the heart of the Hub every year.
Here's what to know about this year's happenings:
Remembering Brandon McSweeney
Organizers said two moments of silence will be held, at 11:30 a.m. and at 6 p.m., in memoriam of Brandon McSweeney, of Sherborn.
McSweeney, 34, was killed Saturday while helping with setup for the First Night celebrations after a 3,500-pound ballast dislodged from a forklift and landed on his chest.
"This is a horrible, tragic accident," Walsh said Monday. "I want to ask people to continue to keep Brandon's family in your thoughts and prayers and his coworkers in your thoughts and prayers."
The schedule
Come the early hours of Jan. 1, First Night attendees will have taken in 100 performances from over 50 different performers, start to finish, according to Dusty Rhodes, president of Conventures, the local event planning company that oversees the celebrations.
The Dempsey Sisters are set to kick things off at 11:45 a.m. in Copley Square with their three-part harmonies, while more musical and dance acts bring their melodies and moves to the Boston Public Library and Copley Place Mall starting at noon.
Puppet shows, improv comedy groups, musicians, and other performers are then slated to grace stages at several locations around the square over the next twelve hours, including "nonstop, two-stage musical entertainment right up until midnight," Rhodes said Monday.
One thing to keep in mind: most events at the Boston Public Library are ticketed because of their popularity, organizers say. Tickets are only given in person on a first-come, first-served basis Tuesday in the library.
Ice sculptures depicting the Mayflower — recognizing Plymouth's upcoming 400th anniversary — and "the dawn of a new decade," among others, will be displayed throughout the square.
Other scheduled activities include the Frog Pond Skating Spectacular at 5:30 p.m. and the People's Procession parade from Copley Square to Boston Common, stepping off at 6 p.m. The family fireworks show will take to the sky above the Common at 7 p.m., while the annual fireworks over Boston Harbor and the pyrotechnics and light show in Copley Square will light up at midnight.
"We hope to see all of you there … We want to see all those strollers and all those little kids with their eyes all bug-eyed when they have those fireworks explode over their heads," Rhodes said.
Public safety
Public safety and city officials Monday reminded attendees to act responsibly and to serve as authorities' eyes and ears in reporting dangerous or suspicious behavior.
Walsh said Boston police will have an increased presence downtown and throughout the city's neighborhoods on New Year's Eve.
"This is a family event — a family event," Police Commissioner William Gross said at the press conference. "So we don't need anyone drinking in public, smoking marijuana in public. Do it at home."
The flying of drones is also prohibited at the event, he added.
MBTA Transit Police officers will also be located throughout the transit system, said MBTA Transit Police Chief Kenneth Green, who encouraged riders to alert authorities about anything that seems awry.
"The Transit Police will have additional transit officers both uniformed and in plain clothes throughout the system to ensure that everybody has safe and efficient travel," Green said. "We ask our riders to act responsibly, to be respectful and mindful of children, the elderly, and people with disabilities as they use our system."
Parking and traffic restrictions
With road closures in effect and limited parking available, officials and organizers are asking people planning to attend the First Night festivities to strongly consider taking public transit to the celebrations.
While the event does not have any designated parking, the First Night website notes that nearby parking garages include Copley Place, the Boston Common Garage, the Prudential Center, and Clarendon Garage at 100 Clarendon St.
Dartmouth Street will be closed to vehicle traffic between Boylston Street and St. James Avenue from 8 a.m. Tuesday through 1 a.m. Wednesday, according to Boston police. Additionally, Boylston Street, from Ring Road to Charles Street, will be closed between 4 and 8 p.m. Tuesday, and Charles Street, from Boylston Street to Beacon Street, will be closed between 5 and 8 p.m. Tuesday, officials said.
Read the full list of parking restrictions.
The MBTA
All modes of the MBTA are running on a weekday schedule Tuesday, with free rides beginning at 8 p.m.
There will be additional, late-night subway service through 2 a.m., according to the MBTA. Rush-hour levels of service will start at 3 p.m.
"Commuter rail will have additional, late-night service," the agency says on its website. "On some lines, the last train will have a delayed departure."
No ferry service will be offered on Wednesday, while all other modes will operate on a Sunday schedule.
Read the full New Year's Eve Commuter Rail schedule alerts.
The weather
Tuesday's morning showers are expected to give way to afternoon clouds, with temperatures hitting in the mid- to high 40s.
A very brief shower is possible between 6 and 10 p.m. and temperatures are expected to remain mild overnight, according to David Epstein.
"In the years past it's been colder than this, but still, with the rain and the cold, it can still be very cold out there so we're asking people to dress appropriately," Walsh said Monday.
The live broadcast
NECN, NBC 10 Boston, and Telemundo Boston will broadcast the celebrations live from Copley Square from 6 p.m. through 12:30 a.m.