Local News
Organizers want to break ground on Martin Luther King Jr. and Coretta Scott King memorial in July
"The Embrace" will be installed near the Parkman Bandstand, where the civil rights leader once spoke in 1965.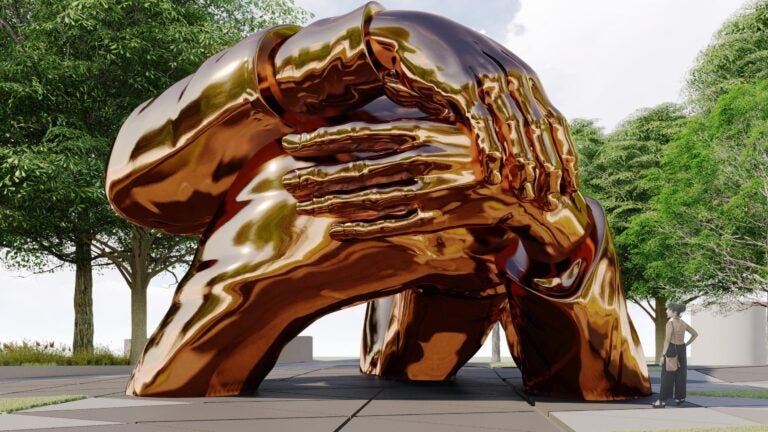 The nonprofit working with the City of Boston to install a monument honoring Martin Luther King Jr. and Coretta Scott King on Boston Common hopes to break ground on the project in July. 
Marie St. Fleur, executive director of King Boston, told Boston.com the aim is to time groundbreaking on the monument, "The Embrace," with the start of the NAACP's 111th annual National Convention in Boston. The convention is slated to take place July 25-29, and having the start of work on the sculpture dedicated to the work of the Kings would be "symbolic and exciting," she said. 
St. Fleur described the monument to the civil rights leaders, designed by artist Hank William Thomas, as a "physical representation and honoring at the heart of Boston," in one of America's oldest parks. The monument will be constructed near the Parkman Bandstand, which King led a march to and spoke from in 1965.
"While we in Boston continue to have our struggles, we have made some progress in race relations in the city," St. Fleur said. "And I think [the NAACP convention] is a wonderful time to celebrate that and to have the groundbreaking be part of that is really an amazing opportunity for everyone here, to highlight the celebration of civil rights leaders. Not just simply in Massachusetts or nationally, but internationally. Dr. King and Coretta Scott King — they're global civil rights and human rights leaders." 
The project is currently making its way through the city's permitting process, and St. Fleur said she is confident that there is the "wherewithal to make it happen" in time for the convention, the second time the NAACP has held its gathering in Boston. 
In addition to the monument, King Boston, which is a privately funded effort, is working on creating the "King Center for Economic Justice" in Roxbury at the Dudley Branch of the Boston Public Library. 
The group has also commissioned Boston filmmaker Roberto Mighty to produce a documentary on Martin Luther King Jr. and Coretta Scott King's years in Boston and memorialize their legacy in the city. 
The monument on the Common aims to motivate and inspire, St. Fleur said, and remind visitors that civil rights occurred through people coming together to call for change. In tandem with the monument, the King Center for Economic Justice would help support and empower people still working to "breaking down the barriers to economic justice."  
"The Embrace speaks to that, about how we collectively have worked together to break down the structural legal barriers that prevent all people from having access to opportunity," she said.