Local
What a recent court ruling means for recreational marijuana in Cambridge
City officials are weighing whether to fight the controversial decision.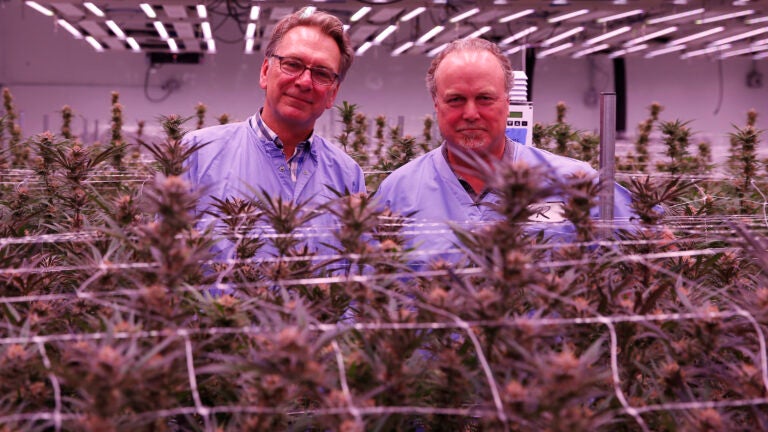 A local judge's recent ruling could open the door for recreational marijuana sales to begin in Cambridge earlier than expected.
But it's also a setback for local advocates who fought to ensure that minorities and those affected by the war on drugs have a foothold in the industry — and "disappointed" city officials are weighing whether to fight the decision.
What exactly did the judge rule?
In a ruling last Friday, Middlesex Superior Court Judge Kathleen McCarthy-Neyman issued a preliminary injunction against Cambridge's two-year exclusivity period for recreational marijuana business applicants in the state's "economic empowerment" program, designed to give local entrepreneurs affected by previous marijuana laws a head start.
Across Massachusetts, small and minority-owned businesses have struggled to break into the growing adult-use cannabis industry. Cambridge's exclusivity period — passed in September after months of bitter debate — hoped to ensure that wouldn't be the case in their city by only giving economic empowerment applicants the local business permits necessary to open a recreational pot shop.
However, it also effectively banned Cambridge's existing medical marijuana dispensaries from opening for adult-use sales until the fall of 2021. The three dispensaries were not happy about that — arguing the ban would hurt both their business and their patients — and one of them, Revolutionary Clinics, sued in October.
According to The Boston Globe, the company argued that Cambridge's exclusivity period or — depending on your frame of view — ban ran afoul of Massachusetts state laws that say communities cannot use local laws to "prevent" dispensaries from adding recreational sales. McCarthy agreed, ruling that "the permitting ordinance appears to exceed the limited power [state law] granted to municipalities to regulate [recreational] marijuana businesses."
Her injunction temporarily blocks Cambridge's two-year moratorium as the lawsuit proceeds and prohibits city officials from preventing Revolutionary Clinics from "immediately" applying for a retail marijuana permit.
What happens next?
Still, McCarthy's ruling doesn't mean the fight is over — or that adult-use sales in Cambridge will begin particularly soon.
Cambridge spokesman Lee Gianetti told Boston.com in a statement that the city is "disappointed" with and disagrees with McCarthy's decision.
Gianetti noted the city's two-year exclusivity period did not permanently ban medical marijuana dispensaries from adding or switching to adult-use sales. Rather, he characterized it as a "temporary delay," which is not prohibited under the state law cited by Revolutionary Clinics. And while a 2018 guidance to municipalities from the state's Cannabis Commission Control prohibited local bans on marijuana establishments, it did allow for temporary moratoriums.
"The City believes that it did not exceed its authority in adopting the temporary moratorium set forth in the Cambridge Business Permitting Ordinance prohibiting the issuance of cannabis business permits to applicants other than state-certified economic empowerment applicants for two years," Gianetti said. "The City believes that the two year moratorium is not in conflict with the state's Cannabis Control Commission's Regulations."
And as Cambridge Day reported Tuesday, at least one city councilor, Quinton Zondervan, who spearheaded the policy, has expressed support for appealing the ruling. Cambridge officials were reportedly scheduled meet to discuss their options Tuesday; according to Gianetti, the city is still "reviewing the Court's decision and considering its next steps in this matter."
Either way, it's unclear when adult-use sales will actually begin in Cambridge.
More than four months after the exclusivity period began, Gianetti says the city has yet to approve any host community agreements.
The agreement is a necessary requirement before prospective marijuana business applicants move onto the the state licensing process — which itself takes several additional months. And even if medical dispensaries immediately submitted documents for a permit after last week's ruling, the local approval process to get a host agreement is estimated to take around four to seven months, according to a Cambridge guidance form.
Zondervan also suggested that the city could throw up roadblocks at the local medical dispensaries, in the hopes of giving economic empowerment applicants more runway before they have to compete with established players.
"We're certainly not limited in our options," he told Cambridge Day. "Revolutionary Clinics still has to clear several [regulatory] steps, and there may be other options available to get in their way a bit."
Revolutionary Clinics didn't immediately respond to a request for comment Wednesday about the status of their application. In a statement last Friday, the company noted that the decision still allowed economic empowerment applicants "to move quickly toward opening their adult-use businesses," though dozens of applicants have complained about the barriers for smaller businesses.
"We look forward to working with all of the stakeholders in Cambridge to ensure a vibrant ecosystem of cannabis entrepreneurs in our community," Revolutionary Clinics said.