Local
The city took its annual homeless census Wednesday night. Here's what to know.
In 2019, 2,348 people were living either on the street, in transitional housing, or in emergency shelters.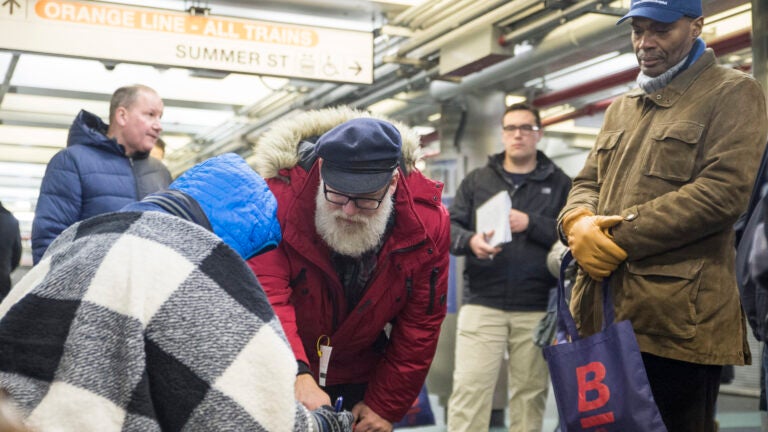 Each year, Mayor Marty Walsh and other city officials conduct a homeless census, and the 2020 one took place Wednesday night.
Typically over the winter — it's been in late January or early February for the past few years, according to city data — the mayor and a team of volunteers will take to Boston's streets for one night in an effort to count the people staying outside, at the mercy of the elements.
Here's a look at what it is, and what it endeavors to do:
What it is and why
Boston has been conducting the census for 40 years, according to city data.
There's two ways the census counts people, the city's website says. It counts them via how many are using things like shelters, treatment programs, or transitional housing. It also takes a look at their income, demographics, the size of their family, and the community where they're from.
When the census was last done, on Jan. 30, 2019, there were 121 people staying on the streets, 1,867 in emergency shelters, and 360 in transitional housing for a total of 2,348, an increase of seven people from 2018.
"Together, this data helps us understand who we are serving, and what gaps there are in our services," the site says. "It helps us understand our priorities, so we can design even better policies. Census results also inform federal funding, and help measure progress in our efforts to prevent and end homelessness."
The idea behind the census is to better understand the city's homelessness problem, according to the site.
Boston's Way Home Fund reaches goal
On the heels of the census, Walsh's office announced Thursday that the Boston's Way Home Fund has reached its goal of $10 million two years ahead of its goal for 2022. The goal of the fund is to create new supportive housing for the homeless.
The fund took in contributions from businesses and people. Pine Street Inn and Bank of America partnered with the city, according to a news release. The city recently approved the homeless organization's proposal to build 202 new homes, both supportive and income restricted.
"This fund will help us as we move closer to our goal of ending chronic homelessness in the City of Boston," Walsh said in the release.