Local
Authorities say an Amber Alert may have saved a Springfield girl's life. Here's a look inside the 'invaluable' system.
Last month's incident marked the first time a Massachusetts Amber Alert was triggered by an abduction involving a stranger.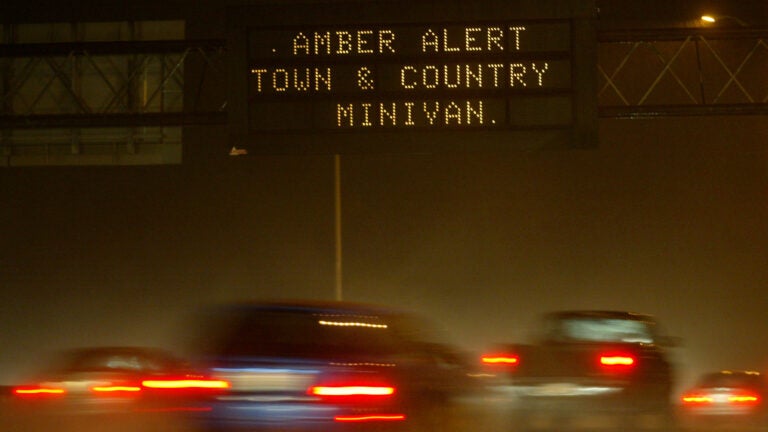 Not long after phones pinged and televisions and radios blared the jarring tones, the tips rushed into the Springfield Police Department.
Extra staff was called into the detective bureau. Investigators worked quickly to parse each bit of information as pictures and video of a blue Honda Civic flashed on news reports and social media.
"People were out looking for this car. It was amazing," Police Commissioner Cheryl Clapprood told reporters that night, on Jan. 15. "Civilians spotted this car and helped us out immensely."
When 24-year-old Miguel Rodriguez, the Springfield man behind the wheel of the car in question, was eventually taken into custody on the Mass. Pike, the 11-year-old local girl he had allegedly forced into the sedan that afternoon was there in the back seat.
The discovery, made only hours after she was reported missing, was the product of a fast-acting law enforcement system working in sync, officials and experts say.
At their disposal was what Clapprood called an "invaluable" resource, the catalyst behind the cacophony of cellphone notifications and the outpouring of leads: the Amber Alert.
The emergency notification system has been a staple in child abduction cases here since 2002, used in 27 separate incidents involving 36 children, according to Massachusetts State Police. In all cases, the victims were recovered safely.
But never before had the state used it in a case like the one that unfolded last month.
All other incidents involved a perpetrator known to the child's family "or by a non-custodial parent or some other relative," state police spokesman Dave Procopio told Boston.com.
In Springfield, Rodriguez was charged with kidnapping, assault with a dangerous weapon, and witness intimidation. Prosecutors updated those charges last week to include three counts of aggravated rape of a child with force and one count of indecent assault and battery on a child under the age of 14.
He is undergoing a 20-day psychiatric evaluation and was held without bail. Rodriguez pleaded not guilty to the charges against him.
The case was notably the state's first alert that allegedly involved a complete stranger to the child — the kind of case where the pieces of the system came together in textbook fashion, experts say.
"The timing and how quickly it occurred — the right things fell in line," John Bischoff, executive director of the National Center for Missing and Exploited Children's (NCMEC) Missing Children Division, said in an interview. "There was a call for public assistance, and the public responded, and responded appropriately. …. That's how you want these to turn out when it unfortunately gets out to this point."
'If it meets those criteria, we activate'
Getting to that stage of an investigation isn't necessarily immediate.
All Amber Alerts in Massachusetts are issued with coordination from state police and must meet three criteria before they can be sent.
Police must: know that the child involved is 17 or younger; believe the child is in danger of serious harm or death; and have enough descriptive information about the child and, if needed, the suspect or vehicle to think an alert could help find the abducted child, according to Procopio.
"If it meets those criteria, we activate," he wrote in an email. "It is important to note, however, that even before a final decision on activation is made, we still will put out information and images about a missing or potentially abducted child, because we want to enlist the public's help in looking for the child as soon as possible. We don't wait until we confirm that all Amber criteria are met."
The state police media relations office will pull together the information investigators have collected and put it out through the department's own channels, either through social media or the news media, he said.
"When and if the Amber is activated, we then update that the situation is now upgraded to an Amber Alert and that is when the highway message boards, radio message, and cell phone emergency alerts occur," Procopio wrote.
The second wave — known as "secondary distribution" — is overseen by NCMEC, Bischoff said. The center will take the alert and put it out over the cellular airwaves and through social media.
While the Springfield alert was sent hours after the 11-year-old girl was taken, Clapprood said at a press conference that day that authorities had been working on the case nonstop, making sure to cover the information they needed to issue an alert.
"They don't happen that often," she said. "You want to make sure when you're using it, you're right in using it, and that it's a situation that applies because, God forbid, you don't want to start using this system when it's not a real Amber Alert."
Indeed, the system works best when used sparingly, according to James Alan Fox, a professor of criminology, law, and public policy at Northeastern University.
False alarms, he warns, could have a "boy-who-cried-wolf" affect on the public. Also, frequent alerts could make people less attentive to each instance, he said.
"I think they've become less common," Fox said, adding however, he does not believe Massachusetts officials have overused the tool. "I remember when they first had them on our cellphones, they were going off so frequently. They were going out to people that had no chance or no real connection or ability to contribute anything because of where they lived."
The Amber Alert system was launched using those notifications that blurt out across broadcast TV and radio stations — a strategy formed in the aftermath of the death of Amber Hagerman, a 9-year-old girl from Arlington, Texas, who was abducted and murdered in 1996.
As of September, 967 children nationwide have been successfully recovered thanks to the system.
From 2006 through 2018, the most recent data available through the U.S. Department of Justice, Massachusetts saw a relatively low number of alerts issued per year, compared to other states.
In both 2008 and 2013, the calls hit 12-year highs, with four incidents recorded in each year. In all other years, the state mostly experienced one or two alerts, if any at all, according to the data.
Comparatively, large states like Texas and California typically see their number of issued alerts hit double-digit marks year after year.
In 2018, Texas recorded 23 alerts — more than any other state — that made up for about 14 percent of all alerts issued nationwide. California saw 11 alerts, behind Ohio with 15, the second highest. Massachusetts had none, while the country experienced a total of 161 alerts.
Cases where a stranger perpetuated the kidnapping — as alleged in Springfield — are also uncommon.
"The stranger-type kidnapping, it's actually very rare," said Tom O'Loughlin, the former chief of several local police departments, most recently in Milford.
Massachusetts is no outlier, either.
Abductions orchestrated by people who are unknown to their victims are declining, according to Bischoff. The rise of online culture has, instead, bucked an uptick in incidents involving adults who meet children or teens who they had previously communicated with on the internet.
"It's the nightmare of any parent," O'Loughlin said.
In 1985, O'Loughlin became chief of police in Wayland soon after the disappearance of 9-year-old Sarah Pryor, whose case, despite suspects, remains unsolved.
"You know, who doesn't worry about their kid?" he said. "Even in those situations where it is a family member or one of the parents (as the alleged perpetrator), it's still frightening."
'It gives them that sense of urgency'
In the years since its inception, the Amber Alert system has evolved with the times in a key way: It's now delivered in those loud, buzzing alarms that ring out on cellphones, reaching the pockets of thousands of people in mere seconds.
Obviously it was not always this way.
That critical introduction got a major boost in 2012, according to Bischoff. Late that year, the mobile device notifications began being sent automatically. Prior to that, alerts went out to cellphones on an opt-in basis, he said.
Procopio cited the Springfield case as a "prime example" of the phone emergency alerts assisting authorities.
Police have said a few tips helped lead them to Rodriguez's Honda, including those from a couple who saw photos online and followed the car on a high-speed chase.
"It was just an instinct of fight or flight that kicked in," Amanda Disley, who called 911 as her husband pursued the vehicle, said during an interview on "Good Morning America" days later.
O'Loughlin contends modern technology — the fact that alerts are now sent to phones, which makes them practically impossible not to notice — aids in the effectiveness of the alerts.
Take, for example, an alert that goes off on every phone in a crowded restaurant.
"I think when you have that many people together and everybody is getting that message, it gives them that sense of urgency, that sense of seriousness," O'Loughlin said.
"I think it grabs people's attention," he said.
NCMEC performs an analysis on each case where an Amber Alert was invoked to determine how the child was found, whether the outcome validated the decision to issue an alert and how the system is working in practice.
Before 2012, not one child was found through an Amber Alert sent as a mobile notification, Bischoff said.
Two months into the new system, however, authorities had their first cellphone alert success in the country when they safely recovered an 8-month-old boy in Minneapolis in February 2013.
Since then, the mobile alerts are credited with 61 recoveries, Bischoff said.
"It was a game changer," he said.
Another shake-up? Call control.
Dudley Police Chief Steve Wojnar was six months into the job in August 2003 when the call came in: A local mother had allegedly taken her three children and threatened their safety.
Before long, Wojnar's department was at the center of a case involving Massachusetts's first-ever Amber Alert.
A technical glitch sent the message that there had been a "civil emergency" in town, sending people into a frenzy over what exactly such an alert could mean, he recalled.
Still, the tips came gushing through the phone lines, so much so that the bottleneck effect — the massive volume of calls to the department's 911 and four additional lines — became an issue.
"Once the alert goes out, everybody was calling to report everything," Wojnar said in an interview. "So not only did the 911 system go crazy, but all of our business lines were jammed up."
These days, some communities use regional call centers, while others allow emergency calls to roll over to neighboring cities and towns to help handle a large influx, according to Wojnar. Social media also provides an entirely different avenue to report tips, too.
"That's a huge, huge enhancement," Wojnar said.
There's still work to be done, though, according to Bischoff.
As part of its continuous tweaking, NCMEC plans to roll out new changes this year, including expanding the mobile alerts from a 90- to a 360-character limit, which will allow for more information to reach the public, he said. The center is looking at crafting notifications in Spanish, too, Bischoff said.
"We're constantly working to make the system better," he said.
Even beyond technology, some experts say the system has grown stronger simply because agencies have gained a more thorough knowledge of how to use it and when.
"My sense is that I think the police chiefs, they've done a lot of training with detectives around issues related to children being taken and putting together those investigations," O'Loughlin said.
"I think there is clearer understanding of what the protocols are for putting together an Amber Alert," he added.
In Springfield, it showed.
"What worked well for us is what we practiced for, what we trained for, and what I had the technology for," Clapprood told reporters, soon after Rodriguez was taken into custody and the girl taken to a local hospital for evaluation. "Everybody came together."