Local News
Inmates sue over alleged abuse at Shirley prison
Prisoners who brought the lawsuit say they were not involved in the attack on three guards at the facility last month but were still punished as retaliation.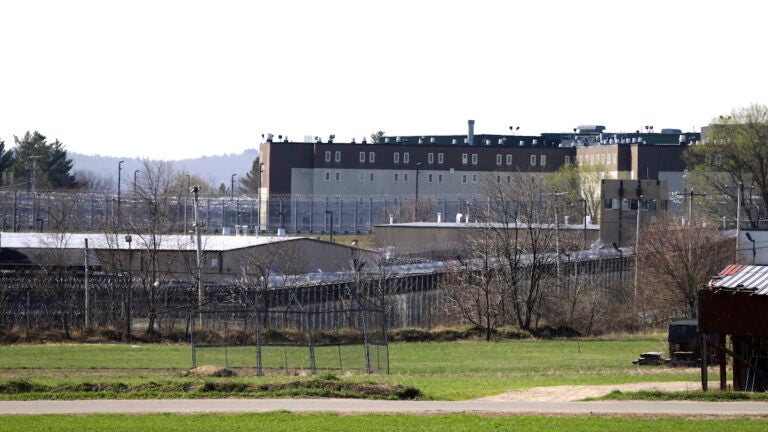 Inmates at the Souza-Baranowski Correctional Center in Shirley allege prison personnel have violated their rights and physically assaulted them in the weeks after guards were attacked by a group of prisoners last month.
In a lawsuit, three inmates say dozens of prisoners have reported allegations of abuse, ranging from having their belongings confiscated to being tased, punched, and bitten by guard dogs, according to WBZ-TV.
Filed Friday in Suffolk Superior Court, the lawsuit also alleges that correctional officers have limited and blocked inmates from accessing their attorneys and have taken their legal papers as retribution for the Jan. 10 attack, which left three officers injured, The Boston Globe reports.
'They're just randomly attacking people'
A cohort of state lawmakers made an unannounced visit to the facility on Sunday, where 15 inmates told them "very disturbing stories" regarding the prison's culture, state Sen. Jamie Eldridge, an Acton Democrat whose district includes the institution, said at a press conference Monday.
The inmates he met with told him they were not involved in the incident last month but were dealt consequences anyway, according to Eldridge.
Tactical teams surprised inmates in their cells without prior notice and officers pointed tasers at inmates' crotches, Eldridge said while rattling off a list of allegations.
According to the lawsuit, some inmates have also reported other instances of abuse, such as being stripped of clothing, or punched, or hit with stun guns, the Globe reports.
Prisoners allegedly have been granted only 15 minutes outside of their cells each day to place calls with their attorneys. For over two weeks after the assault, inmates were allegedly barred from meeting with their attorneys, according to the Globe.
Eldridge told the newspaper Department of Correction officials informed lawmakers there were concerns other inmates were involved in January's assault and that there could be more attacks.
"If the effort is to reduce that tension by the Department of Corrections, why have a collective punishment approach?" Eldridge said Monday. "What kind of message are you sending to prisoners if they are being peaceful and had nothing to do with these attacks but they're being punished just the same as anyone else?"
Attorneys, advocates, family hold news conference following filing of lawsuit that alleges unprovoked beatings, inhuman conditions, no access to showers and attorneys after 1/10/20 incident where COs were hurt. @JamieEldridgeMA of Shirley recounts visit to the prison. @boston25 pic.twitter.com/kZob3xexef

— Crystal Haynes (@crystalhaynes) February 3, 2020
Sidney Hayes, whose brother, Tony Gaskins, has been an inmate in state prisons for 28 years, said she has never heard him as scared as he has been in recent weeks, according to the Globe.
"He said, 'I might die in here,'" Hayes said, adding that Gaskins was not part of the group involved in the attack last month. "They're just randomly attacking people."
Inmates Carl Larocque, Robert Silva-Prentice, and Tamik Kirkland, along with the Committee for Public Counsel Services and the Massachusetts Association of Criminal Defense Lawyers, are listed as plaintiffs, the Globe reports.
Defendants named include: Carol Mici, commissioner of the Department of Correction; Stephen Kenneway, prison superintendent; and Thomas Turco, secretary of the state's Executive Office of Public Safety and Security.
"The bottom line of our complaint is, you may not deny people access to their attorneys," attorney Rebecca Jacobstein, of the Committee for Public Counsel Services, told the newspaper. "When their rights are being violated, that is when they need their attorneys the most. And they were cut off."
'The bottom line is everything gets investigated'
In a statement to the Globe, the Department of Correction said it had not received the lawsuit as of Sunday night, adding it will not comment on pending litigation.
"We will, however, vigorously defend all actions and decisions necessary to maintain the safety of staff, inmates, and visitors at the Commonwealth's only maximum-security prison," the department said.
Some privileges have been restricted and some inmates were relocated "as the staff searched the maximum-security facility for weapons and other contraband" — a process required to ensure additional violence would not ensue, according to the department.
"Every effort was made to provide attorneys with reasonable access to their clients as soon as safety and security were restored," the statement says.
The department said operations at the prison "are returning to normal following serious assaults on correctional officers," according to WBZ-TV.
Gov. Charlie Baker told reporters Monday he has faith in the department "and the actions it's taken to ensure that inmates and correctional officers at Souza are safe."
"I'm not going to speak to the specifics of what is now a legal matter," Baker said, according to the Globe. "There's a process for determining exactly what happened and when. And that's going to be the process through which that gets pursued. The bottom line is everything gets investigated. And the primary goal and objective of the folks in the Department of Correction is to keep inmates and to keep correctional officers safe. After the incident at Souza, where three correctional officers were severely injured, people went through a process of re-determining status for basically everybody in the facility. And they did that because they wanted to make sure that inmates and officers would be safe once they opened it up again."
Plaintiffs in the lawsuit are requesting a jury trial and for a preliminary injunction that would allow inmates to have contact visits with their attorneys; enough time to make attorney phone calls; and be able to keep their legal files within their cells, the Globe reports.