Local News
After line-of-duty deaths, Worcester officials look to hire consultant to study fire department operations
The process would examine several aspects of the fire department to make firefighting "as safe as possible" in the city, leaders say.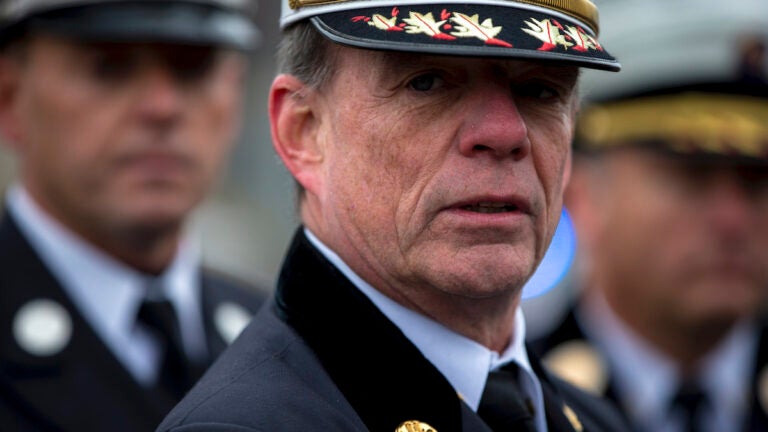 Worcester officials are looking to bring in a consultant for a detailed study of the fire department after two firefighters were killed in the line of duty within a year.
In a letter to the City Council this week, City Manager Edward Augustus Jr. wrote that Fire Chief Michael Lavoie is recommending the city undergo a formal review process aimed at making firefighting "as safe as possible" in Worcester. The consultant would create a master plan, standards of cover, a community risk assessment, and a strategic plan.
The review would include "an exhaustive examination of every aspect of our department's administration, operations, training, and deployment," Augustus wrote.
"This analysis should be a data driven study of our department that compares our department to national standards and best practices," he wrote.
Lt. Jason Menard, 39, died while inside a triple-decker home engulfed in a four-alarm fire on Nov. 13, almost a year after firefighter Christopher Roy, 36, was killed in a blaze on Dec. 9, 2018.
In November, Augustus announced plans to form a task force to study firefighter safety in the city.
But in his letter, dated Tuesday, Augustus wrote that officials are now seeking to hire a consultant after chiefs around the country who have experienced similar situations recommended bringing in the outside party instead.
Lavoie, in a letter to Augustus, detailed the evolving needs of the the 185-year-old department, now tasked with managing over 30,000 calls for service a year.
Wood-frame buildings were the biggest fire problem firefighters faced for decades. These days though, homes and buildings are filled with plastics and synthetic materials that pose different dangers when they go up in flames, he wrote.
"Even though the occurrence of fire is down, today's fires are more dangerous than ever," Lavoie wrote. "The Worcester Fire Department knows this reality all too well. While we have saved many lives and prevented millions of dollars in property loss over the last twenty years, it has come at a great cost to our department.
"Considering the rapid growth of our city, the rate of technological and societal change, the evolving role and risks of the fire service and the tremendous loss that our department has experienced, I feel it is time to conduct a detailed and thoughtful analysis of the Worcester Fire Department," he added.
According to Augustus, the consultant's work would be a transparent process with community hearings and reports.
"Once the study is complete and the strategic plan is in place, the department will begin the process of seeking accreditation through the Center for Public Safety Excellence," he wrote. "The outputs of this study are all required as part of the accreditation process."
Lavoie said he anticipates the department will receive its accreditation, which requires "a constant and continuous improvement process," within five years.
"This process will ensure that our department continues to provide the residents of Worcester superior emergency response services in a manner that meets or exceeds national standards and allows our firefighters the greatest margin of safety possible for decades to come," he wrote.
Augustus would also conduct a simultaneous review of the city's Division of Inspectional Services, which works closely with the fire department to enforce ordinances and fire and building codes, and review plans and conduct inspections, he said.
The Worcester City Council is scheduled to meet Tuesday night.