Local News
Officials provide updates on shootings near Brigham and Women's Hospital and in Brookline
Police pursued the suspect into Brookline, where he allegedly pulled what appeared to be a firearm on police, authorities said.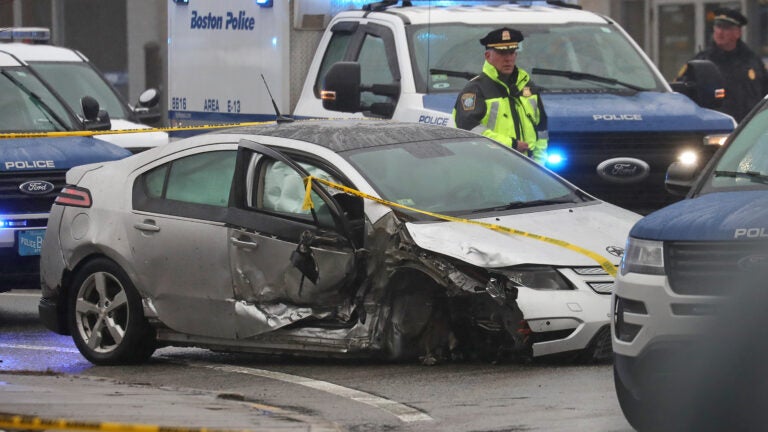 A valet was shot and injured outside Brigham and Women's Hospital on Friday morning, and a Mattapan man was shot and killed in a police-involved shooting after a pursuit from near the hospital into Brookline, officials said.
Authorities detailed in an afternoon press conference how a confrontation between officers and the suspect outside the hospital, during which the suspect allegedly pulled out what appeared to be a firearm then fled in a vehicle, ended when the suspect reportedly crashed his vehicle into several other vehicles in the neighboring town.
A spokesman for the Norfolk district attorney's office identified the suspect as Juston Root, 41, of Mattapan.
It's unclear how the valet was injured, Boston Police Superintendent-in-Chief Gregory Long said during the press conference Friday afternoon.
The incident began around 9:21 a.m. Friday when police were called to the intersection of Fenwood Road and Vining Street for a report of a person with a gun, Long said.
Police found the suspect and began engaging with him, he said.
"At that time, the suspect pulled out and pointed directly at the responding officers what appeared to be a firearm," Long said. "At this time, officers discharged their firearms at the suspect. After discharging their firearms at the suspect, the suspect then physically assaulted one of the officers on the ground."
Root then got into his vehicle and drove away on Fenwood Road. Police pursued him, and the chase continued into Brookline, Long said.
It was during the original incident that authorities learned that a 49-year-old hospital employee — who the hospital said works as a valet — had been shot. He's reportedly in serious but stable condition, according to the hospital.
Our valet colleague is being cared for by our clinical teams and is in serious but stable condition. His family members have expressed gratitude for our community's care of their loved one. As they focus on his recovery, they have requested privacy.

— Brigham and Women's (@BrighamWomens) February 7, 2020
"He suffered his apparent gunshot wound right in front of the hospital," Long said.
In Brookline, officers, including a state police trooper who was nearby when the pursuit left the hospital, caught up with Root, according to Long. It was near 1195 Boylston St. that Root allegedly crashed into several vehicles then exited his car.
Police ordered Root to drop what appeared to be a firearm, and when he didn't, they discharged their service weapons, Long said. Root was brought to Beth Israel Deaconess Medical Center and was pronounced dead.
Several Boston police officers were taken to nearby hospitals and released, according to Long.
Massachusetts State Police Lt. Col. Christopher Mason said the trooper involved was not injured. 
Authorities from the Norfolk and Suffolk district attorneys' offices are working together on the incident, according to Dan Mulhern, first assistant district attorney for the Suffolk office.
Watch the full press conference:
https://www.facebook.com/7NEWS/videos/515642609083975/