Local
Income-based parking tickets? Julia Mejia wants Boston to consider the idea.
"When you have a $40 ticket, that could be food off the table for two or three days for a family."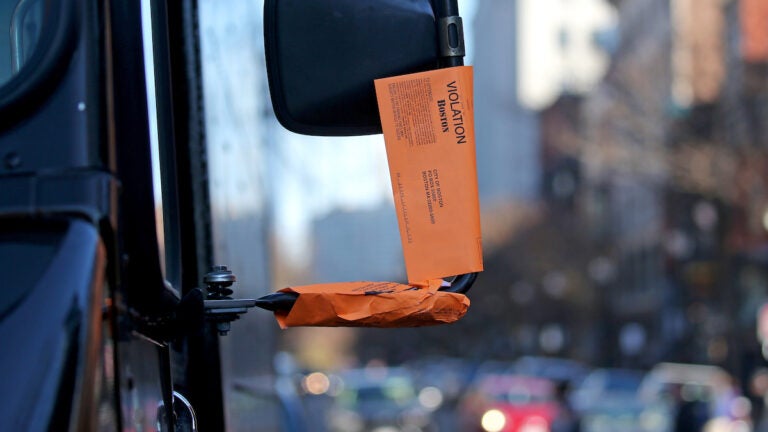 Depending on where you park, a parking ticket in Boston could set you back between $15 and $120.
And don't forget about late fees.
But there may be potential for another factor to determine what exactly a violation will cost you in the city of Boston: how much you make.
City Councilor Julia Mejia is slated to introduce a hearing order Wednesday to have her fellow lawmakers discuss the concept of income-adjusted parking tickets.
For some drivers, current fines may be a pesky, yet manageable drop in the bucket.
But for low-income families, a parking ticket could trigger the difficult decision to pay a violation or go without food, she told Boston.com Tuesday.
As for tickets unpaid: the city may ultimately slap a boot on the vehicle, preventing the people most dependent on their weekly paychecks from getting to work, Mejia said.
"When you have a $40 ticket, that could be food off the table for two or three days for a family," she said.
And Mejia, a single mother herself, has a personal connection with the issue. Before taking office, she accumulated $159 in parking tickets, she said.
"I felt that pinch," she said.
(She paid off her balance after the election, she said.)
Boston's income gap between its wealthiest and poorest residents is among the widest in the United States. Last year, the city received the 6th highest income inequality ranking in the country by CityLab, falling just below New York City.
Meanwhile, Mejia's hearing order points to data released last year by Feeding America and the Greater Boston Food Bank that showed Massachusetts is the most expensive state in the country to get a meal.
The study, using data from 2017, found that "food-insecure individuals in Eastern Massachusetts now face an average weekly food budget shortfall of $21.12 per person, up 2.9 percent from $20.53 reported in last year's report and 24.3 percent higher than the nationwide average."
In 2018, the city also hiked the cost of parking fines for certain, common violations, Mejia notes. The most drastic increase was the jump from $40 to $90 for failing to move a vehicle for overnight street cleaning, although the city also opted to change its policy to make that violation no longer a towable offense.
That year, the city issued over 1.38 million tickets and collected over $61.3 million in revenue from fines for fiscal year 2018, according to Mejia's office.
"There's lots of money coming into the city and my main concern is, whose pockets is that money coming out of?" Mejia said.
She isn't the only one to consider the shift to a different system, though.
In New York City, where parking fines can cost between $60 and $125, City Councilor Corey Johnson proposed a similar idea last year, offering that a judge could determine what the imposed fine should cost and how much the alleged offender makes, according to CBS New York.
Last month, California Gov. Gavin Newsom included a request to create a statewide pilot program to cut fines by at least 50 percent for low-income drivers, which would include residents who make just shy of $26,000 a year for a family of four, The Sacramento Bee reports.
Income-based fines — also sliding-scale or "day-fines" — have been the norm for certain violations and crimes, including tickets, for nearly a century in Finland, according to The Atlantic.
Mejia envisions a sliding scale system similar to the one proposed in New York City, maybe one through which officials can verify incomes based off taxes, she said.
But the particulars of what exactly it could look like are yet to come.
Mejia hopes to hear from city officials, police, environmental justice advocates, and other stakeholders, she said, to help determine how it could function and the magnitude of the problem, she said.