Local
Officials: Chemical reaction caused explosions at plant
The company blamed the problem on "a mechanical issue from our steam line."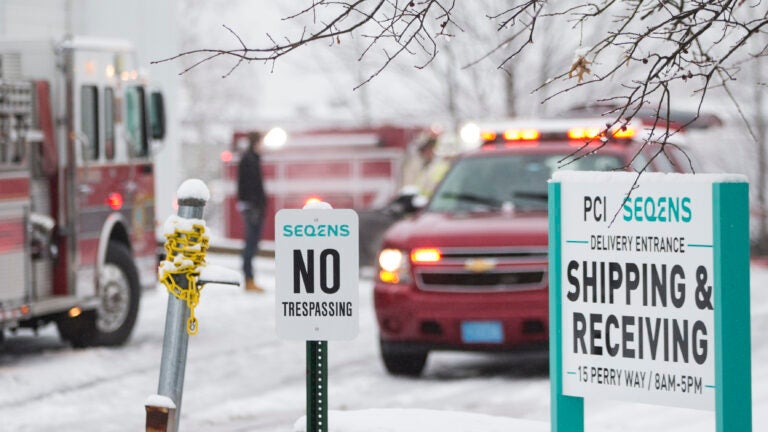 NEWBURYPORT, Mass. (AP) — A chemical reaction caused a series of explosions at a Massachusetts chemical plant, authorities said Friday.
The company reopened Friday, a day after at least six explosions at the facility in Newburyport, about 35 miles north of Boston, forced workers to evacuate and blew a hole in the roof. No major injuries were reported, and there was no public health threat.
"Investigators have determined that several explosions occurred during a sampling procedure of product from a large vat," state Fire Marshal Peter Ostroskey and Newburyport Deputy Fire Chief Steve Bradbury said in a statement.
The statement did not say what chemical was involved.
The explosions occurred early Thursday at Seqens North America, formerly PCI Synthesis, which makes chemicals used in medicines.
The company in a statement Thursday blamed "a mechanical issue from our steam line" for the explosions, but backed off that Friday.
A spokesman said the company agreed with the fire marshal's conclusion.
"Based on what we knew at the time, we believed it was a mechanical issue," Norman Birnbach said.
"The incident didn't lead to any release of hazardous material or adverse environmental substances to the air or ground; everything was contained within the building as designed," he said.
The explosions occurred in an isolated 800-square foot production suite, which did not suffer any structural damage, he said. Safety systems worked properly, he said.
He described the chemical involved as a "non-toxic solid," but had no additional details.
Firefighters responding to an alarm at 4:30 a.m. Thursday encountered heavy black smoke and evacuated the building after hearing three explosions, officials said.
There were about 10 workers in the building at the time. Three more explosions took place about 15 minutes later, including one that blew a 5-by-8-foot (1.5-by-2.5-meter) hole in the roof, officials said. One worker was checked out by medical personnel at the scene but declined transportation to the hospital.
A spokeswoman for Ostroskey says the fire marshal's investigation is considered closed. The company said it is also conducting its own investigation.