Local
13 people arrested in protest at Weymouth compressor station site, police say
Over 200 people attended the demonstration calling on state officials to stop the controversial project, activists said.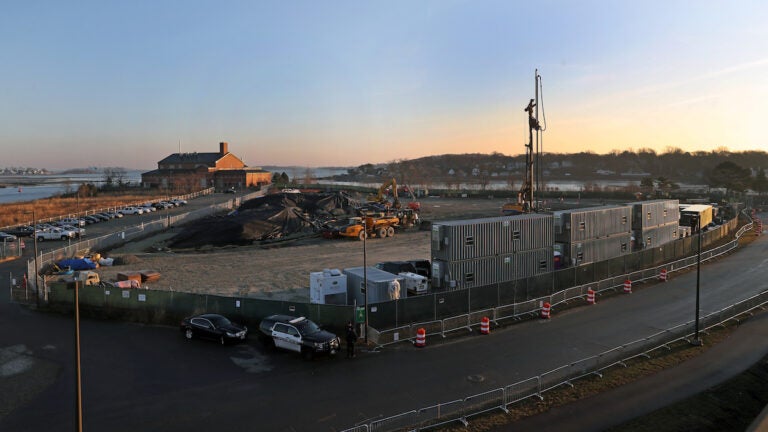 Thirteen people were arrested Wednesday amid a protest that garnered hundreds of demonstrators at the construction site of a controversial natural gas compressor station in Weymouth, according to police.
Weymouth police Lt. Richard Abbadessa told Boston.com Thursday that most of those arrested were charged with disturbing the peace and trespassing.
Two people who locked themselves to equipment at the construction site were each charged with resisting arrest, and one of the two was also charged with wanton damage to property, Abbadessa said.
All those who were taken into custody were later released on personal recognizance and were slated to appear in court either later Thursday or on Feb. 26, he said.
The mass demonstration saw over 200 members of the local group Fore River Residents Against the Compressor Station, or FRRACS, and its allies, who have rallied against the Enbridge facility for years.
We're here with our allies @350Mass, @XRboston, @MothersOutFront & @Boston_DSA at the North Parcel (a.k.a. Ferry Point) stopping @Enbridge from constructing the compressor and poisioning the site, the people and the planet. #NoWeymouthCompressor #ProtectorsNotProtesters #mapoli pic.twitter.com/Capy7f70bH

— FRRACS (@FRRACS_MA) February 19, 2020
Construction began on the compressor station — part of the company's "Atlantic Bridge Project" to expand capacity on a natural gas pipeline to Canada — in December after Enbridge secured final permits.
According to a statement from FRRACS, Wednesday's protest was to call on Gov. Charlie Baker and the state Department of Environmental Protection to halt construction of the facility.
"Multiple people were arrested for blocking the gate to the construction site, while two other people were arrested for locking to pieces of construction equipment on site," the statement says. "As a result of today's action, construction was stopped and workers left the site."
FRRACS says community members mobilized against the project five years ago and have no plans on stopping.
"I have a responsibility, as someone who enjoys breathing fresh air and drinking clean water, to stand up so that people everywhere have access to the same life-sustaining rights," Kiki Clougherty, one of the two people who locked themselves to equipment at the site, said in a statement released by FRRACS. "And having seen the devastating impacts of climate change firsthand, knowing that things will only get worse, I have a responsibility to stop rogue corporations on behalf of children and future generations."
Kerry Labrador said she opted to lock herself to equipment during the demonstration in support of "my Mi'kmaq people in Nova Scotia who are battling Alton Gas."
Alton Gas is reportedly seeking to store natural gas in caverns created using river water alongside the Shubenacadie River.
"Many don't know that the Weymouth Compressor Station IS the mouthpiece to the Alton Gas project and that Nova Scotia is a destination point for the brine release," Labrador, who says her Mi'kmaq family would be impacted by the Weymouth project, said in a statement. "The Shubenacadie River is still an active river, that's very much in use and not just by the people but also the wildlife species who inhabit this area. Gov. Baker has no rights or jurisdiction on unceded Mi'kmaq territories nor does he have the right to trample on international treaties and I'm here to expose him for doing exactly all of that all in the name of greed. My people are not for sale and neither is their land…this is our resistance."
Abbadessa said police have made arrests at two other protests at the site before, but those incidents did not see as many arrests as authorities made on Wednesday.
The protests have been peaceful, he added.
Wednesday's demonstration also came on the heels of Boston University professor Nathan Phillip's two-week-long hunger strike to spur action on what activists say are public health and safety violations at the site.
Among their concerns is how construction crews have handled digging at the property, which sits on a manmade fill of furnace bricks and coal ash. Phillips and others have pushed for officials to test the soil for asbestos and to have the test findings made public.
DEP has said the department installed a temporary air monitoring station in the area and is collecting data as it finalizes plans for a permanent one. Officials said last week DEP personnel have not found any violations at the site.
Enbridge has maintained it is following all plans and regulations. A spokesperson told Boston.com last week that the bricks were analyzed and no asbestos was found.