Local
What we know of Caroline Kennedy's abrupt resignation from the Harvard school named after her father
"Recent developments have convinced me that I can no longer play a constructive role."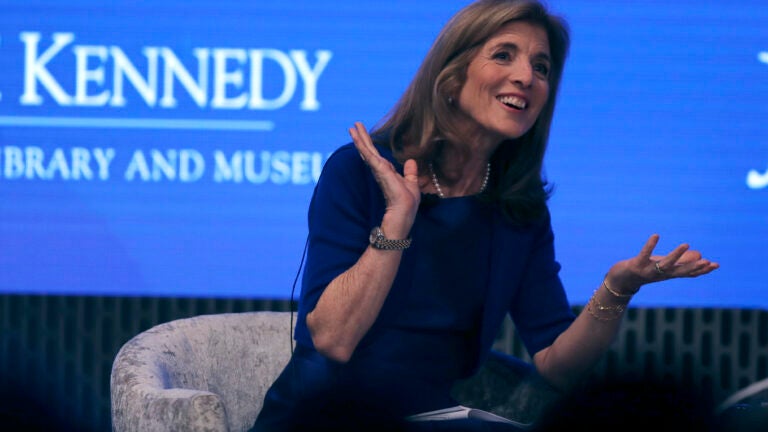 Caroline Kennedy has left her role at the Harvard University school named after her father — and reportedly not on the best of terms.
The former U.S. ambassador to Japan and only living child of President John F. Kennedy had served as the honorary chair of the Senior Advisory Committee of the Harvard Kennedy School's Institute of Politics for more than six years, after previously chairing the board for several years; she was succeeded as board chair in 2013 by Ken Duberstein, a former chief of staff to President Ronald Reagan.
However, both Kennedy and Duberstein unexpectedly resigned from their positions last week, reportedly amid growing discord with Kennedy School Dean Douglas Elmendorf.
According to Kennedy, "recent developments" had convinced her that she could "no longer play a constructive role" at the prestigious institute.
What's been reported:
According to The Washington Post, which first broke the news Wednesday, there had been tension between Kennedy and Elmendorf. Citing "several" anonymous sources with direct knowledge of the events, the Post reported that Kennedy and her allies on the advisory committee felt that Elmendorf — a former director of the U.S. Congressional Budget Office appointed as dean in 2015 — was not collaborative and micromanaged the institute's affairs.
However, other unnamed sources at Harvard told the Post the source of the tensions was the committee's efforts to control the Institute of Politics, which is largely funded by the Kennedy family through an endowment set up in 1966. The 17-member board has reportedly been more active in the institute's affairs than have advisers of the Kennedy School's other centers.
While it's unclear what the power struggle was specifically over, sources told The Boston Globe that Elmendorf became more involved at the Institute of Politics as it went through several different directors and a series of recent controversies, including inviting several politically divisive fellows.
What Kennedy's side is saying
In a resignation letter last Thursday that was obtained this week by the Globe and the Harvard Crimson, the 62-year-old former diplomat and political donor alluded to the advisory committee's reportedly stressed relationship with Elmendorf.
"Over five decades, it has worked closely with the Dean and the Director in a relationship of mutual respect and constructive collaboration," she wrote. "Recent developments have convinced me that I can no longer play a constructive role at the IOP."
Kennedy also remarked upon her family's longtime participation on the bipartisan board, which still includes her first cousin once removed Rep. Joe Kennedy III. The board, which was chaired by Sen. Ted Kennedy until his death in 2009, also includes a number of current and former Democratic and Republican elected officials, including Boston City Coucilor Michelle Wu.
"When I enter HKS, I am reminded of my mother, my uncles and my brother, who all served on the SAC," Kennedy wrote in her letter. "I share their belief that inspiring the next generation of leaders to enter public service is the best way to honor my father's memory."
In a statement to the Post, Duberstein said he decided to resign as well after "careful consideration and heartfelt conversations with Caroline." The 75-year-old former White House staffer-turned-lobbyist noted that he was asked to join the board 25 years ago by Ted Kennedy, "because he knew of my commitment to inspire young men and women to make public service a major priority."
Despite being housed within a graduate school, the Institute of Politics' mission focuses "particularly" on engaging undergraduate students, which Duberstein noted in his statement.
"Working side by side with Senator Kennedy, John Junior and with Caroline has been a rare privilege and high honor," he wrote. " I hope the next chairman continues to guard jealously the sacred role the IOP plays for undergrads at Harvard."
What the Kennedy school says:
Kennedy School spokesman Jim Smith declined to comment on the reported tensions Thursday but provided a statement from Elmendorf praising Kennedy and Duberstein for their work at the institute.
"Caroline Kennedy is a distinguished public leader with an exemplary record of service to her country," Elmendorf said.
"I am extremely grateful for the extraordinary dedication and commitment she has shown to Harvard Kennedy School over many years," his statement continued. "Caroline's role at the Institute of Politics will always be prized and remembered. Her commitment to the IOP's crucial mission of inspiring students to pursue politics and public service has made a tremendous positive difference to the hundreds of Harvard College students who participate in the IOP each year and to the members of the IOP staff."
Elmendorf added that Duberstein had served the institute "with exceptional dedication for many years."
"We greatly appreciate his absolute commitment to encouraging students to enter public life and for his tireless efforts to strengthen the IOP to support and inspire those students," he said.