Local
The mystery of the pathological specimen bag left aboard an MBTA bus
"Those are cookies? Please respond those are cookies!!!"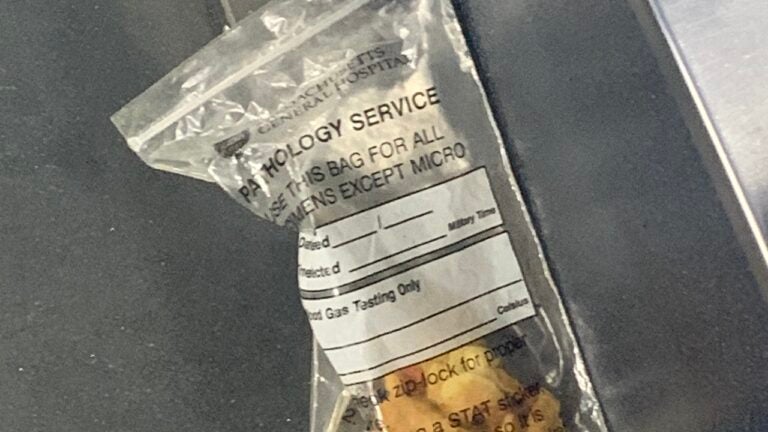 MBTA bus rider Michelle McCarthy hopes it was a joke.
She was getting off a bus running Route 50 Wednesday night when she noticed it – a clear plastic bag labeled from the Massachusetts General Hospital pathology service, with an amorphous yellow and brown blob inside.
The apparent "pathological specimens" weren't named, and there wasn't any patient information.
Nonetheless, it was apparently a jarring sight for some who came across the photo after McCarthy posted it on Twitter, having snapped a pic just before getting off the bus.
McCarthy's wife was with her, but didn't notice the unsettling sight, McCarthy said in an email to Boston.com. Upon seeing the photo, she told McCarthy it looked like plantain chips.
"If you lost your pathological specimens they are on the MBTA 50 bus," McCarthy said in the tweet, which garnered an array of responses, including one from the T's official account.
Hi Michelle – our apologies for the late response. Did you turn this item in to the Bus Operator? Do you recall the number of the bus you were on last night or your location on Route 50 when you sent this tweet? Any information you have is appreciated. Thank you!

— MBTA (@MBTA) February 20, 2020
McCarthy didn't tell the bus operator about the bag – she got off the bus using the back exit, and had just noticed the bag as she was about to step off the bus, she said in her email. She said, in a tweet responding to the T, that she saw the bag on the bus sometime between 6:30 and 6:45 p.m., and the bus departed Forest Hills at 6:20 p.m.
Responses from fellow Twitter users included GIFs – one each of a woman fainting and a man vomiting – and someone joking that it's the deadly coronavirus.
— tinyfistsofrage (@justlippe) February 20, 2020
"Those are cookies?," a user identified as Annie Sruta said. "Please respond those are cookies!!!"
Sruta followed that tweet with another bearing the link to an article about U.S. Border Patrol agents reportedly seizing a human brain from Toronto housed in a jar.
Those are cookies? Please respond those are cookies!!!

— Annie Sruta (@blumo0n) February 20, 2020
Another user said the bus specimen "looks like pork rinds."
To McCarthy, the contents of the bus-riding specimens appeared to be "uncooked chicken which is I guess is exactly what human flesh would look like."
McCarthy showed the photo to some coworkers, she said, and they made their own guesses as to what it could be.
"It didn't even really occur to me that it was anything other than a joke or not actually human until yesterday when I opened Twitter and saw the comments on the tweet, including the one from the MBTA asking me about it," she said in the email. "I showed some coworkers the photo today too and they immediately had a lot of wild theories about uncovering a cannibal body-part thief, which is interesting because they immediately presumed what was in the bag was human whereas my first thought was, what a gross joke putting meat or something meat-like in a pathology bag."
Joe Pesaturo, a spokesman for the T, said in an email to Boston.com that if the operator had been made aware of the bag, "the MBTA control center and police would have been notified."
"If an investigation determined that it may pose a hazard, a firm that specializes in the removal of such materials would be called to respond," he wrote.
In this case, though, MGH officials say it's "unlikely" that there was an actual specimen inside, considering the lack of labeling on the bag and the strict protocols that the hospital has in place for handling such things.
Meanwhile, the bag is just the latest on a list of weird things that can't be unseen that McCarthy said she's witnessed while using the T. It's a variety that includes bleeding, urinating, and drug use.
For McCarthy, she's clinging to the idea that the specimen bag was a joke.
"I really hope that this was a joke that was intended for a specific audience but was lost by the joker along the way and not — as my coworkers (jokingly) believe — the work of a nefarious MGH path lab thief!" she said.