Local
The MBTA is testing real-time bus information displays at 18 stops around Greater Boston
Officials say it is a "first step" to providing the most up-to-date service information for bus riders.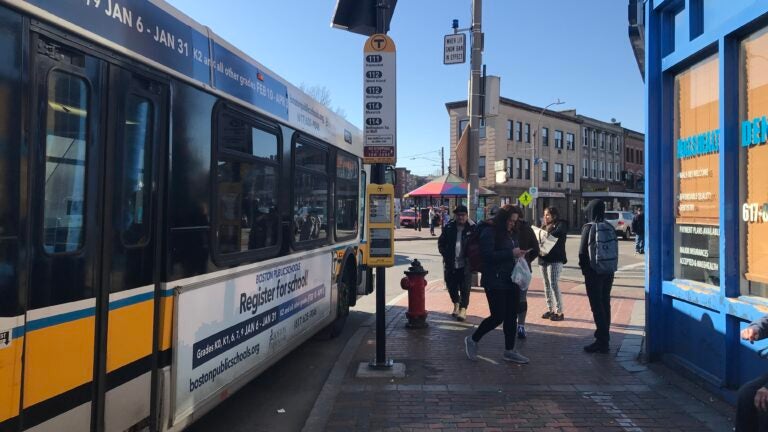 The MBTA launched a pilot program at 18 bus stops in Greater Boston on Monday to test how the agency can provide the most up-to-date service information to riders. 
The solar-powered "E Ink" signs went live at stops with high-ridership in neighborhoods across Boston, Chelsea, Everett, Cambridge, Watertown, and Belmont, according to the MBTA. The displays provide real-time information to riders including bus arrival times, service alerts, and nearby connections. 
"Almost a third of our customers use MBTA buses on a daily basis," MBTA General Manager Steve Poftak said in a statement. "They deserve the same quality of real-time information as our subway and commuter rail customers. The new E Ink signs are a first step to providing real-time information to even more customers in the future."
The pilot will measure the cost-effectiveness of deploying the signs at the stops and how the real-time information helps riders navigate the MBTA bus system. Similar displays were tested along the D Branch of the Green Line in 2017, and stops in the new pilot include Hawthorne Street at Broadway in Chelsea, in Belmont at Church Street at Lexington Street, and in Hyde Park at the intersection of Hyde Park Avenue and Oak Street.
In a statement, the agency said the vast majority of the more than 7,500 individual bus stops across the system have no direct connection to power, which presents a challenge to providing real-time information to riders." Since the E-Ink devices are solar-powered, the stops where they were installed for the program had to be screened for "sufficient" solar exposure.
"Recognizing that real-time information is among the most frequently requested amenities at bus stops, this pilot's goal is to better understand whether this technology is a viable solution for delivering real-time information at bus stops on a larger scale," the agency said in a statement.
The MBTA will be gathering feedback from riders on the usefulness of the new signs. Below, a map of where the signs have been installed: