Local News
DA: Brigham and Women's Hospital suspect had replica firearm; valet was accidentally shot by police
Juston Root, the suspect in the incident, was later fatally shot by police in Brookline.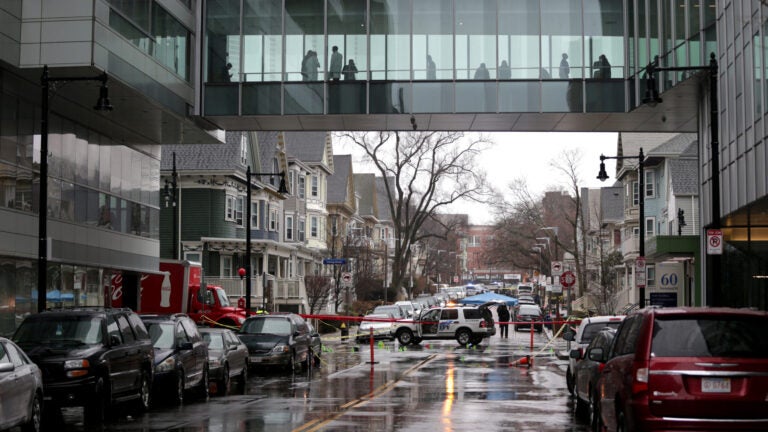 The man who allegedly pulled what looked like a firearm on police earlier this month outside Brigham and Women's Hospital — and who was later shot dead by police — was carrying a replica, law enforcement authorities announced Tuesday.
And the hospital valet who was shot and injured during the incident was hit, accidentally, by a bullet fired by a Boston police officer, officials said.
"We are very, very happy that he is alive," Suffolk District Attorney Rachael Rollins said in a press conference Tuesday afternoon discussing the findings of the investigation.
Authorities were called to the area near the hospital around 9:19 a.m. on Friday, Feb. 7, for a report of a man with a gun. On scene, officers encountered Juston Root, 41, of Mattapan, and he reportedly pulled the replica gun on them.
Officers shot at the suspect, who escaped in a vehicle and later crashed in Brookline. After reportedly crashing into several vehicles, Root got out of his and again pulled what appeared to be a gun on police, according to authorities. After failing to drop the apparent weapon after multiple orders, Root was shot by law enforcement. He was pronounced dead at Beth Israel Deaconess Medical Center.
While Rollins said she couldn't comment on what happened in Brookline since it's in Norfolk County, she said that prior to the 911 call, Root had allegedly pulled what looked like a gun on a hospital security officer and threatened them.
Root then began chasing two security guards down Vining Street toward Fenwood Road, according to Rollins. When police began arriving, Root reportedly stopped chasing the security guards and tried to direct officers up Vining Street "in an apparent attempt to deflect police's attention elsewhere."
Then, Root came in contact with a Boston police officer, who reportedly saw what looked like a gun in Root's waistband. The officer told him to stop, but Root allegedly pulled the apparent firearm out and began to pull the trigger, Rollins said. The officer then fired at Root, and another officer who saw what was happening also discharged their weapon.
Root was injured and got into the Chevy Volt "that he had abandoned in the middle of the street and fled," Rollins said. The valet was also struck during that time.
Rollins showed a video clip of the police encounter with Root outside the hospital.  She described the replica as "very realistic."
.@DARollins says when @bostonpolice responded to a report of a man w/a gun @BrighamWomens Feb 7-Juston Root, tried to deflect attention away from himself. She says Root pulled gun & officers opened fire after he didn't comply w/commands. Root's gun was a replica firearm #Wcvb pic.twitter.com/dZoFjY7G89

— Kathy Curran (@KathyReports) February 25, 2020
Rollins said her office will continue to investigate the matter, including whether the police actions near the hospital were appropriate.
"That's ultimately what we will be determining, and we will not rush to judgment there," she said.
Boston Police Commissioner William Gross noted that the incident unfolded "in a matter of seconds."
"We're human, too," he said during the press conference. "Quite frankly, you can see, that officer was definitely in fear of his life."
The valet, identified simply as Justin in a GoFundMe campaign, continues to recover. Rollins said his eye was injured during the incident. She noted that his retina was detached but still functioning.
Watch the full press conference:
https://www.facebook.com/7NEWS/videos/631280884295179/