Local News
A historic, South End church is leaving its home of over 130 years
"It's not a closing. It's just a transition."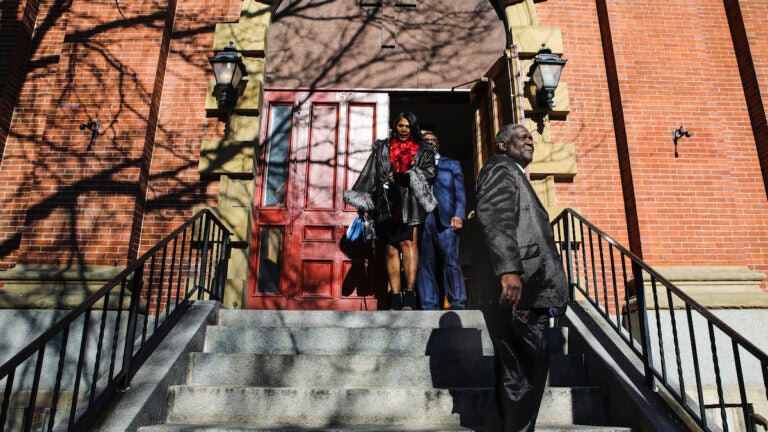 Generations of parishioners have walked through the red-brick and stone archways of the South End's Ebenezer Baptist Church.
It's here where they've gathered Sunday after Sunday since its first congregants — former slaves who came to Boston from Virginia after the Civil War — first read scripture aloud in its cavernous hall over 130 years ago.
Last Sunday, church members came together again, bringing the weekly cycle that's played out at their West Springfield Street home in three different centuries to an end.
The building, inhabited by the church since 1887, is slated to be put on the market sometime in the next month, the Rev. Carl Thompson told The Boston Globe.
Congregants will start meeting at the Orchard Gardens School in Roxbury next Sunday, temporarily, as they seek a permanent home once more.
"It's not a closing," Thompson told the newspaper. "It's just a transition."
Ebenezer Baptist Church formed in 1871 after the group of former slaves began meeting in the kitchen of Mrs. Martha Jones for prayer on Sunday mornings, according to a plaque outside the church, now a designated Black Heritage Site.
The building itself, designed by architect N.J. Bradlee, dates to 1860 and was built for what was then the Third Presbyterian Church.
In the decades since, the site has served as the sacred grounds for worship, yes, but also as a longstanding hub of organizing and education — a place where Boston's Black community could protest and engage in political issues, according to the Globe.
"This church gave people a voice and platform to talk about" the rights of Black Americans, Mayor Marty Walsh said from the pulpit Sunday. "This church allowed people to form bonds that lasted for generations. This church mentored youth. This church healed the addicted."
Thompson said the decision to close the doors was a difficult one to make.
"There's people here who are hurting because they've been attached to this building," Thompson told Boston 25 News. "(For) 148 years people have been coming to this one spot worshipping."
But the decision was made amid increasing maintenance costs and a dwindling churchgoing population, according to Thompson.
Many members left the area amid growing gentrification in the 1980s and 1990s, the Globe reports.
"The congregation has gotten older and declined because of gentrification, also because age of membership," Thompson told the news station.
Only about 20 percent of congregants live nearby, he said.
"Today was tough," former pastor Kirk Byron Jones told Boston 25 News Sunday. "When I got up it was tough to gather my emotions. I think it's going to be a while. There's going to be some grieving."
Jones started at the church in 1980 as a 22-year-old seminary student, according to the Globe. He went on to be the congregation's interim pastor and ultimately met his wife there.
"This is more than just a building, and a church is more than just a collection of people," he said during Sunday's service. "This place, this space has mattered to too many people in too many ways for suddenly taking leave of it not to matter."
The church is now hoping to find or build a space that will allow for new, modern amenities, such as a gym, recording studio, and an auditorium, to provide parishioners with a 21st century worship experience, the Globe reports.
Thompson told Boston 25 News he hopes the new home will be somewhere in the city.