Local
Five Braintree High students were barred from playing on their hockey team. Then a judge got involved.
Their attorney says the lawsuit stems from a 'poorly written' school alcohol policy.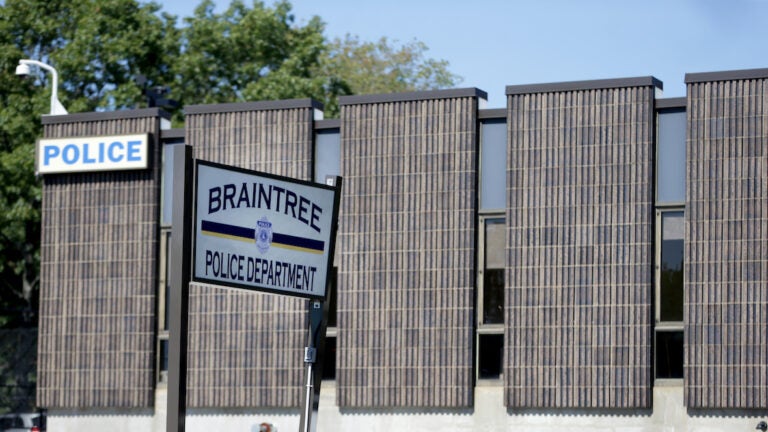 Last week, police broke up a Braintree house party, taking the names of dozens of the underage students they found among scattered bottles of alcoholic drinks.
This week, five of those teens — athletes with a key game on the line — were able to block their punishment from Braintree High School after challenging school policy in court.
A Norfolk Superior Civil Court judge granted a temporary restraining order requested by parents of teenagers who play on the school's varsity girls hockey team on Tuesday, court records show, just before the teammates were slated to play a championship tournament game, which they won.
Although officers found numerous open containers of alcohol when they arrived at the Albee Drive home on Feb. 20, the five students involved in the lawsuit say they didn't drink that night.
Yet, they were still placed on "social probation," barring them from competing, simply because they were there.
At the heart of their lawsuit is a student handbook rule that allows school leaders to discipline students who are "deemed to be 'in possession'" of alcohol even if he or she is only in the presence of alcohol.
Their attorney, Dave Flanagan, called the policy "absolutely ridiculous."
He contends the rule means students wouldn't be allowed to go to a restaurant, family weddings, or a Bruins game, for example, just because booze is on the premises. It's unenforceable, he said.
"It's poorly written," Flanagan told Boston.com. "It's illegal the way they wrote it."
According to court filings, when the students were invited to the party, they believed there would be parental supervision and no alcohol would be involved.
When they arrived, however, the girls realized that although parents were allegedly on the scene, the drinks were flowing, according to court documents.
The students left the house and asked their parents to pick them up, the lawsuit says.
One girl exchanged text messages — later submitted to the court — with her parent:
Student: "get us now party is huge and kids are drink (sic) i have a bad feeling"

Parent: "On my way. Get out of house now!!!"

Student: "i know we r waiting outside"

Parent: "I'll be there ASAP"
Before the parent could get there, police arrived at the house, kept all the party attendees on the scene, and filed a report that included each of their names, according to the court filing.
According to police, officers met with the homeowners and saw "a number of open alcoholic beverage containers on the lawn and in plain view in the house, including a table in a front hallway of the home."
Authorities said more than 50 minors and young adults — all under 21 years old — were at the party. Names were collected as required under the police department's underage drinking policy. Each person was later released to an adult.
No arrests were made, police said.
"The safety and well-being of minors is our primary concern when we are called to investigate an underage drinking party," police Chief Mark Dubois said in a statement. "In this instance, our officers followed the established policies and procedures to the letter in ensuring that everyone made it home safely."
Under Massachusetts law, it is illegal to host an underage drinking party or provide minors with alcohol, Dubois said. The investigation remains ongoing.
On Monday, the students were told by a school headmaster they "may not attend or participate in any school sponsored or related function or activity," including athletics, clubs, competitions, and other events, for three weeks, a letter parents received from the school reads.
The students were told of their punishment during private hearings that Flanagan said the school barred him from attending.
The students and their parents have also not seen the police reports they were named in, according to Flanagan, who alleges the school violated their right to due process.
In affidavits, parents of at least two students said the girls could suffer "irreparable reputational damage" if they were not allowed to play in Tuesday's game, because the seniors are being scouted by college teams for potential scholarships.
"We tried to work this out with Braintree schools and they refused to meet with us," Flanagan said. "We were forced to go to Norfolk Superior Court."
According to court documents, a judge ruled that under the temporary restraining order, the school is prohibited from enforcing the probation "until further notice of this court."
Braintree Public Schools did not respond to requests for comment.
Flanagan said the school policy extends beyond the rules outlined by the Massachusetts Interscholastic Athletic Association, which say students who possess, buy, sell, give, or drink alcohol lose their ability to play in 25 percent of their season.
Wording similar to that used in Braintree High's policy has been around for some time, according to Flanagan, who added, though, that other districts have dropped it over the years.
He noted the policy hasn't faced the legal system before because it often would be a moot point by the time a lawsuit is settled.
"By the time it gets to the court case, some of (the students) have graduated, and certainly their suspension is over," he said.
Under the temporary restraining order, the students will be able to play in another game slated for Saturday, Flanagan said.
Their case has a hearing scheduled for a preliminary injunction on March 3. Flanagan said the matter could potentially play out in court for two years.
"Our intention is to keep it going," he said.