Local News
'They're the size of an iPad': Cambridge residents concerned over increase in rat sightings
"I haven't seen one in my apartment yet, but if I do I'm out!"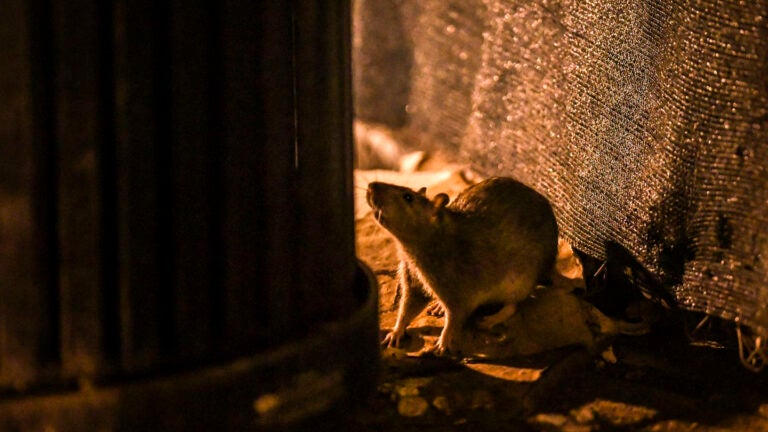 If you've seen a rat in Cambridge recently, you're not alone.
While the city contends that rats are normal for densely populated areas, they acknowledge there's been an increase in sightings — and as a result, an uptick in public officials hearing from upset residents.
One in particular stood out to Cambridge City Councilor Tim Toomey during a meeting last Monday night.
"I think we all got the email from the woman in Cambridgeport who can't garden anymore," he said. "For 30 years, she's been gardening. She's afraid to go out now and do that. That's unacceptable."
'They are everywhere'
The gardener is far from the only resident concerned about the rats.
The city created a heat map, dotting where rodents have been spotted and reported by residents in the city. From the looks of it, few places are safe, with "hot" spots along Cambridge Street, Broadway, and Massachusetts Avenue. The map also includes a list of the reported sightings, complete with descriptions from the people who reportedly spotted the unwelcome critters.
One resident said she recently moved to Third Square apartments at 285 Third St. – rent starts at $2,890 per month for a studio – in Kendall Square.
"RATS ARE EVERYWHERE!" the resident wrote, dated Feb. 25. "I haven't seen one in my apartment yet, but if I do I'm out!"
The resident says there's construction going on behind her apartment and "GIGANTIC holes" along the property where her apartment is. They noted that they had just seen the "largest one yet … just walking" around 7:30 a.m. one morning.
"It wasn't running like they usually do," they said. "But I am so scared every morning and mostly every night having to take my dog out. They are everywhere."
In another sighting, reported on Feb. 16, a Perry Street resident says the rats seem immune to traps.
"Numerous rodent tunnels and holes in my and my neighbor's front yard," they wrote. "Rats seem to have tunnels extending along our entire street as other holes appear down the street and along the side walk (sic). Numerous rat traps laid for the past 9 months have not appeared to help."
Construction to blame?
Ilan Levy, vice president of the East Cambridge Planning Team, said the presence of rats in Cambridge isn't anything new, noting that it's "the price you pay" for getting to live in the middle of the city.
However, Levy said he believes the multitude of construction projects hasn't helped matters. This includes the colossal NorthPoint project, which encompasses the development of 20 parcels spread over 45 acres. This particular project included utility work on sewer and gas lines, plus resurfacing the road and sidewalks. That utility work went from 2018 through 2019.
"When you dig the sewers you're going to get the rats out," he said during a recent interview with Boston.com. "They like to go in there [the sewer], it's their house, so obviously they're going to be disrupted, and they're going to move around."
Just that morning, Levy said he looked out from his home and saw the body of a rat squashed in the street, evidently a roadkill victim.
During the summer Levy said he's seen the rats running through people's backyards. He sees them in the winter, too, "more during the evening."
Some are big, he said.
"They're rats, they're the size of an iPad," he said. "A little bit bigger than an iPad."
What the city says
Along with the heat map, the city has created a resource page for residents on rat facts, plus tips on how to prevent them staying on their property.
The website notes that rats only require an ounce of food daily, and that residents should recycle, compost food scraps in a "tight-locking compost bin," and bring trash to the curb as closely to pick-up time as possible.
In a letter to the City Council, City Manager Louis DePasquale said officials are working on controlling the rodent population in several ways, including examining any issues on public property, educating the public, ensuring there's rodent control during construction projects, and making sure sanitary codes are being followed.
There are monthly meetings of a Rodent Taskforce, and when the rodent sightings began to rise, there were "well-attended" public meetings in December. A mailer was sent out to all residents, too, the letter said.
Members of the city's Inspectional Services have been documenting where more rats have been seen, and talking with residents, or leaving information behind. Soon, Inspectional Services staff plans to go street by street to examine properties, and work with property owners to make sure they're being cleaned up. The department is slated to receive an extra $50,000 in its budget for the coming fiscal year to combat rats, according to the letter.
The city is also working on replacing its trash cans on Cambridge Street with Big Belly trash-compacting receptacles that run on solar power. The ones the city put in place before have been "pretty successful," Department of Public Works Commissioner Owen O'Riordan told the council during last week's meeting.
A rollout of Big Belly cans in Harvard Square is set for the next few weeks.
The new receptacles can fit five times as much trash as the Victor Stanley cans currently in place, and they communicate when they're full, O'Riordan said.
But despite the increased efforts, DePasquale said more work needs to be done.
"Right now, with all the work we're doing, we're still losing the battle," he told council members. He said Somerville has purchased trash bins for its residents, and perhaps Cambridge should, too. "I'm going to be dead honest. We may have to purchase barrels for all residents in the city of Cambridge. I think it's something the city needs to do."