Local News
In Berkshire County, COVID-19 has taken on a different path. Here's what we know so far.
Coronavirus cases in Western Massachusetts have developed "without identifiable risk factors," officials said.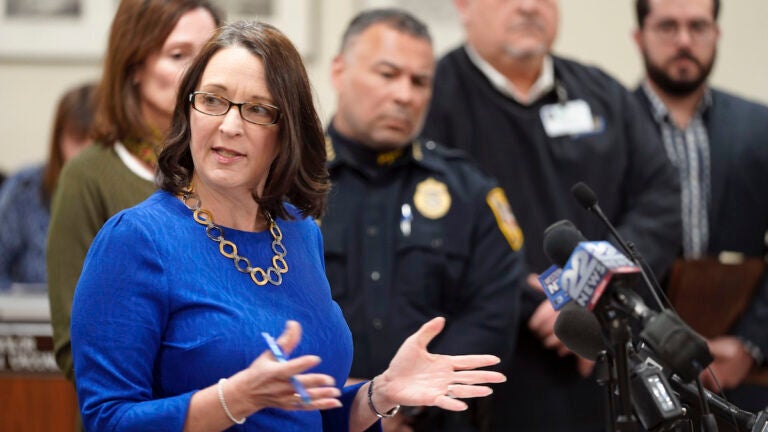 Nine people have tested positive for the novel coronavirus in Berkshire County.
The cases are nowhere near as abundant as in other parts of Massachusetts. But Berkshire County is home to the most unique cases in the commonwealth — cases are cropping up "without identifiable risk factors," officials said this week.
In other words, Western Massachusetts is seeing instances where there is no clear chain of transmission.
"The (state Department of Public Health) is currently monitoring a small number of cases of community transmission of unknown origin in Berkshire County," Gov. Charlie Baker told reporters in Pittsfield Thursday. "State officials are working closely with the impacted hospital as well as the local officials to monitor this situation and keep the community safe."
In Pittsfield, officials have issued a local emergency declaration, amid continuing efforts to slow the spread of the contagious virus.
"We are very concerned about our families and we understand they are very worried about what's ahead," Mayor Linda Tyer said, standing aside Baker at a press conference. "This is an extremely fluid situation and as mayor of the City of Pittsfield, I want to assure our residents we are well prepared to respond quickly to evolving circumstances."
Here's what we know so far:
Several cases were reportedly treated at Berkshire Medical Center, and nurses and staff are now quarantined
Several people sought medical attention at Berkshire Medical Center in Pittsfield before they tested positive for the coronavirus, including Pittsfield residents who were in contact with the first sick hospital patient, The Boston Globe reports.
According to data released by the DPH Thursday, eight of the nine total cases reported in Berkshire County are associated with the hospital.
A hospital spokesperson told the newspaper the patients came in separately starting March 1 and were admitted after they experienced severe flu-like symptoms. They were in stable condition Monday and were anticipated to be discharged sometime soon, according to the Globe.
The DPH did not test the patients for approximately five days, and nurses and employees who were in contact with each of them were then placed on 14-day quarantine once the hospital received the test results, according to the Globe. They had worn face masks but not the gowns and eye shields required to safeguard against COVID-19, the disease caused by the novel coronavirus.
"Since our patients have been here, we have conducted the tracing that is required by (U.S. Centers for Disease Control and Prevention) and DPH and we have followed the guidelines and have taken appropriate action to furlough those who may have had more than a low risk of any contact with those patients," Michael Leary, director of media relations for Berkshire Health Systems, told The Boston Business Journal.
It is unclear how many of the seven presumptive positive cases in Berkshire County were treated at the hospital. Leary told the outlet the state testing lab denied sending a COVID-19 test to the hospital when its first patient arrived because the patient had not traveled recently. (That requirement has since been removed, the Business Journal reports.)
A test was ultimately ordered on March 5, days after the patient arrived — and returned March 7, the outlet reports. The hospital does not isolate patients until an infectious disease test is ordered from the state, Berkshire Medical Center nurse Amber VanBramer told the publication.
The hospital said it followed guidelines from the CDC that require patients be isolated when there is a suspected or confirmed virus diagnosis, according to the Business Journal. The testing requirements at the time also mandated that a patient must have travelled internationally to have the test.
"The patient just didn't meet the recommendations (for COVID-19) when they arrived at the hospital," VanBramer told the outlet. "So, so many people can be exposed because you have nurses taking care of the patient and people going in to help the nurse. You have doctors and ancillary staff involved. We're seeing these patients all day long. That's how exposure can happen and happen."
The hospital would not say how many nurses are on paid furlough; however, according to the Massachusetts Nurses Association, its members said roughly 70 hospital employees were told not to go to work, of which approximately 54 are nurses, The Berkshire Eagle reports.
To cover staffing shortages, the hospital is bringing in a traveling nurse company that's slated to undergo orientation either over the weekend or early next week, according to the Business Journal.
Leary said staff is being brought in from other hospital departments to cover the current shortage until the reinforcements arrive.
According to Baker, the Board of Registration in Nursing voted for an emergency procedure Wednesday to provide relief in the licensing process for nurses and other healthcare professionals who are licensed out-of-state to receive licensure in Massachusetts.
The process can now be completed in one day, he said.
"I certainly think it will make it easier … this process usually takes a lot longer," Baker said.
There are presumptive positive cases in Pittsfield, Otis, and Clarksburg. The mayor of North Adams has voluntarily self-isolated.
On Thursday, Tyer issued a local emergency declaration — a tool for the city to gain access to state and federal resources and to establish "a unified command that will be comprised of senior-level city officials for the purposes of tracking, monitoring, planning, and executing our actions."
"As we all know this situation is fluid and our actions will be adjusted as the circumstances dictate," Tyer said.
As of 10:30 a.m., two Pittsfield residents were presumptive positive for COVID-19 and were hospitalized, Tyer said during a press conference. Seven others were under quarantine and awaiting test results, while six people had just finished a 14-day quarantine, she said.
North Adams Mayor Tom Bernard has been in voluntary self-isolation since Tuesday after he attended functions last weekend with City Councilor Jason LaForest.
LaForest has been in quarantine — also since Tuesday — after he developed "mild symptoms" and was tested for coronavirus, according to a statement.
"Over the past few days we've heard many people use the phrase 'abundance of caution,' and that's guiding my self-isolation decision," Bernard said in a statement. "As community leaders, Councilor LaForest and I have an obligation to model best practices in following the instructions of state and local public health officials."
He wrote on Facebook Wednesday that he continued to feel fine.
LaForest said he is taking the precautions "extremely seriously."
"Hopefully my symptoms are related to a simple cold and not the COVID-19 virus," LaForest said in a statement. "Please continue to follow hand washing and best health practices. I wish all those dealing with this virus a quick recovery."
Earlier this week, officials in both Otis and Clarksburg confirmed there is a resident with a presumptive positive case of COVID-19 in each town.
Public buildings in Clarksburg are closed through Friday so crews can clean and disinfect them, officials said.
Ron Boucher, chairman of the local selectboard, told the Globe Tuesday officials do not believe the local case is one that involves community spread of the virus.
"We know where the source was and we're very confident that we're in good shape," Boucher said.
What's next
DPH Commissioner Monica Bharel said Tuesday the department is working to get the county supplies and equipment, adding that officials are "facilitating the surveillance and testing of healthcare workers and patients, and we are in contact multiple times a day with staff there."
Two DPH epidemiologists have been on-the-ground there, officials said Thursday. Tyer said Thursday the city has been in constant contact with the DPH and Baker's office.
Public buildings and schools in the city will remain open for the time being, according to Tyer. City departments will strive to maintain essential services for "as long as possible," she said.
However, encouraging other employers to follow suit, she said all city employees are prohibited from work-related travel outside Berkshire County "and preferably Pittsfield," and should instead use virtual participation for outside meetings.
"For the next 30 days the city of Pittsfield will not issue any special event permits," Tyer said. "Organizers of currently approved events should consider postponing or cancelling."
Similarly, on Thursday, North Adams announced, for the next 30 days, it is cancelling all city events or those that involve city staff that meet certain conditions, including any event "with a potential gathering of 100 people or more," according to a press release shared by Bernard.
"Any event that cannot ensure 6 feet of space between attendees either needs to find a suitable space or make teleconferencing options available," the release said.
School events and trips through April 17 have also been cancelled or postponed until later in the school year, officials said.
"I am not making this announcement lightly," Bernard said in the statement. "I know this will present challenges for those organizing and planning public events, especially events that involve youth in our community. Every situation is unique, if you have questions about any of the above guidelines and the impact on your department, feel free to reach out to the Health Department."
Baker said the state has received the capacity to test an additional 5,000 people on top of "several thousand" it had before and currently has "an adequate supply."
But he again called on the federal government to allow private laboratories and hospitals to test as well.
"The fact that the state lab is the single source of testing at this point in time is not adequate," he said.
https://www.facebook.com/pittsfieldtv/videos/1212804742257848/