Local News
The MBTA has announced reduced schedules. Here's what to know.
The schedules include almost all forms of service, with a few exceptions.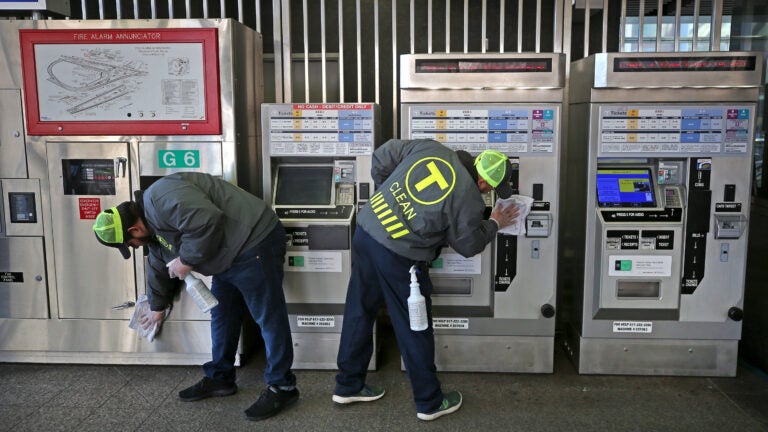 The MBTA announced sweeping reductions to service, with a few exceptions, on Monday, with the new schedules to begin on Tuesday.
With the exception of The RIDE and several express bus routes, all modes of travel, including the subway, commuter rail, buses, and the Mattapan trolley, will run on reduced schedules. Ferry service is cancelled entirely.
"The MBTA plays an important role in slowing the spread of the coronavirus while continuing to provide critical services to medical professionals and other employees in key industries that rely on public transit," MBTA General Manager Steve Poftak said in the release.
For subway lines:
All branches of the commuter rail will run on a reduced schedule, and passengers can find the schedule for their line on the MBTA's website.
"We will continue to disinfect key passenger areas and touchpoints on Commuter Rail trains every 24 hours, with many of our trains receiving this deeper clean every 12 hours," Keolis CEO and General Manager David Scorey said in a news release.
The new reduced commuter rail schedule "provides a public transit option for people with essential travel needs, such as medical professionals and emergency responders, while helping to limit the spread of COVID-19 by encouraging people to practice social distancing and work-from-home when possible," the release says.
All buses are planned to run on a Saturday schedule, with exceptions for routes 325, 326, 351, 352, 354, 501, according to the MBTA's news release. Those exempted routes will continue to run on their normal weekday schedules.
For Mattapan trolley passengers, the reduced schedule means a trolley every 12 to 26 minutes. Typically, there's a trolley every five minutes during rush hour times, with a trolley every eight to 12 minutes during the off-peak and weekends; weekend mornings and late at night, there's usually a trolley every 26 minutes, the MBTA's website says.
Along with the schedule reductions, the MBTA is continuing its increased cleaning efforts; in addition to disinfecting all of its trains and vehicles every 24 hours, it's cleaning "high-contact surfaces," like fare gates, fare vending machines, and handrails, once every four hours, and disinfecting all customer business areas once every 24 hours.