Local
Not everyone has internet access at home. Here's how schools, companies, and officials are responding.
"Home access to devices and to internet is already an issue for many of our students and their families."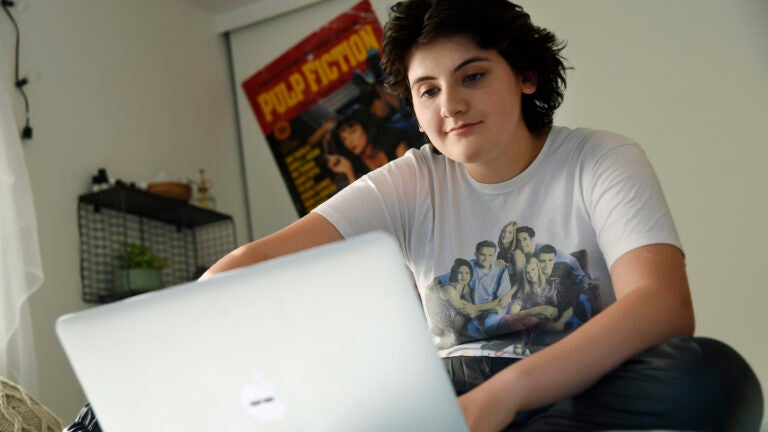 Employees who otherwise would be running to the office, jammed in traffic out on I-93 or smushed on an MBTA train are working from a computer at home. Schools across the state have closed for at least three weeks, shifting students to laptops in lieu of their classroom desks.
As the COVID-19 outbreak restructures everyday routines, our internet-centric society has become an increasingly internet-necessary society for life in the weeks ahead.
But not everyone had reliable, convenient access to the information superhighway, even when the world wasn't facing a global pandemic.
Twelve million students across the country do not have internet access at home, according to federal lawmakers, who say the coronavirus has breathed new life into a longstanding "homework gap" issue many face daily.
Now, officials are calling for action, internet providers are rolling out new options for non-customers and low-income families, and local schools are taking steps to make sure students can remain focused on their studies amid the far-reaching ramifications of COVID-19.
Here's how:
What internet providers are doing
Companies are taking varying approaches to make sure communities stay connected, including bill relief and a pause on service terminations.
But when it comes to free and affordable service, some are offering precisely that.
Comcast and AT&T are both offering their WiFi hotspots — scattered around the country and Massachusetts — for free to anyone for 60 days.
"During this extraordinary time, it is vital that as many Americans as possible stay connected to the internet – for education, work, and personal health reasons," Dave Watson, Comcast Cable Chief Executive Officer, said in a statement. "Our employees also live and work in virtually every community we serve, and we all share the same belief that it's our company's responsibility to step up and help out."
Through its "Internet Essentials" program, Comcast is also offering two free months for new customers of the service, which provides internet to qualified low-income households for $9.95 per month.
"Additionally, for all new and existing Internet Essentials customers, the speed of the program's Internet service has increased to 25 Mbps downstream and 3 Mbps upstream," Comcast said on its website. "That increase will go into effect automatically for no additional fee and it will become the new base speed for the program going forward."
AT&T has also pledged to make its hotspots free to use for the public.
On Friday, the Federal Communications Commission announced dozens of companies had signed its "Keep Americans Connected Pledge," in which they vowed to halt any terminations due to inability to pay bills because of the coronavirus; waive late fees incurred because of the pandemic; and open WiFi hotspots "to any American who needs them."
Comcast, AT&T, Verizon, Sprint, RCN, Starry, and T-Mobile are among the providers that signed the pledge, although companies other than Comcast and AT&T had yet to release details as of Tuesday.
What local schools are doing
Boston city and school officials are also working with providers to make sure students have access to the internet.
"We understand that home access to devices and to internet is already an issue for many of our students and their families," Mayor Marty Walsh told reporters on Sunday. "We are working with the internet providers right now on free and low-cost service."
Boston Public Schools Superintendent Brenda Cassellius wrote in a letter to families Sunday the district will release details for "no-cost options for internet and computers as needed" in the coming days.
A district spokesperson told Boston.com Tuesday that more information will be provided when available.
"We are planning on providing continuous updates to our school community during this rapidly developing situation and are working with service providers," the spokesperson said.
Students will be using school-designated Chromebooks as school buildings remain closed for classes through April 27. According to Cassellius, the district bought "an additional 20,000 Chromebooks to assist with families in need."
"The new Chromebooks will be prioritized based on need to students in grades 3-12," she wrote. "We will use our already established equity measures to make these determinations."
Officials are also working to make sure families have support services for technical help with Chromebooks and internet access, according to Cassellius.
In Cambridge, households without internet access are being asked to contact their students' schools.
"(Cambridge Public Schools) is waiting on a delayed delivery of internet hotspots that we will distribute to families needing access," Superintendent Kenneth Salim wrote on the district website Sunday. "We are also monitoring the availability of potential free internet through Comcast's Internet Essentials program."
What lawmakers are doing
Ed Markey, Elizabeth Warren, and over a dozen other senators wrote to FCC Chairman Ajit Pai Monday, urging the agency to waive rules to allow schools nationwide to use funding to provide students with WiFi hotspots and devices with WiFi capability.
The lawmakers say the E-Rate program — which Markey penned as part of the Telecommunications Act in 1996 — could be a crucial source of emergency funding during the coronavirus pandemic. The program — which helps get schools and libraries online — has an annual cap of $4 billion, although only about $2 billion has been allocated this year.
The senators argue the remaining budget could pay for one-time discounts for schools looking to loan WiFi hotspots to students who don't have internet access at home, and for allowing school devices to be equipped with WiFi capability.
With schools across the country switching to remote learning, internet equity is more important than ever. I am calling on the FCC to allow schools to use E-Rate funds to loan Wi-Fi hotspots to students who need them. pic.twitter.com/CQjEVIgC15

— Ed Markey (@EdMarkey) March 16, 2020
"The E-Rate program is, and has been for over two decades, an essential source of funding to connect the nation's schools and libraries to the internet," lawmakers wrote in their letter. "We believe that the FCC can use its emergency powers to temporarily waive relevant E-rate program rules and allow its beneficiaries to utilize universal service funding to provide home wireless service to existing school devices and hotspots for students who lack internet access at home.
"This swift, immediate action would help ensure that all students can remotely continue their education during the current public health emergency," they added.
Here are free and low-cost internet options
Here's how you can stay connected during the COVID-19 outbreak:
Comcast: Xfinity WiFi hotspots are free to use for everyone, nationwide, for 60 days as of March 13, Comcast says. Users only need to select "xfinitywifi" as the network name at a hotspot and launch a browser. For locations, check out this map. Comcast is also offering the first two months of its "Internet Essentials" program for free to new customers. The service usually costs $9.95 per month plus tax for qualified low-income families. Due to the coronavirus pandemic, the company has also boosted the program's speeds up to 25 Mbps downstream and 3 Mbps upstream. New customers must apply by April 30 to receive the deal.
AT&T: AT&T is offering its WiFi hotspots free for anyone to use around the country for 60 days, as of March 13.
<hr>
<h2>Your 60-second guide to social distancing during the coronavirus outbreak</h2>
<hr>
---
Get Boston.com's e-mail alerts:
Sign up and receive coronavirus news and breaking updates, from our newsroom to your inbox.